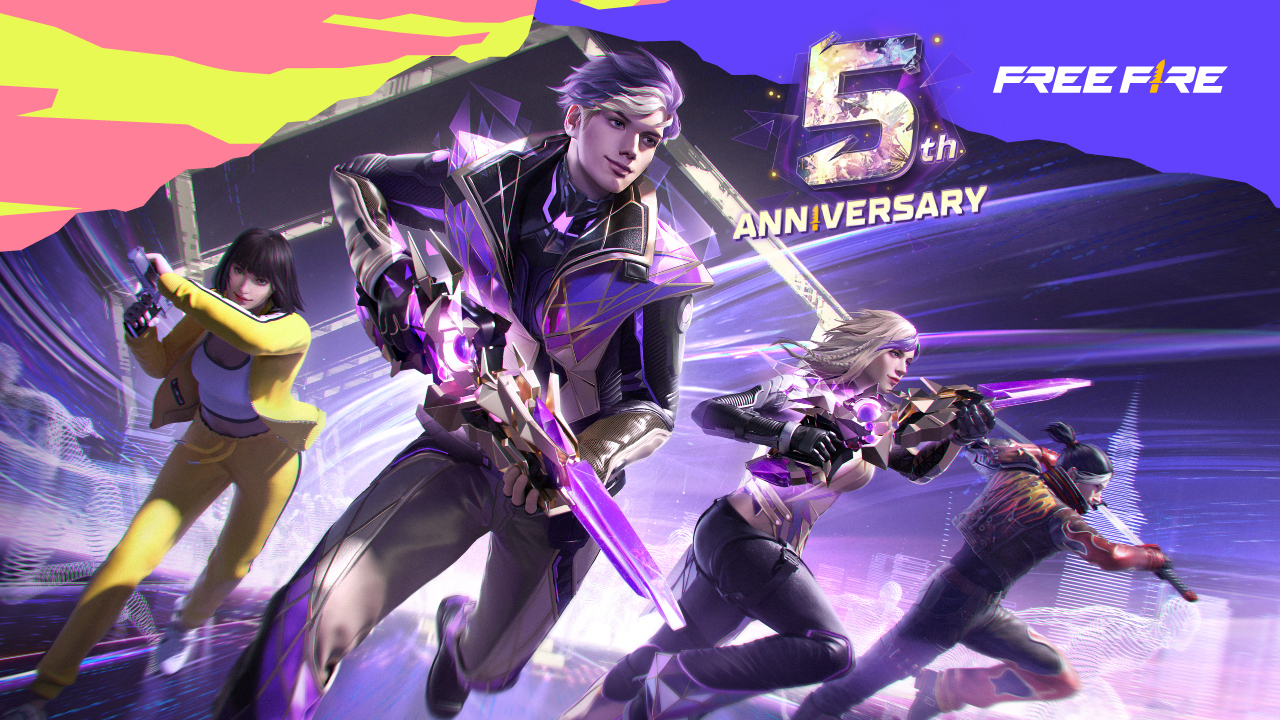 Every year, Free Fire does not fail to surprise us with significant events and new gaming experiences. Free Fire just launched a spectacular 5-part extravaganza to delight fans and players. They also collaborated with Justin Bieber, who has his character, 'J. Biebs', and the best thing about it, is it's permanent. New in-game events and exclusive free rewards await players to enjoy like never before!
Free Fire's 5th-anniversary event calendar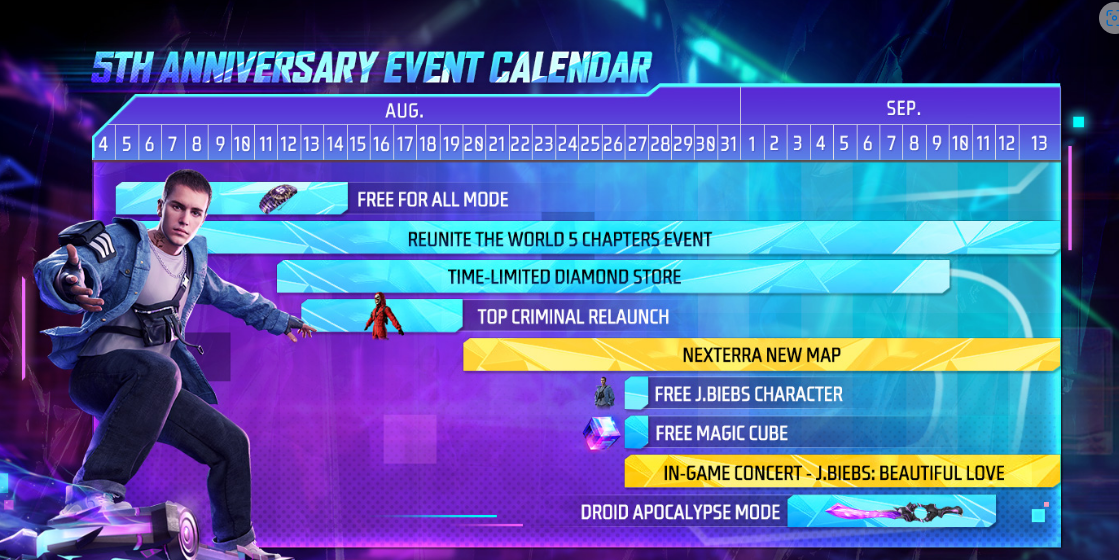 Free Fire turns five this August! Instead of players giving birthday gifts, Free Fire is out for the best gameplay experience with some exclusive free rewards! Best of all, there's the Justin Bieber collaboration and a new map called, Nexterra to cap off the celebration. 
What's new?
Justin Bieber Collaboration
Do you think Free Fire is only all about battle royale and gunfights? Guess what? Justin Bieber is set to serenade Free Fire fans with an in-game performance of his exclusive track "Beautiful Love (Free Fire)" on August 27. He also has his own character in the game named J. Biebs, with the ability to block damage using his EP. Read more here.
Participating in this year's events will earn players tokens which can be exchanged for exclusive rewards. Don't forget; you can unlock fantastic costumes and go blazing with new guns in Free Fire's 5th-anniversary celebration.
Nexterra Map
Garena has already confirmed that the Nexterra map will be launched on August 20, 2022, for both Free Fire and Free Fire Max. Nexterra will feature various enhanced elements aligned with its futuristic nature. Nexterra will allow players to take the gaming experience to another level, diversifying their battle experience. There are lots to explore on this new map, including
Intellect Center 

Museum 

Grav Labs 

Deca Square 

Mud Site 

Plazaria

Twin Bridge

Mortar Ruins 

Turbine 

Farmtopia 

Zipway

Rust Town



Not only that, Nexterra has anti-gravity zones where players can do high jumps and also portals that can change the player's location in an instant. You can already download the new map's resource file and get an Incubator voucher that can be used to make a free spin in Luck Royale's eponymous sub-section.
Special Event: Reunite the World
A Free Fire Special event has begun last August 4, 2022, as part of the 5th anniversary. The event gives out various rewards for users that they will surely love. Not only that, this event will run for the whole month of August, giving away different in-game rewards and discounts to allow players to save more on their favorite Free Fire items.
New Modes
There is a new limited mode called Free For All. Set in the backdrop of El Pastelo, this mode will stimulate intense close combat, point-based matches of up to 16 players battling against each other. Players can select weapons and earn points by eliminating other players. The first player to reach the predetermined points can choose matches. 
Another mode, Droid Apocalypse, drops exclusively for the 5th anniversary. It features 12 players battling to become the ultimate droid. Players can choose whatever kind of droid they want to be. Players need to convert as many humans as possible before the time runs out in order to win. Players can earn points based on performances. Whoever has the most points after three rounds wins. 
Top Criminal Bundle is back!
We all know that you've been waiting for this ultimate comeback! Yes, Garena has relaunched the Red Top Criminal as part of its 5th anniversary. As part of Glitch Ascension, players can get the exclusive Red Top Criminal and the new variant. There are so many good things going on with this anniversary. On top of that, they also released a new outfit variant as part of the Selected series called Neon Top Criminal, which comes with special effects, cool designs, and more. 
The new Glitch Ascension runs until August 21. Spend 40 diamonds for a single spin, or you can go for 180 diamonds to get a pack of five. 
Independence Day Mystery Shop
This year's Free Fire Independence Day Mystery Shop does not only grant you rare items but also huge discounts by trying your luck for a spin. This allows you to save up from items to diamonds, all discounted based on the amount you will be getting. 
Overall, make sure to participate in this anniversary and once-in-a-lifetime event; it's not every day that we get to see Justin Bieber perform in-game! To read more Free Fire-related content, click here.