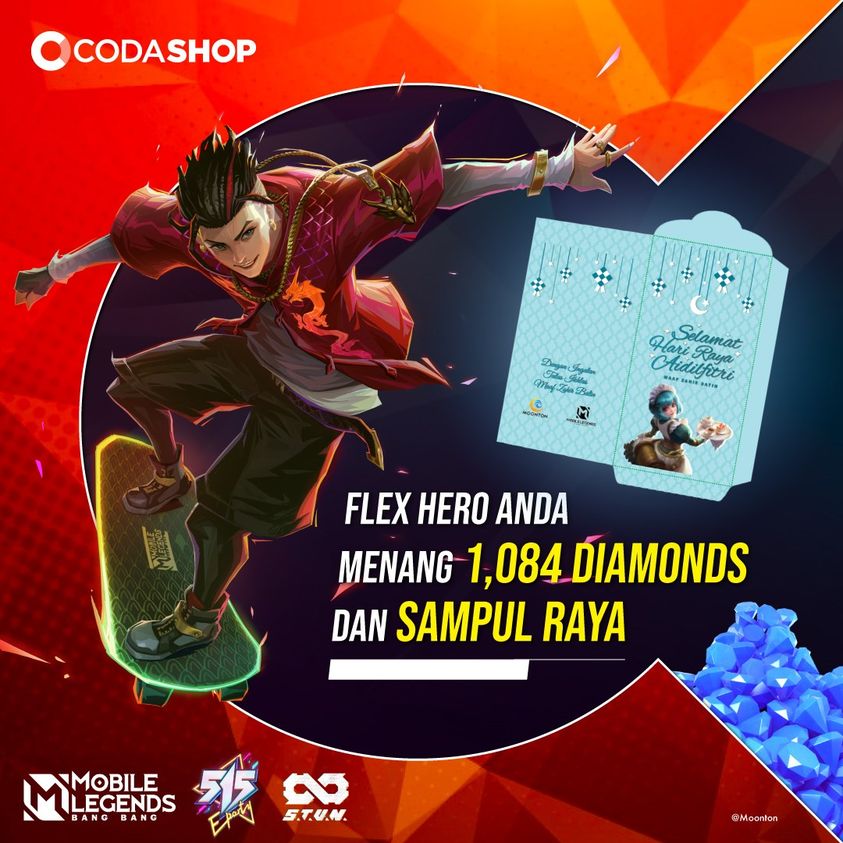 Flex Hero Mobile Legends Anda dan Menang! 
Sempena Hari Raya ni, Codashop nak bagi sampul raya eksklusif dari Mobile Legends dan sudah semestinya Diamonds!!
Cara-cara:
1. Follow dan like page Facebook Codashop MY
2. Di ruang komen, post screenshot hero MLBB bersama skin kegemaran anda
3. 5 komen yang memperoleh "Like" terbanyak akan memenangi sampul raya dan 1,084 Diamonds setiap seorang
Jangan lupa share post, good luck!
Terms and Conditions 
The Contest is open to all residents of Malaysia only.

The Contest will commence on 14th May 2021

, and close on 27th May 2021

 

("Contest Period"). Entries will only qualify for the Contest if submitted within the Contest Period. Entries submitted outside of the Contest Period, or submitted th

rough any means other than specified herein, will not be eligible for the Contest. Any complaints on missing and/or delayed submissions will not be entertained.

The Contest mechanics are as follows:
(1) To participate in the Contest, each participant must (a) follow Facebook Codashop MY (b) post your favorite MLBB skin in the comment section
(2) Each duly posted Facebook comment as specified herein shall be referred to as an "Entry". 
(3) Each participant may submit multiple Entries for the entire Contest. 
(4) Each participant may win only two (2) prizes for the entire Contest. 
(5) All Entries submitted in the manner set out above will be individually judged by Codashop based on the number of likes on the post. Five (5) winners will be selected by Codashop at its sole discretion. 
(6) Each winner will receive 1,084 Diamonds and sampul raya.
4. By taking part in this competition, all contestants are deemed to have provided expressed consent for Coda to process, use, and/or transfer (where necessary) the contestant's personal information, social media handle and photos submitted, for the purposes of this contest. 
5. The winner(s) will be announced on Codashop MY Facebook page. Winners need to DM Codashop MY with the required information within 3 days. Prizes are not exchangeable by the winner(s) for cash or other items, and are not transferable.
6. In the event that any prize is unclaimed within such period (3 days), or there is no winner determined in respect of the prize, it will be dealt with at Codashop's sole discretion.
Follow Codashop MY Facebook page to join now! 🔥