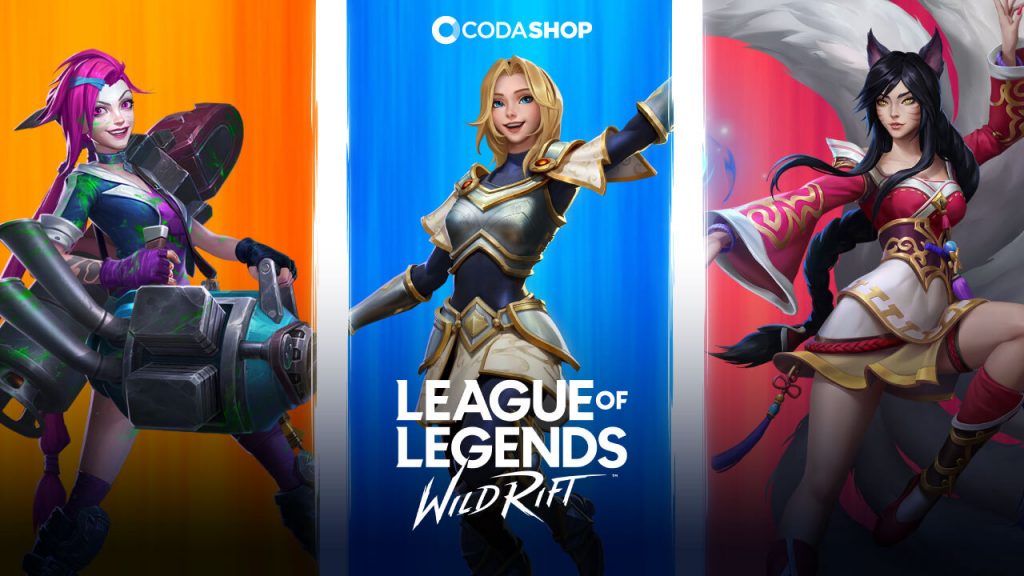 Congratulations! Finally, Wild Rift is here. Strap yourself in for a fantastic ride to the League of Legends universe. If you're familiar with MOBA, you probably have an idea of how Wild Rift works. The mobile version of the League brings all the adventure on a smaller map, with more than 40 Champions currently available to play. Team up with friends and bring down the opposing team's Nexus to win.
But before you dive into all of the action, you need to familiarize yourself first with some of the basic sections of the game — from when you open it, including the lobby, profile, events, game modes, 'loadouts,' and other aspects that you'll generally encounter as you play along. Learning about these sections will help you optimize your Champions and improve your gaming as you make your way to the top. Let's begin!
Lobby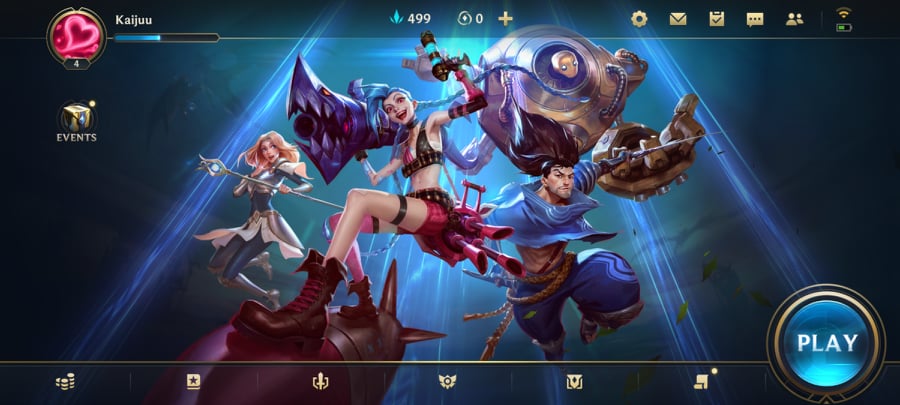 This section is your main overview of the game. From here, you can access different areas, including (from the top left corner of the screen): Player Profile, Blue Motes, Wild Cores, Payments, Settings, Inbox, Activities, and Friend List.
You can also access the following sections at the bottom part of the screen:
Store: Where you can purchase Featured (bundles, etc.), Champions, Skins, Items  (Baubles, Custom Recalls, and Emotes) and Poro Store (Buy available items or spend Poro Coins to fill the Poro Energy Meter and earn a Random skin chest). You can use Blue Motes, Wild Cores, and Poro Coins to purchase for items.
Collection: From here, you can select and buy different Champions (Fighter, Tank, Mage, Assassin, Support, Marksman). You can also buy Skins, access Personalization (Custom Recall, Baubles, and Rift Emblems) and Emotes.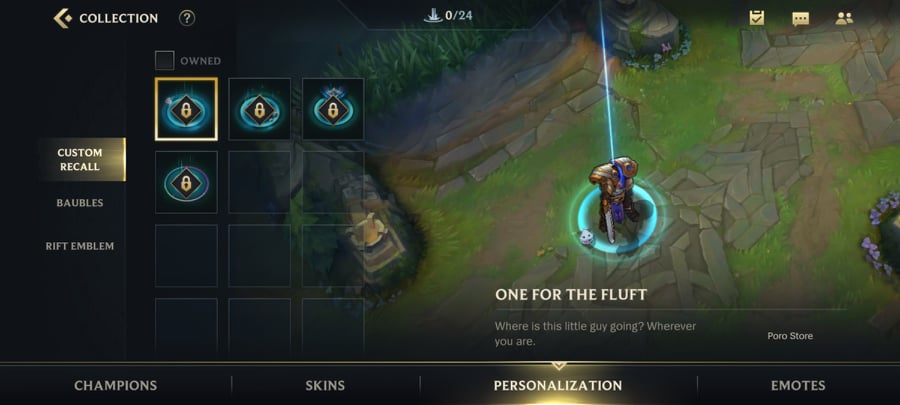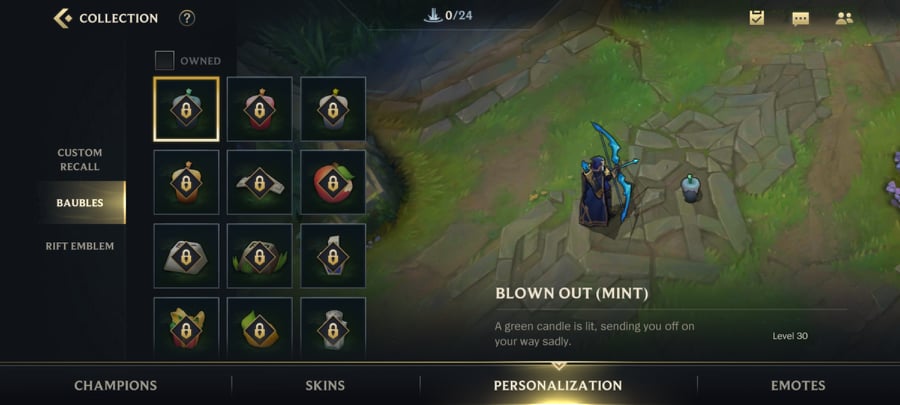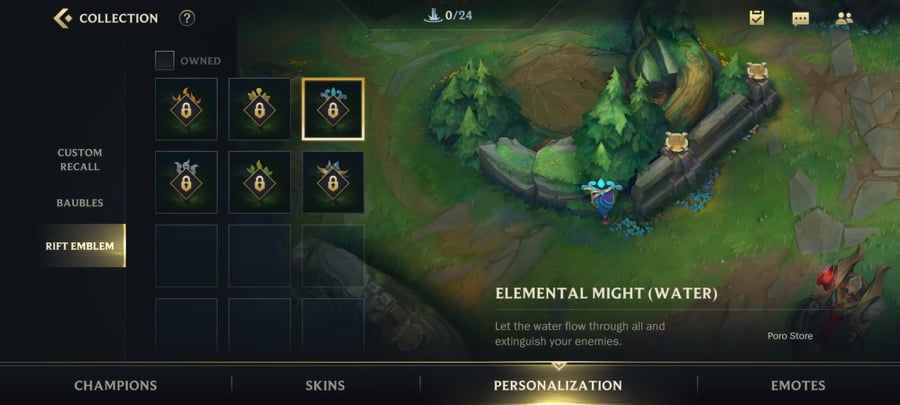 Loadouts: From this section, you can mix and match your champion's Items, Runes, and Spells in preparation for a match. There is a separate dropdown menu where you can select a recommended build for your champion, with pre-set options to match your preference. If you're a newbie and still figuring out the most effective build, you can click the Recommended button to make it easier for you.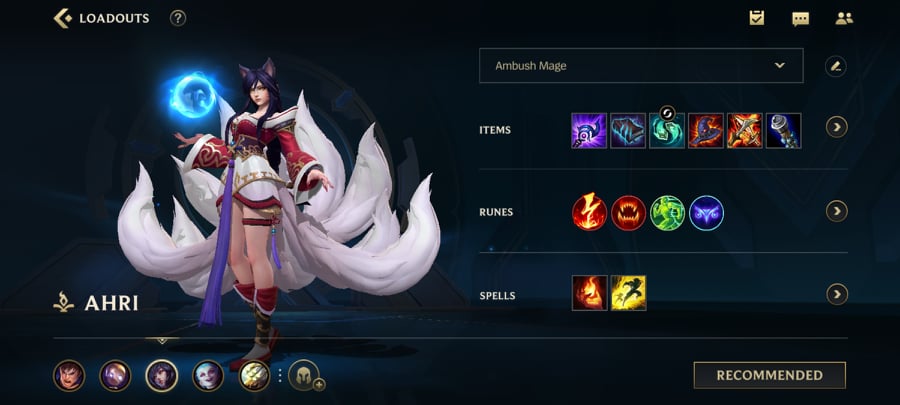 Leaderboard: This is where you can find players leading the pack. From the dropdown, you can view the list via 'Friend' (to check your standing amongst your friends) while the 'Server' lists the current players lording it over the top of the ranks.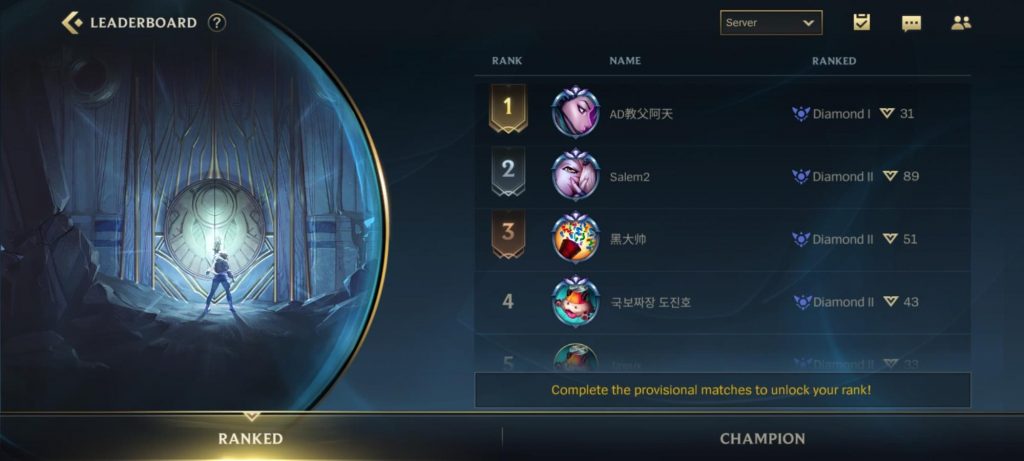 You can find two tabs in the Leaderboard, Ranked and Champion. The first one ranks players based on their seasonal rank. It resets at the start of every new season, giving a fair chance to all to be included on the leaderboard. The second one lists the top players for each champion class. You can even check on the details of those included in the list. So if you want to know and replicate what items, runes, and spells the Top 1 Garen player uses, you can copy from this section. Simply click the open book icon on the right side of the player's name.
Vault: This is your stash for rewards that you've achieved from completing missions. From random skins, Poro Coins (which you can spend in the Poro Store), Champion Selection Chest, and more, you can access them here.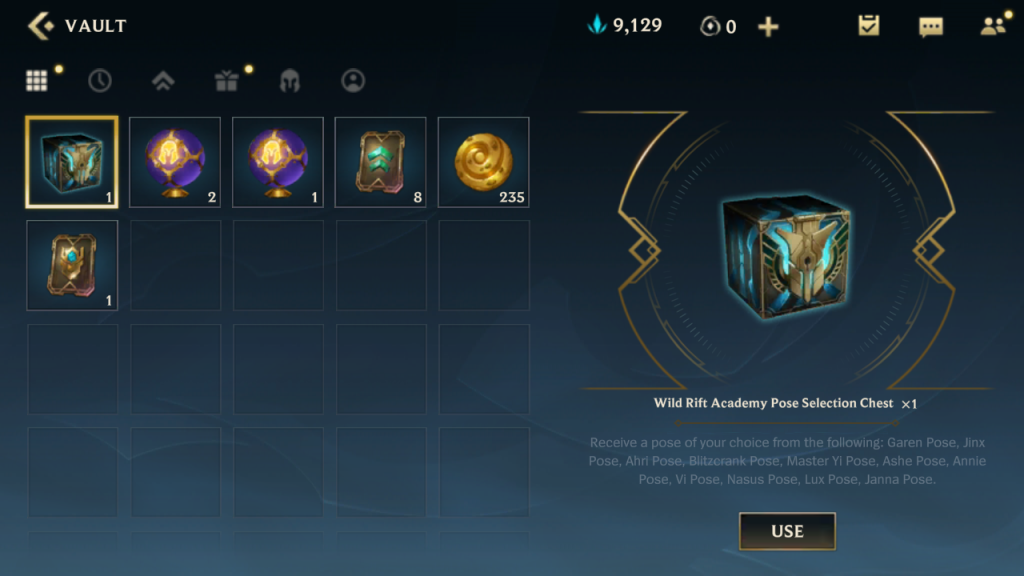 Missions: This tab gives you access to different tasks or 'missions' that you need to complete to earn rewards. There are Standard and Challenge (unlockable level 10, with better rewards) missions. The three colored capsules, numbered 120, 240, and 400 are Weekly Chests. Accumulate points and receive rewards (Blue Motes, Poro Coins, XP). The higher you reach, the bigger the rewards.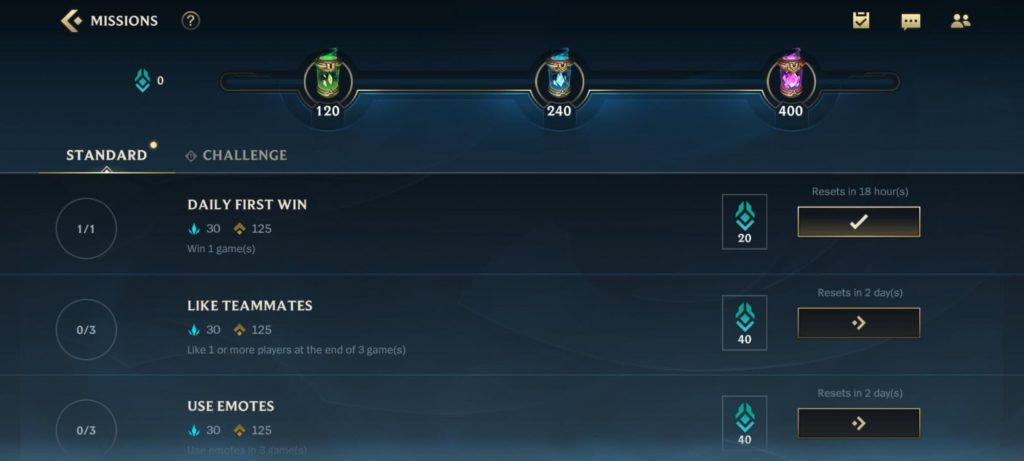 Profile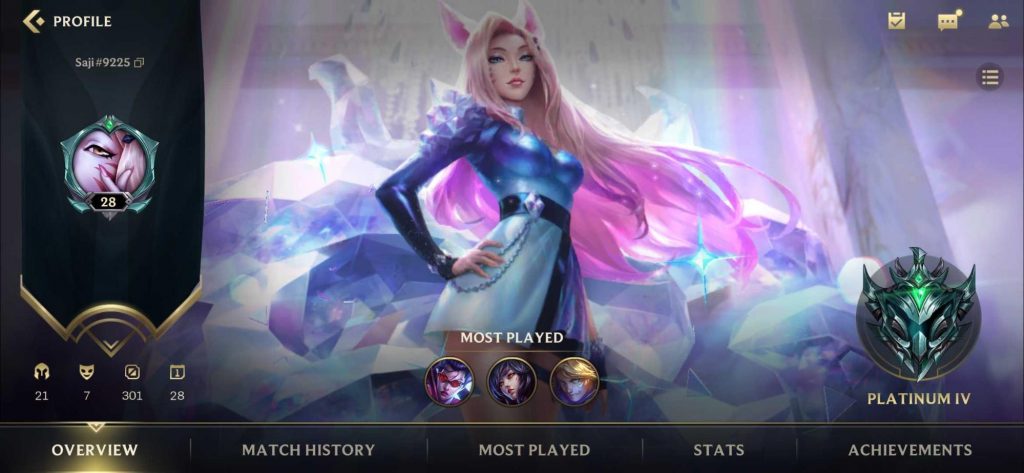 This is where the player details are listed. They include:
Overview: It displays the user name and user ID together with your current level. An option tab is also available to edit your profile icon and select (hero) background. Information about Champions and Skins Owned, Matches, and Account Age can be found here. It also shows your most played champions. 
Match History: Records your previous matches with specific battle stats. You can also filter the match history to show results of Normal, Ranked, Custom games, etc. From this section, you can also view your team and your opponents, view their profiles and add them as a friend.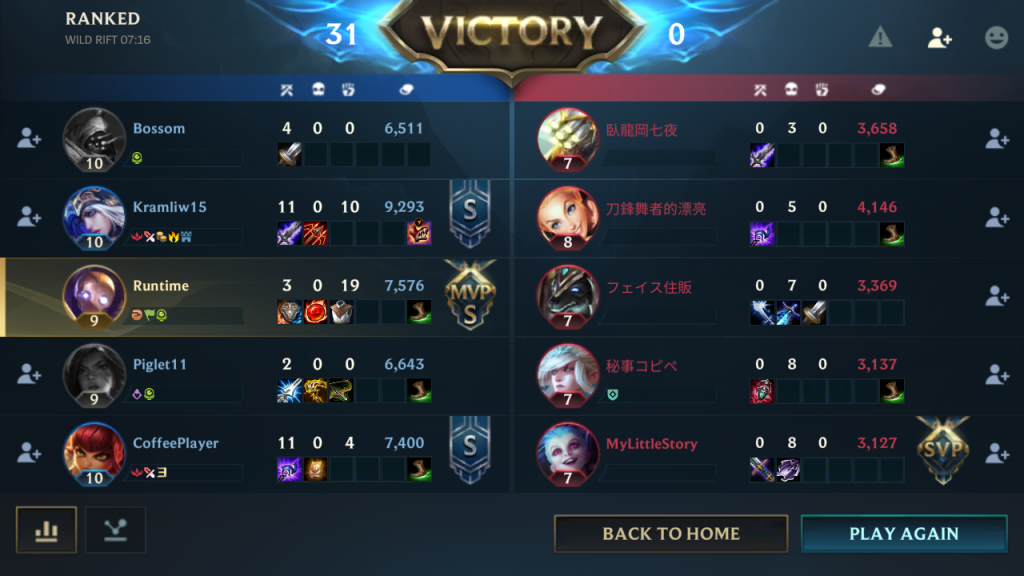 Most played: Displays your most played champions together with details on Win Rate and Champion Score.
Stats: Learn about comprehensive battle stats, including the number of games played, Win Rate, MVP earned, Kill stats (Penta, Triple, Legendary), and First Blood. Info about KDA, Teamfight Participation, damage dealt/taken, and others can be found here.
Achievements: List of achievements that you can accomplish (currently up to 122). By the way, you can earn Achievement Rewards when you reach specific Achievement points. You can also track your achievement progress from here. Unlocks at level 8.
Events
To hype things up, there's the Events section found on the left side of the main lobby. Players can access and participate in these special, time-limited events and claim exclusive rewards upon completion.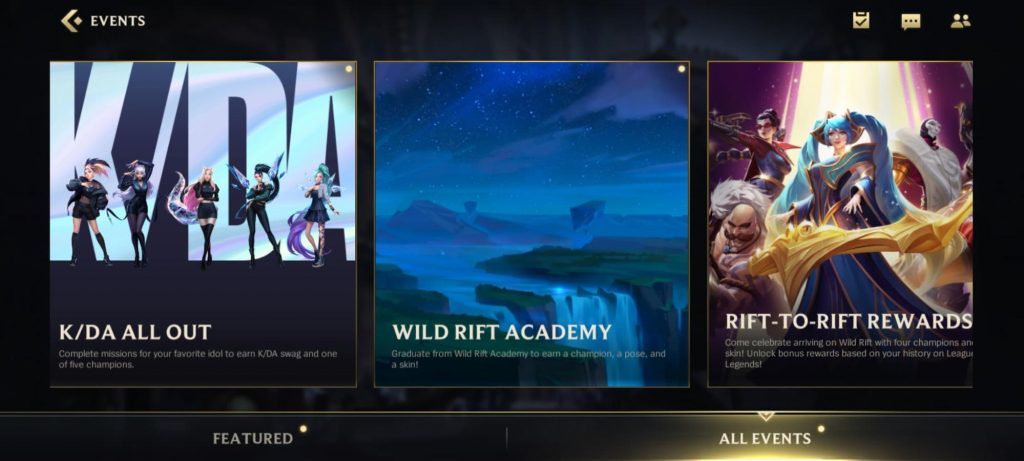 PLAY Button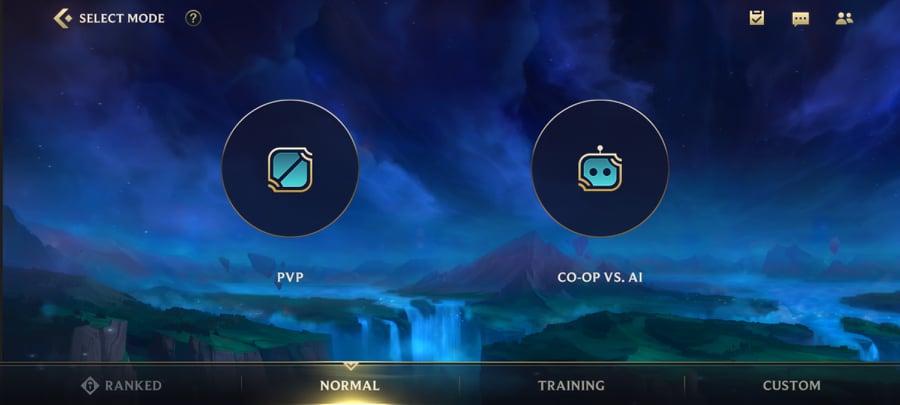 Let's save the best for last. At the bottom right corner of the main lobby, you can see the big blue Play button. Click this to start the game. From here, you can access the different game modes: Ranked (unlocks at level 10, Normal (PVP and CO-OP vs. AI), Training (learn via tutorials, practice Champions, and even earn additional rewards), and Custom (do friendly matches up to 9 players).
That's it for now. Stay tuned to our blog as we tackle more exciting topics to help you claim victory in the rift. You can also check out our League of Legends: Wild Rift – Beginner's Guide to Victory to guide you through.
*In-game screenshot credits to Dennis Garcia and Arbon Bracamante / Codashop