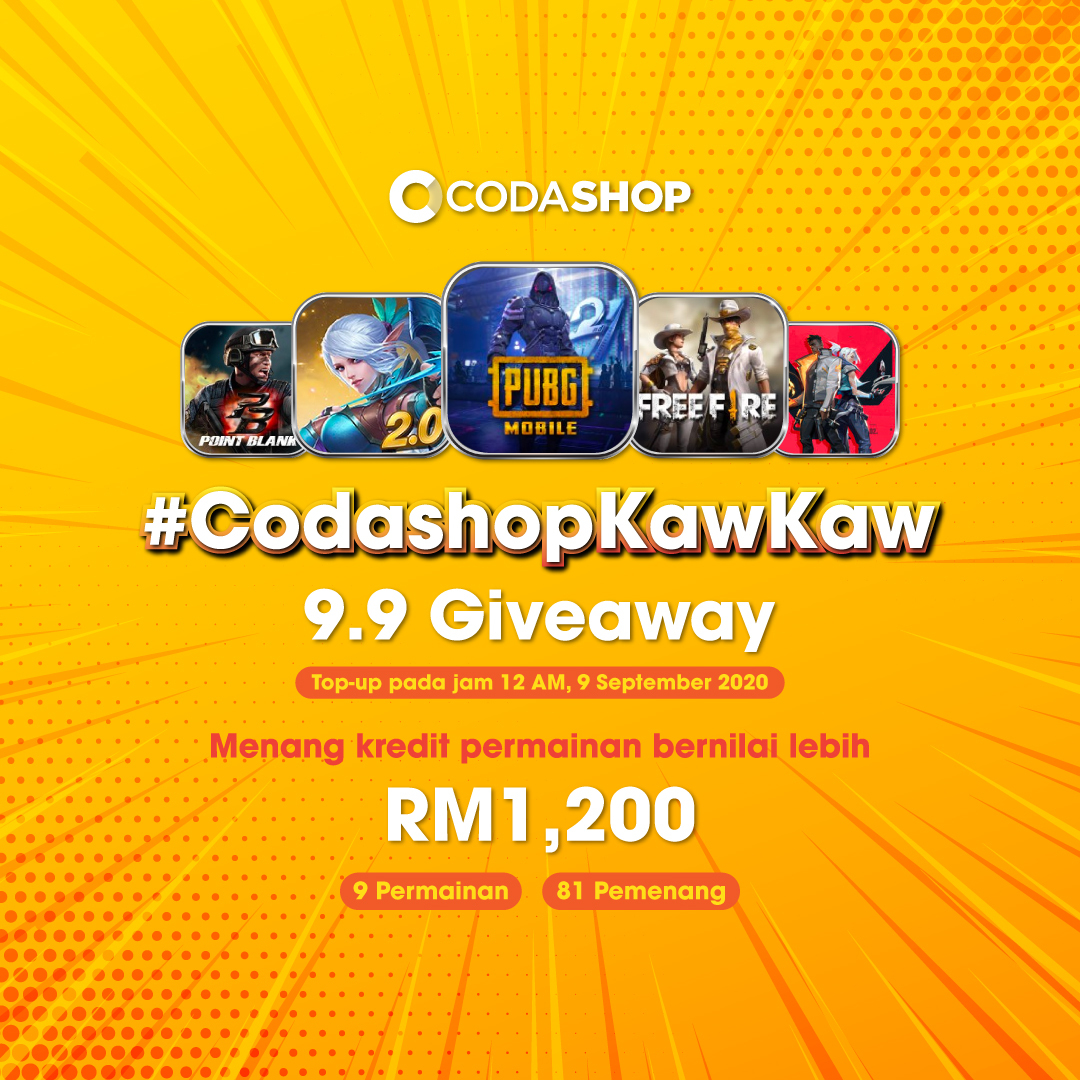 It's almost 9.9.2020 and you know what comes with that? GIVEAWAY 🎉
About #CodashopKawKaw 9.9 Giveaway
Lets countdown to 9.9 together by joining our #CodashopKawKaw 9.9. Giveaway. 9 games will be revealed daily on the event page so do join and keep a close lookout everyday! There will be 9 games, 9 winners for each game, and a total of 81 winners all together. It's super easy! You can follow the steps here:
Join #CodashopKawKaw event page on Facebook 👉 click here
Invite friends and family to join the event.
Keep a lookout for each game on our Facebook event page.
Top up using Codashop on September 9, 12 AM.
Stand a chance to win game credits worth more than RM 1,200!
#CodashopKawKaw 9.9 Giveaway Terms and Conditions
1. The contest is open to all residents of Malaysia, aged 18 years and above.
2. The contest will commence on September 9, 12 AM, and close on September 9, 12 PM. Entries will only qualify for the contest if submitted within the contest period. Entries submitted outside of the contest period, or submitted through any means other than specified herein, will not be eligible for the contest. Any complaints on missing and/or delayed submissions will not be entertained.
3. The Giveaway mechanics are as follows:
To participate in the Giveaway, each participant must top up at 12am, 9 September on Codashop Malaysia website

Each successful top up as specified herein

shall be referred to

as an "Entry".

Each participant may submit multiple Entries for the entire Giveaway.

Each participant may win only one (1) prize for one game for the entire Giveaway.

All Entries submitted in the manner set out above will be qualified for the Giveaway, and eighty one (81) winners will be selected by Codashop at its sole discretion. 

The eighty one (81) winners will win extra game credits as shared on Facebook Event Page. 
4. By taking part in this giveaway, all participants are deemed to have provided expressed consent for Coda to process, use, and/or transfer (where necessary) the participants' personal information, social media handle and photos submitted, for the purposes of this contest.
5. The winner(s) will be notified via Facebook Event Page / Whatsapp Message / email by 20 September, with information and instructions on prize collection. Prizes are not exchangeable by the winner(s) for cash or other items, and are not transferable.
5. The users must provide information for prize redemption within three (3) days from notification by Codashop. In the event that any prize is unclaimed within such period, or there is no winner determined in respect of the prize, it will be dealt with at Codashop's sole discretion.