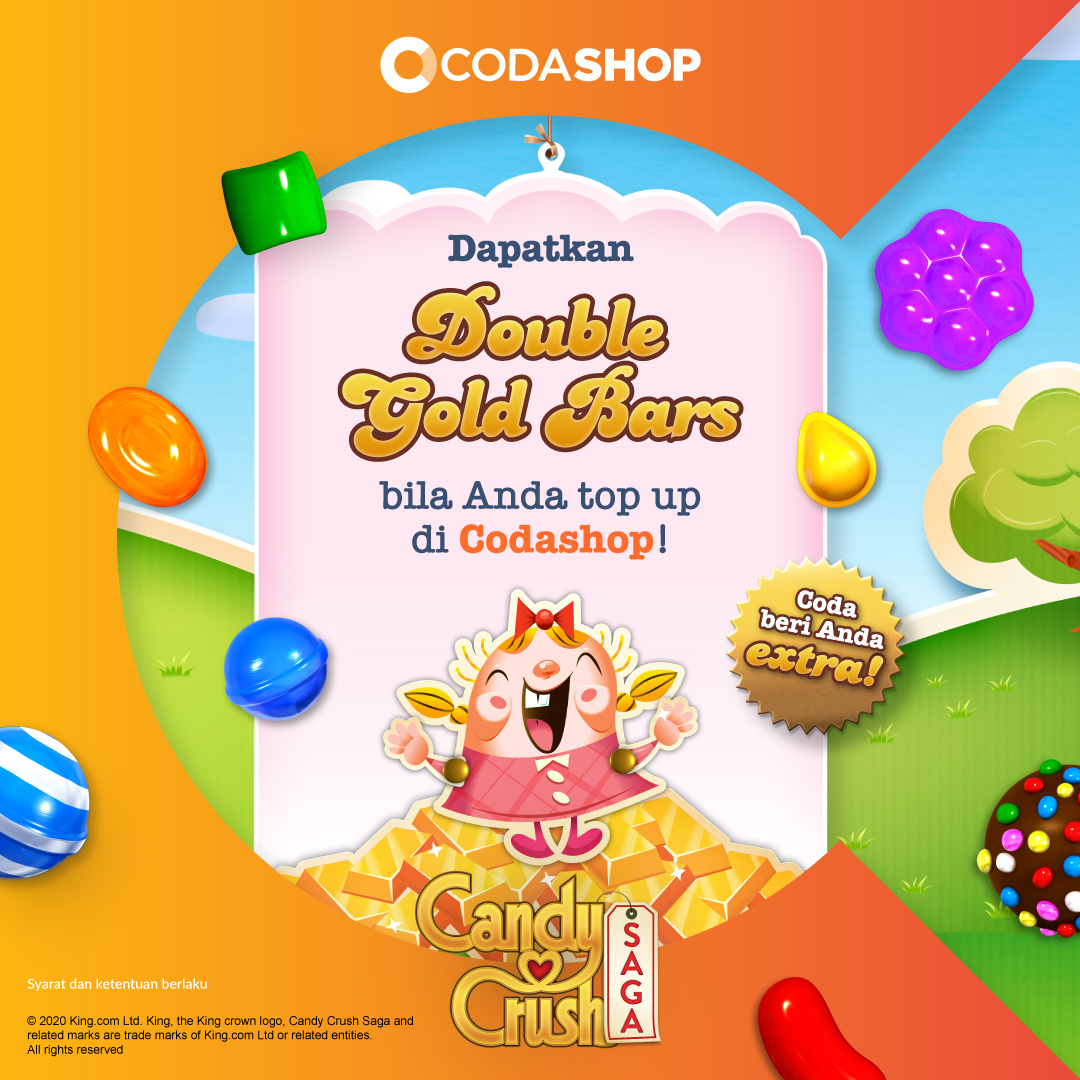 About Candy Crush Saga
Candy Crush Saga – a legendary puzzle game loved by millions of players around the world.
With over a trillion levels played, this sweet match 3 puzzle game is one of the most popular mobile games of all time! Download now to experience the sweet journey with Candy Crush Saga 🍭
Codashop x Candy Crush Saga 
Candy Crush Saga is now finally on Codashop! What's sweeter than that? 😉 Ooo yes, get double Gold Bars when you top up on Codashop 😆 SWEET 😍 *Terms and Conditions apply
Why wait? Top up your Gold Bars on Codashop now and win! Follow us on Facebook for more updates!
Terms and Conditions 
The lucky draw is open to all residents of Malaysia, aged 18 years and above.

The  lucky draw will commence on 21st October till 27th October 2020. Entries will only qualify for the lucky draw if the transactions submitted within the lucky draw period. Entries submitted outside of the lucky draw period, or submitted through any means other than specified herein, will not be eligible for the Contest. Any complaints on missing and/or delayed submissions will not be entertained.

The lucky draw mechanics are as follows:
(1) To participate in the lucky draw, each participant must, (a) top up Candy Crush Gold Bars on Codashop during the promo period (2) Each duly Codashop transaction as specified herein shall be referred to as an "Entry". 
(3) Each participant may perform multiple Candy Crush Saga Gold Bars transactions for the entire lucky draw period . 
(4) Each participant may win only one (1) prize for the entire Contest. 
(5) Five (5) winners for the lucky draw will be chosen randomly by Codashop.
(5) All Entries submitted in the manner set out above will be individually judged by Codashop (5) winners will be selected by Codashop at its sole discretion.
4. By taking part in this lucky draw, all participants are deemed to have provided expressed consent for Coda to process, use, and/or transfer (where necessary) the contestant's personal information, social media handle and photos submitted, for the purposes of this lucky draw. 
5. The prize must be collected within three (3) weeks from notification by Codashop. In the event that any prize is unclaimed within such period, or there is no winner determined in respect of the prize, it will be dealt with at Codashop's sole discretion.