12.12 #CodaSYIOK Giveaway
Top up VALORANT and Wild Cores on Codashop during the campaign period! Codashop will choose 6 lucky winners to win gadgets sponsored by RAVPowers 🥳
12.12 #CodaSYIOK Deal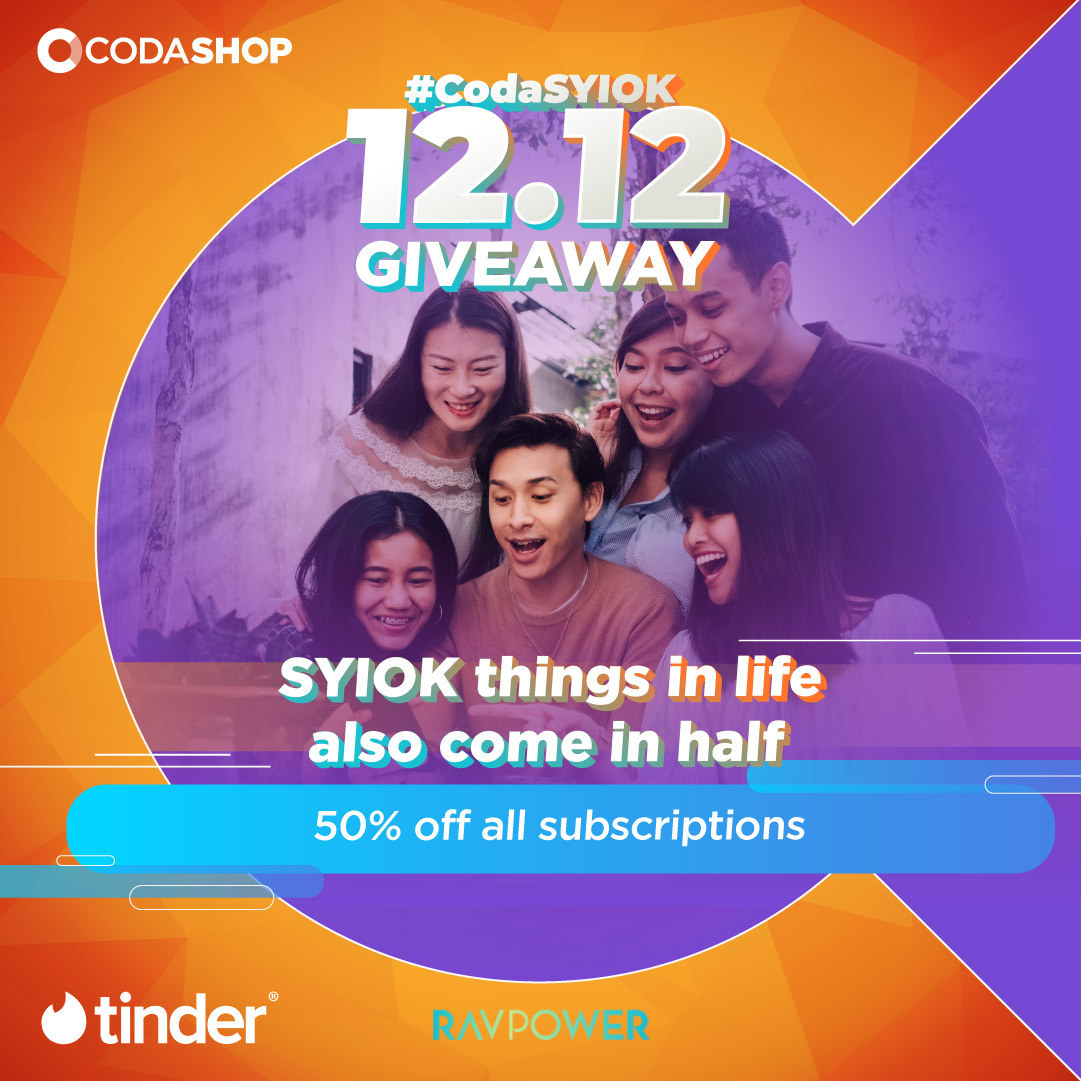 Get 50% off Tinder subscription when you purchase on Codashop! It's for a limited time only. HURRY ⚡
Terms and Conditions
The Contest is open to all residents of Malaysia, aged 18 years and above.

The Contest will commence on 11th December 2020, and close on 17th December 2020 ("Campaign Period"). Entries will only qualify for the campaign if submitted within the Campaign Period. Entries submitted outside of the Campaign Period, or submitted through any means other than specified herein, will not be eligible for the campaign. Any complaints on missing and/or delayed entries will not be entertained.

The campaign mechanics are as follows: 
(1) To participate in the campaign, each users need to top up VALORANT Points and Wild Rift Wild Cores on Codashop (2) Each duly transactions as specified herein shall be referred to as an "Entry". 
(2) Each participant may submit multiple Entries for the entire campaign. 
(3) Each participant may win only one (1) prize for the entire Contest. 
(4) All Entries submitted in the manner set out above will be individually judged by Codashop randomly, and 6 winners will be selected by Codashop at its sole discretion. 
(5) The six (6) winners will win the following prizes;
i. RaVPower RP-PB201 PD Pioneer 20000mAh 60W Portable Charger 2-Port Power Bank x 2
ii. RAVPower Fast Charge Standard Qi Wireless Charging Pad (10W) RP-PC063 x 2
iii. RAVPower Car Holder with Wireless Charger (5W) RP-SH008 x 2
4. By taking part in this campaign, all users  are deemed to have provided expressed consent for Coda to process, use, and/or transfer (where necessary) the user's personal information for the purposes of this campaign 
5. The winner(s) will be notified via Facebook post by 25th December, with information and instructions on prize collection. Prizes are not exchangeable by the winner(s) for cash or other items, and are not transferable.
6. The prize must be collected within three (3) days from notification by Codashop. In the event that any prize is unclaimed within such period, or there is no winner determined in respect of the prize, it will be dealt with at Codashop's sole discretion.