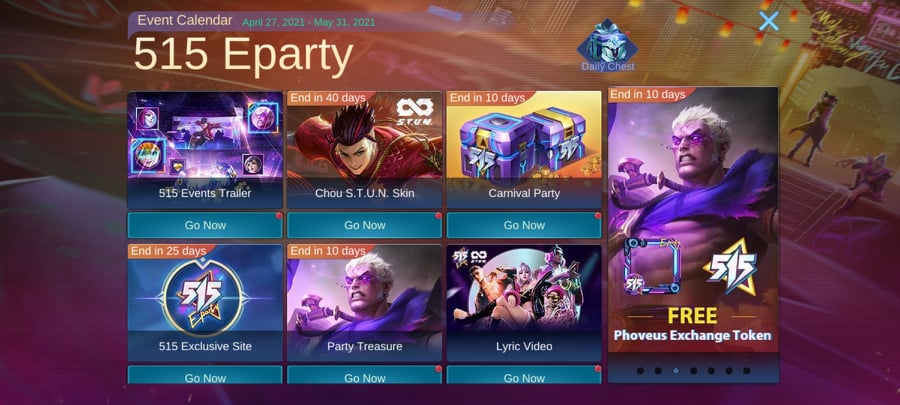 Mobile Legends' annual event, 515 Eparty is here and it's bigger than ever! Players are in for a treat as 515 is loaded with waves of rewards (like promo diamonds!), cool events (access to all heroes and skins forever!), a new fighter hero, and many more. Check out this list to know the superb rewards you can get just by participating.
New Hero Phoveus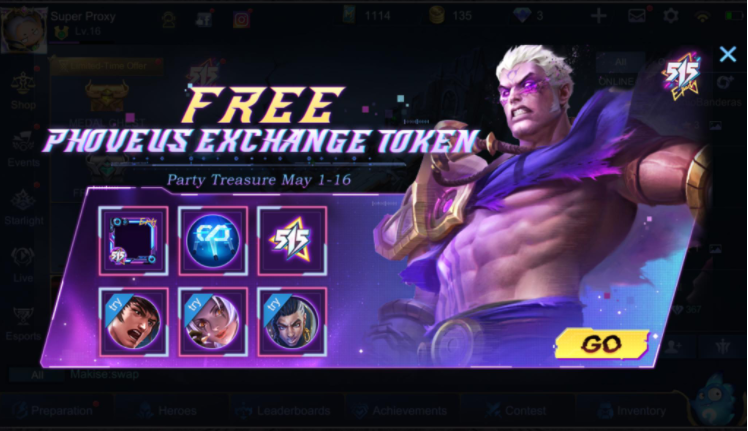 A new hero enters the Land of Dawn and his name is Phoveus, the Shadow of Dread! This powerful fighter is out to punish enemies standing his way using his extraordinary Blink skills. Participate in the Party Treasure event from May 1-16, complete tasks, and draw rewards from 2 prize pools (heroes and special effects). You can obtain Phoveus exchange tokens to redeem the new hero for Free starting May 11 – 31. Other notable rewards from the pool include the new 515 eParty emote (515 For Just YOU and ME) and avatar border (515 Party Avatar Border 2021). 
S.T.U.N. Skins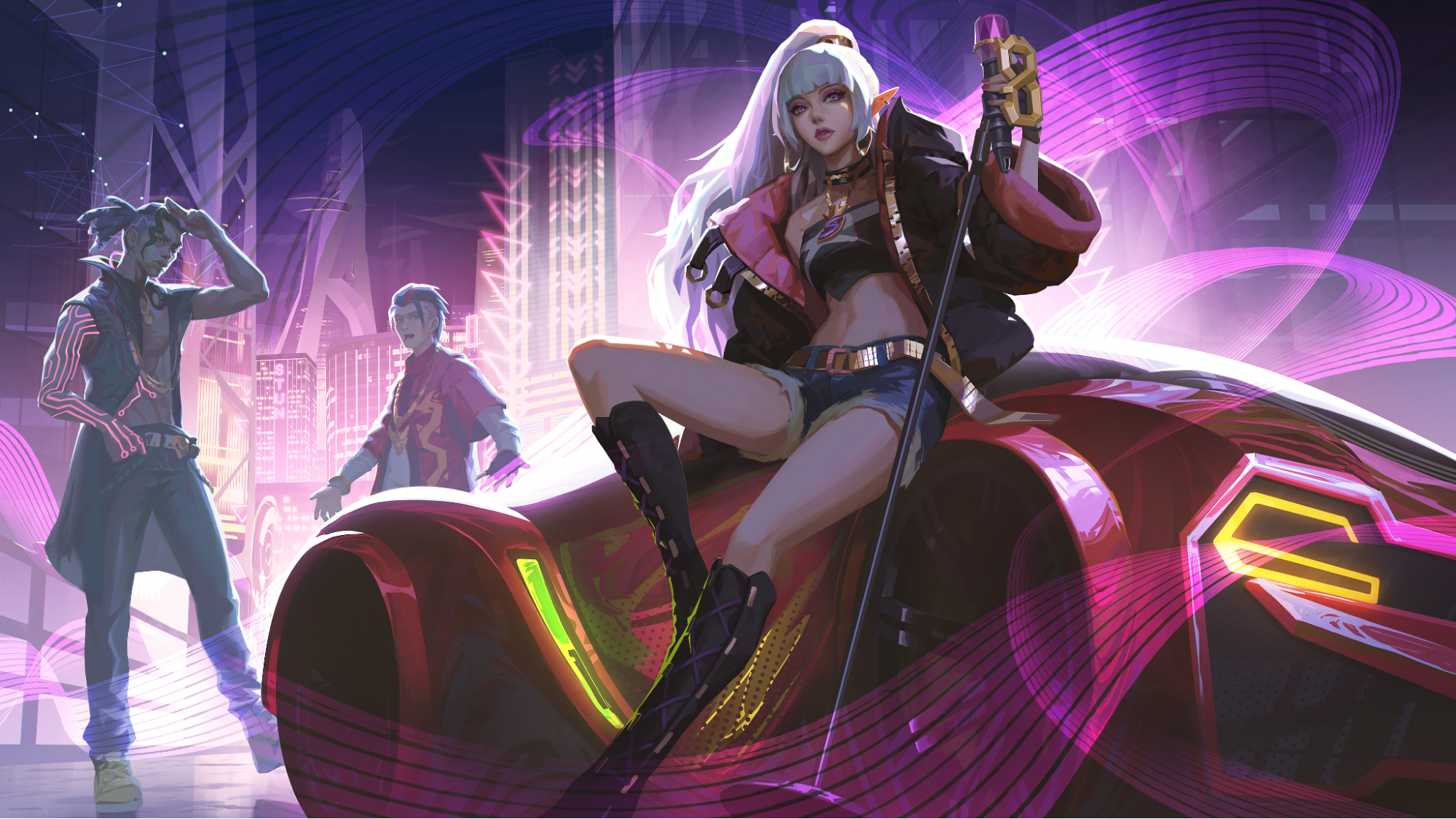 Calling all Chou, Brody, and Selena mains! For a limited time, get your chance to cop futuristic and music-inspired skins of your favorite heroes. Already out is the S.T.U.N. Chou featuring everyone's top Kung Fu Boy in funky threads complete with a skateboard (comes with a sick skateboard skill effect too). The Brody S.T.U.N. skin is also available, while the Selena S.T.U.N. skin will be released on May 15 to complete the lineup.
S.T.U.N. is Mobile Legends' first-ever virtual music group. The name stands for Strength, Tactic, Unity, and Novelty. They also prepared a music video for their debut song 'Together', the theme song of the grand annual eparty. Watch the full video here:
Lucky Star Event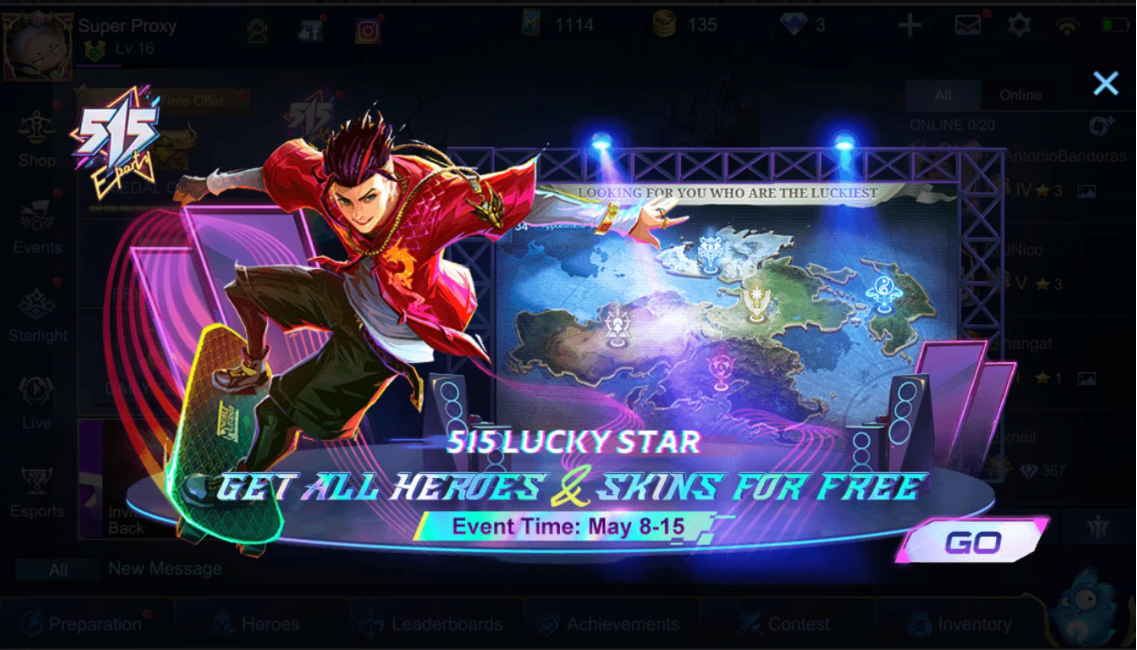 How does access to ALL HEROES AND SKINS forever sound for a grand prize? From May 8-14, participate in the 515 Lucky Star event by signing up daily or share to earn "dig chances" to dig for a reward on May 15. Stand a chance to win all heroes, all skins (including the latest 515 skins), plus 515 Skin Selection, and many more! It's the ultimate MLBB player's dream!
Invite Friends Back, Win 9999 Diamonds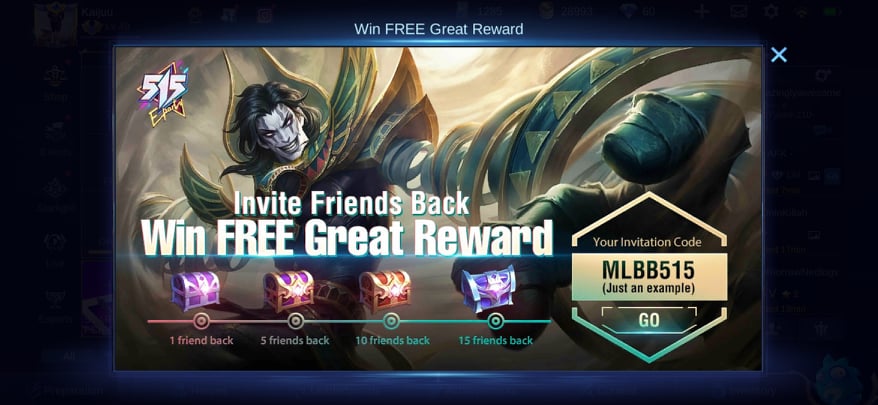 From May 1-15, invite friends back to play MLBB and you will stand the chance of winning lots of diamonds. To participate, returning players must enter your Invitation Code to be considered as friends invited back by you. You will then receive rewards if a certain amount of players enter your Invitation Code. The lucky winner will win as many as 9999 Diamonds!

*Note: This event is only applicable for players who are Level 8 or higher and meet specific requirements.
Complete Tasks, Earn Promo Diamonds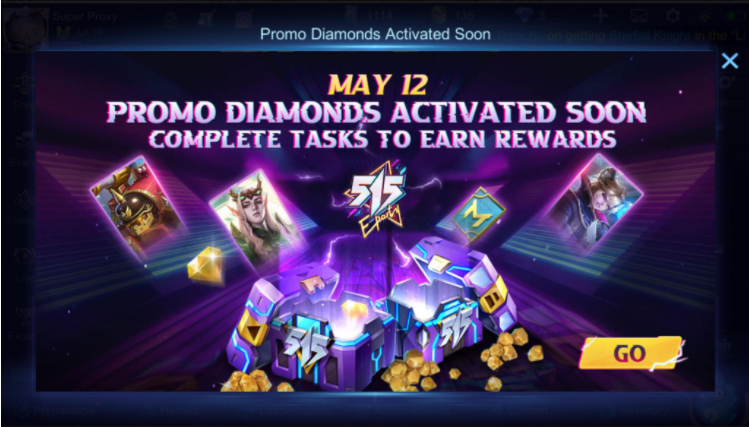 Another very popular event during the 515 Eparty is the Promo Diamonds! From April 27 – May 16, players can take part in the event simply by completing daily tasks to earn Promo Diamonds. On May 12, they can use their Promo Diamonds when buying items deducted from the True Diamond price (with a 1:1 ratio). Yes, you can even buy a skin for just 1 Diamond!
Super discount on Select Items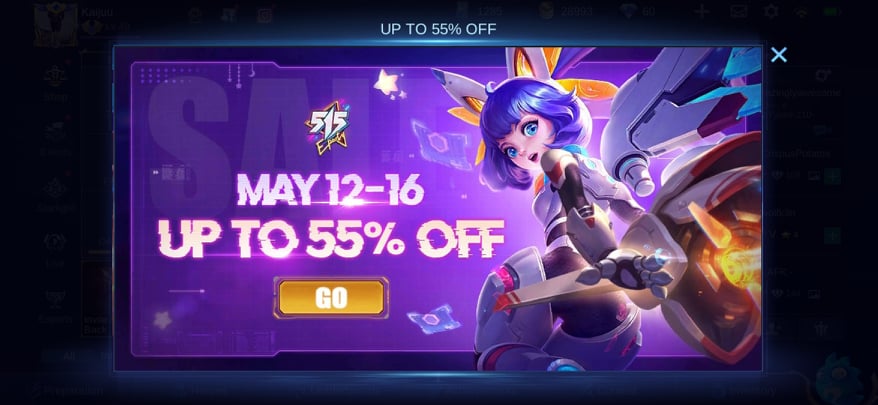 From May 12 -16, you can get loads of discounts on your favorite hero skins.

*Up to 55% off on select Classic skins
*Up to 35% off on select Elite and Special skins
*Up to 25% off on select Special and Epic skins
The Party Box event makes a comeback and this time, it comes with upgraded rewards! Log in from May 11 – 20 and use your Twilight Ticket to draw Elite and Epic skins. You can also complete in-game tasks to help you.  
What are you waiting for, log in to your Mobile Legends now! You don't want to miss out on all these amazing 515 Eparty happenings! 
Don't forget to top up on your Mobile Legends Diamonds only at Codashop. We guarantee faster and more convenient top-ups so you can enjoy a hassle-free gaming experience.