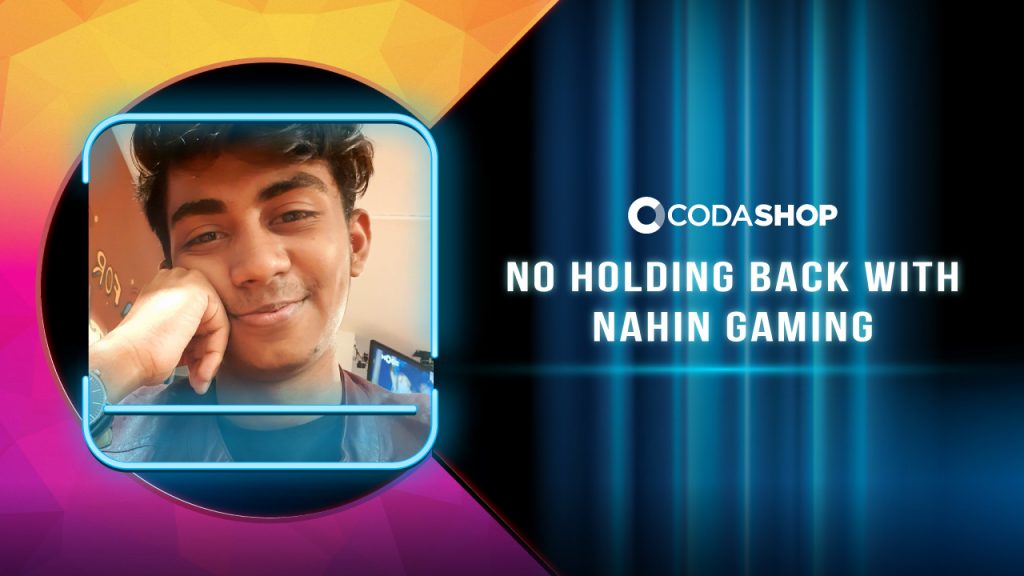 Nahin Siraz from Dhaka, Bangladesh, is just like your typical teen. At 18, he plays football, studies English, loves comedy, and hangs out with friends. He's also into online games and streaming. What sets Nahin apart from others is that he plays and streams despite being deaf. And he is shattering stereotypes while kicking enemy butts in the game.
Learn more about his inspiring story, favorite video games, and how he communicates in-game to win battle royales.
Never say never
Nahin began his video game journey by playing Grand Theft Auto: Vice City, (another fan of Tommy Vercetti and company)! He plays many shooter games today, including PUBG Mobile, Fortnite, Call of Duty: Warzone, and Grand Theft Auto V.
His first dive into streaming started with his YouTube channel in 2017. He began with GTA V, which gathered him his first 20 subscribers. Unfortunately, this did not sit well as his live stream saw no viewers after some time, prompting Nahin to delete his channel and focus on his studies.
Three years later, Nahin took another crack at streaming. He created the page Nahin Gaming on Facebook last August, and this time, he did not let the frustration of having little to no viewers get into his head. His mom and friends played tremendous support by encouraging him to enjoy the stream and continue with the grind, as the followers and likes will eventually follow suit.
A month later, his followers grew to 50. Nahin then shared his content with the big guns of Bangladesh gaming — Arpon Plays YT and Apollo Gaming. Both streamers were inspired by Nahin, shared his sign language video, and urged their respective followers to give him some love. From there, Nahin's followers quickly went from 50 to 10,000 in a matter of hours. To date, Nahin Gaming has close to 30K followers and still growing strong. 
Communicating with teammates
Nahin loves playing with a squad. But, if you watch his PUBG streams, you will wonder how he communicates with teammates to capture objectives. Being born deaf, Nahin cannot rely on in-game sounds to detect enemies and other aspects that involve sound. Instead, Nahin uses a notepad to quickly write messages to his allies and talk to his live viewers. He is also more visually attentive to accomplish in-game mechanics. And that's no easy feat.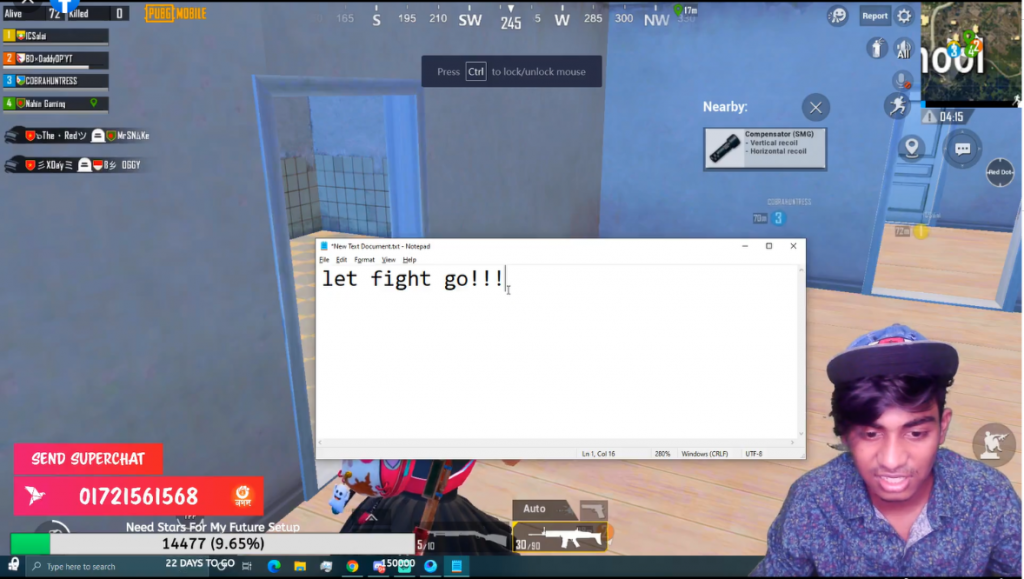 Nahin uses a notepad to quickly write messages to his allies.
This setup is challenging, but Nahin eventually adjusted his routine to switch between different window tabs to play and communicate frequently. While voiceover is the norm for gamers who can hear and speak, notepad is the best alternative for Nahin.
'Asia's #1 deaf steamer'
People will notice the words "Asia's #1 deaf steamer" written in his bio on his Facebook page. Nahin shared that being identified as totally deaf from birth, he researched 'Asian deaf people streaming games' and found no one. 
He then heard about FaZe Ewok, a widely-recognized professional Fortnite player from the US who is also profoundly deaf. This inspired Nahin to come up with his banner info, being the first in Asia at that.
Nahin is also looking forward to collaborating with Apollo Gaming and Arpon Plays YT in the future.
Tips for aspiring deaf streamers
Nahin's father shared about his son's humble beginning. Nahin has consistently placed well in his class, and in fact, used the prize money he won from an art competition (arranged by the Government for kids with disabilities) to buy the computer he uses for streaming.
For those like him who want to delve into the streaming industry, Nahin believes that they must fight and challenge themselves to break the barrier between deaf and normal players that play the game. For streamers who want to increase their followers, they must learn to improve their engagement and try and obtain their own money to support their streams.
Never let any disability get in the way of your passion… and that chicken dinner too!