Twenty more squads to feast your eyes on!
We recently featured 20 unique squads in Mobile Legends including S.A.B.E.R., Blazing Bounties, Mecha Squad, and more. We keep the ball rolling with Part 2 of the coolest teams in MLBB. Let's go!
Steampunk Squad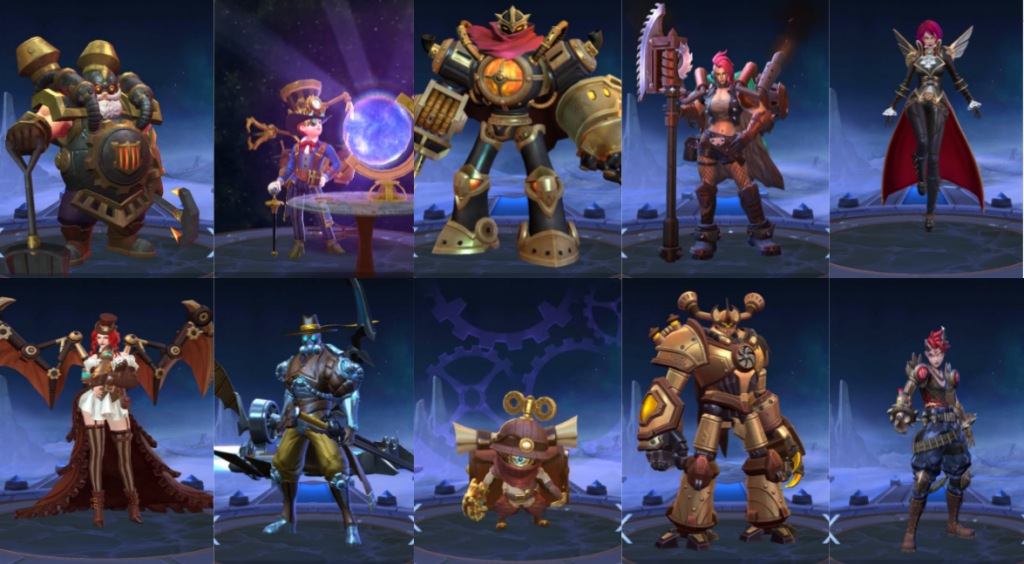 Your favorite heroes decked in cool combination of historic design and steam-powered machinery to fight their way in the Land of Dawn.
Members: Franco (Locomotive), Harley (Great Inventor), Atlas (Fuel Turbine), Hilda (Flower of the Wastes), Eudora (Countess Scarlet), Alice (Steam Glider), Yi Sun-shin (Roguish Ranger), Cyclops (Super Adventurer), Belerick (Torch Guardian), and Dyrroth (Ruins Scavenger)
Oriental Fighters

A band of fighters tasked to protect the Cadia Riverlands against the rebellious Black Fierce Dragon.
Members: Zilong, Ling, Wanwan, and Baxia
Legend Squad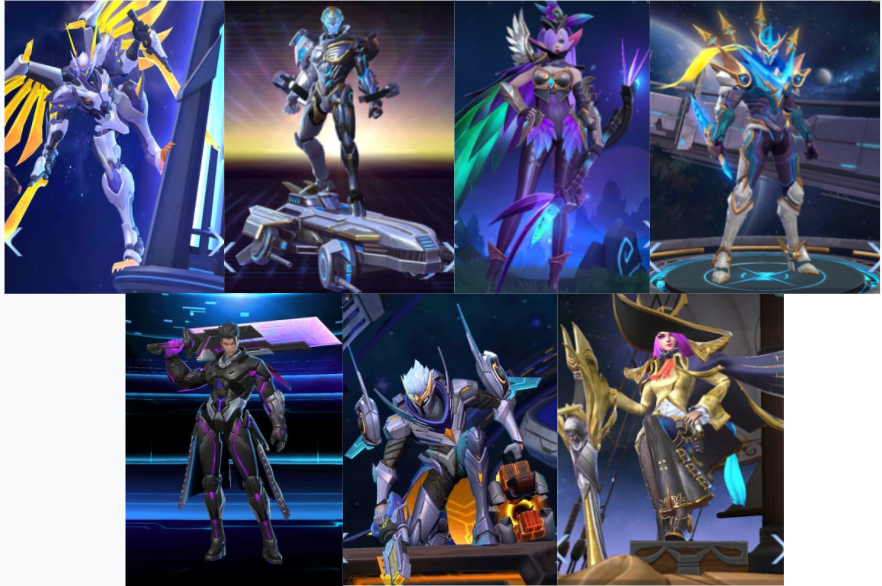 This ultra-legendary group of heroes can be obtained by collecting Magic Crystals and exchanging them in the Magic Shop and also via limited-time events.
Members: Saber (Codename – Storm), Gord (Conqueror). Miya (Modena Butterfly), Gusion (Cosmic Gleam), Alucard (Obsidian Blade), Granger (Starfall Knight), and Lesley (Angelic Agent)
Chinese New Year Squad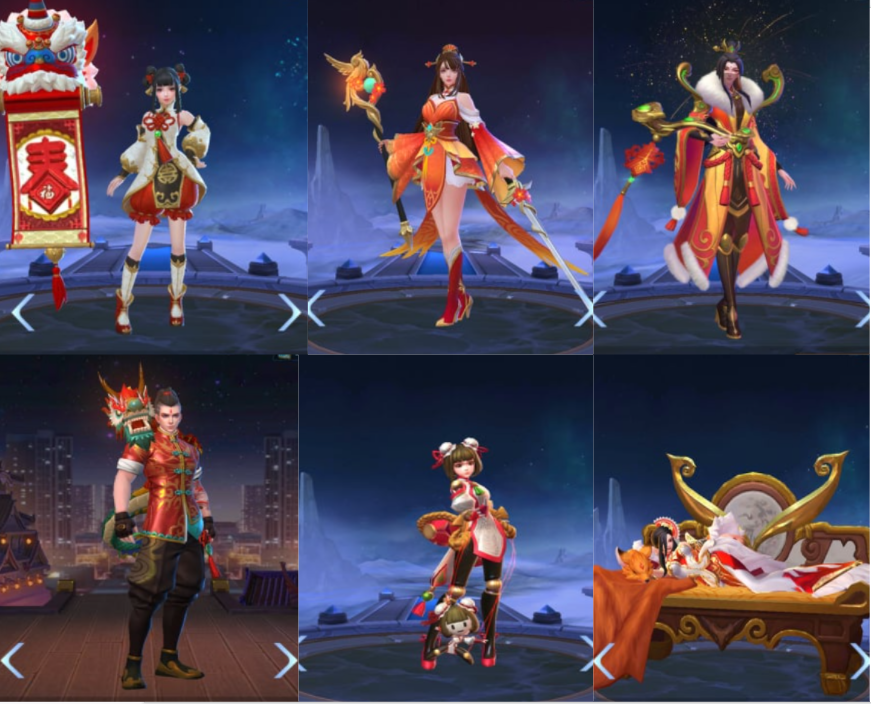 Have a taste of CNY with these heroes ready to ring in and celebrate the New Year complete with fireworks and lion dance!
Members: Lolita (Lion Dance), Odette (Auspicious Charm), Luo Yi (Dawning Fortune), Chou (Dragon Boy), Angela (Shanghai Maiden), and Aurora (Foxy Lady)
Night Shadow Squad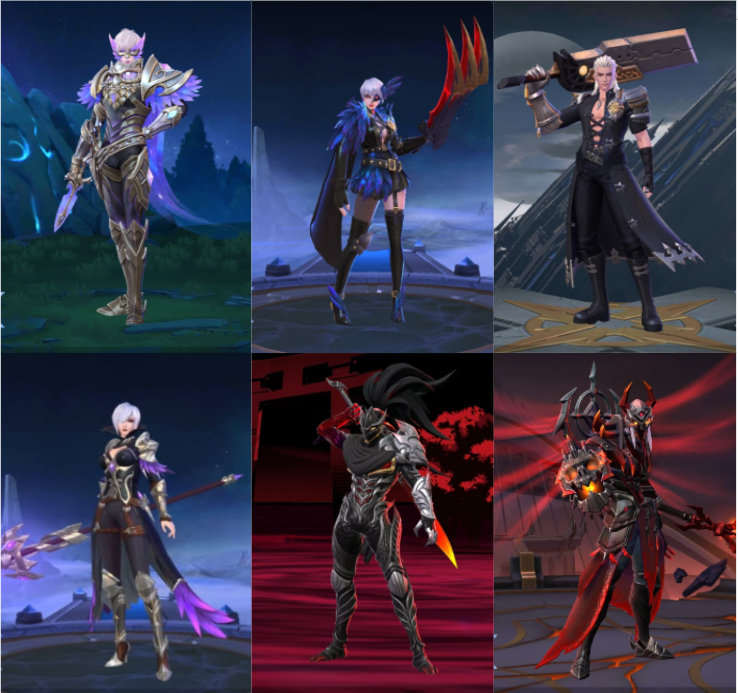 This squad prowls the night and stealthily snatches away the kills.
Members: Gusion (Night Owl), Natalia (Midnight Raven), Alucard (Child of the Fall), Silvanna (Midnight Justice), Hayabusa (Shadow of Obscurity), and Moskov (Blood Spear)
Dynamic Duos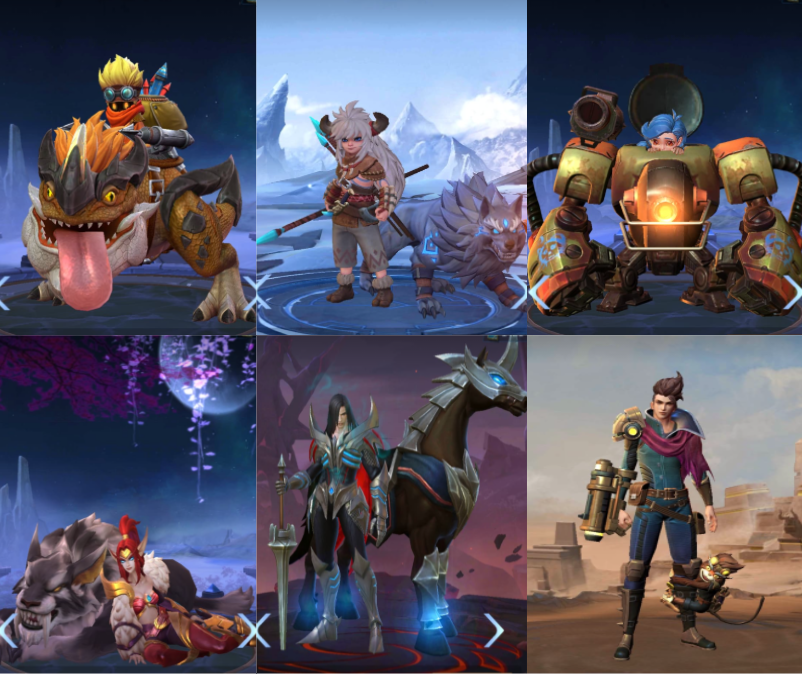 We also included these agile, 2-in-1 (well, almost!) heroes with their sidekicks bringing their brand of double trouble in battle.

Members: Barats (and Detona), Popol and Kupa, Jawhead (and Ellie), Irithel (and Leo), Leomord (and Barbiel), and Cluade (and Dexter)
Frigid Squad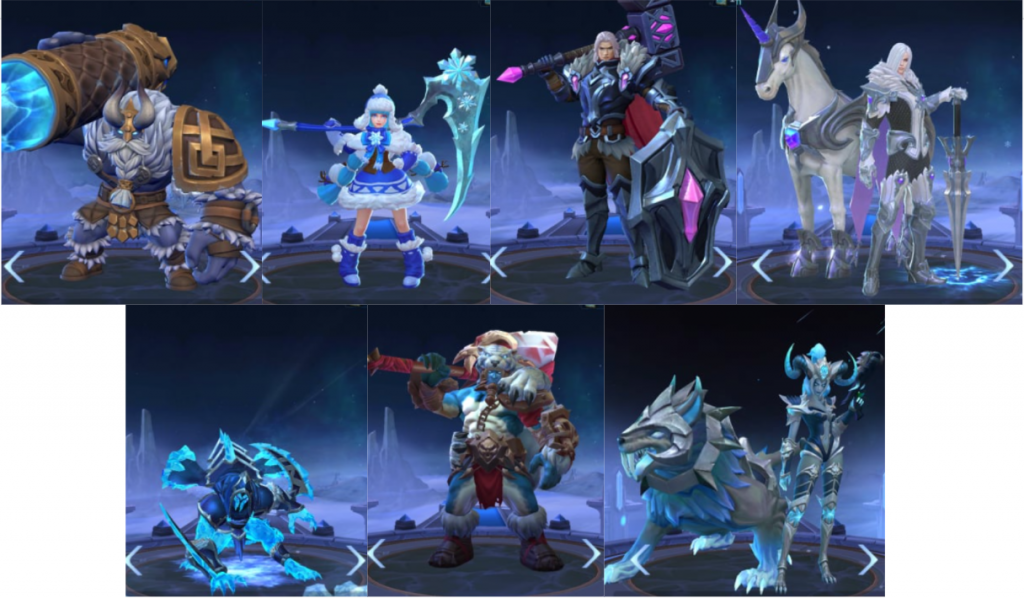 From the depths of the coldest region of the planet, these heroes come with frigid yet vicious strikes.
Members: Grock (Iceland Golem), Ruby (Edelweiss), Tigreal (Dark Guardian), Leomord (Frostborn Paladin), Helcurt (Ice Scythe), Balmond (Savage Hunter), and Irithel (Ice Spike)
Bioweapon Squad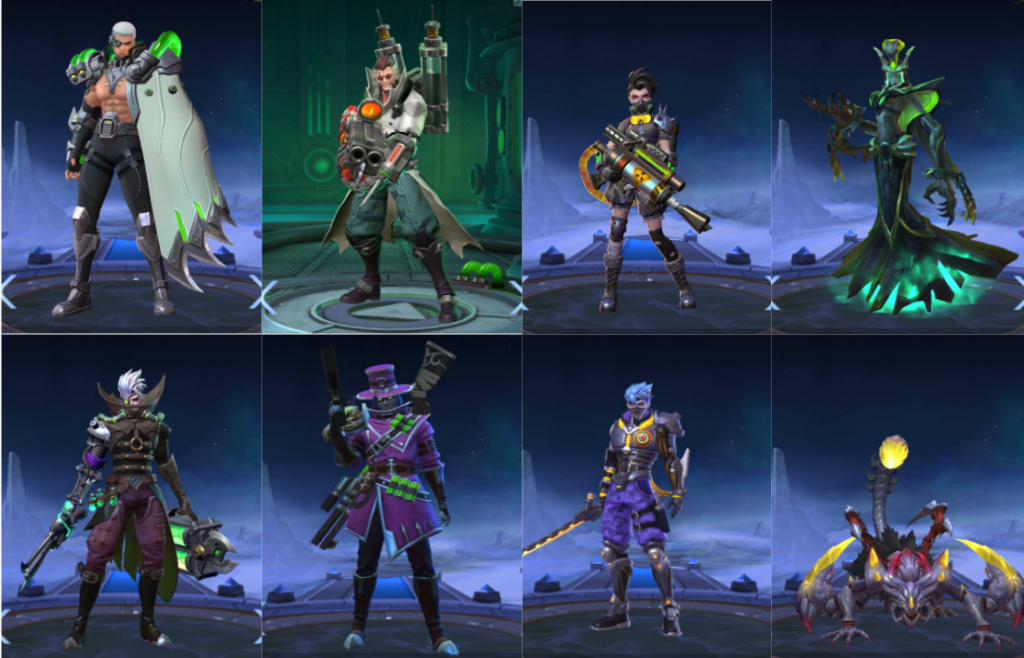 Scathing and harmful, you wouldn't want to mess with this bunch of warriors! Take caution!
Members: Yu Zhong (Biohazard), Roger (Dr. Beast), Kimmy (Bio Frontier), Vexana (Toxic Kiss), Granger (Biosoldier), Clint (Witch Hunter), Hayabusa (Biological Weapon), and Helcurt (Evolved Predator)
Egyptian Gods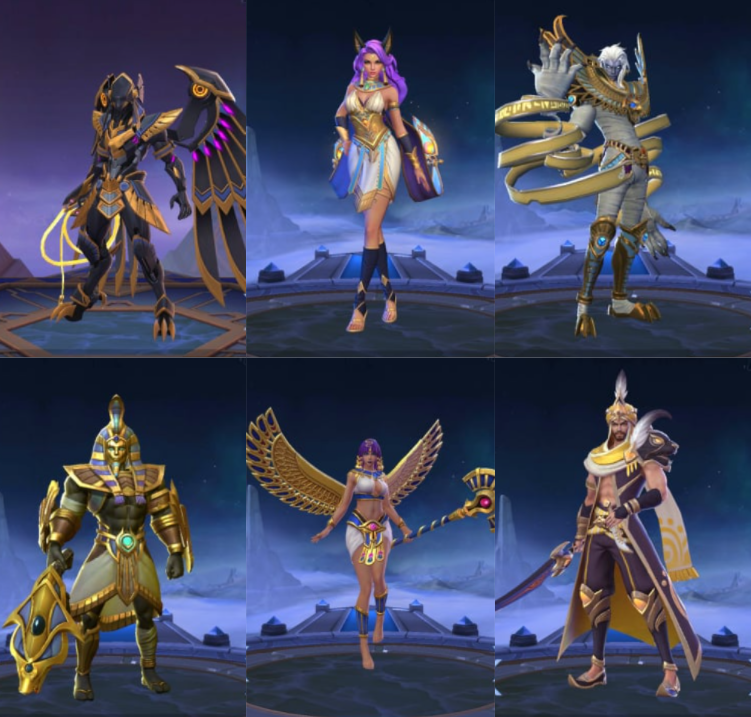 The mighty rulers of the desert are all here to drown you in the sand.
Members: Kaja (Skyblocker), Esmeralda (Cleopatra), Khufra (Deser Owl), Roger (Anubis), Rafaela (Fertility Goddess), and Khaleed (Prince of Sand)
Rescue Squad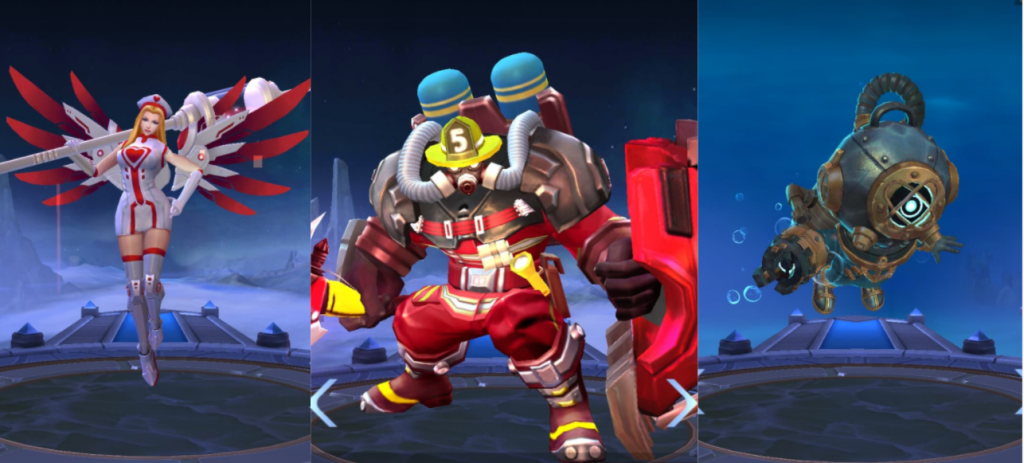 Call on this brave service crew to help bail you out of an emergency, life-and-death situation.
Members: Rafaela (Biomedic), Johnson (Fire Chief), and Cyclops (Deep Sea Rescuer)
Royal Squad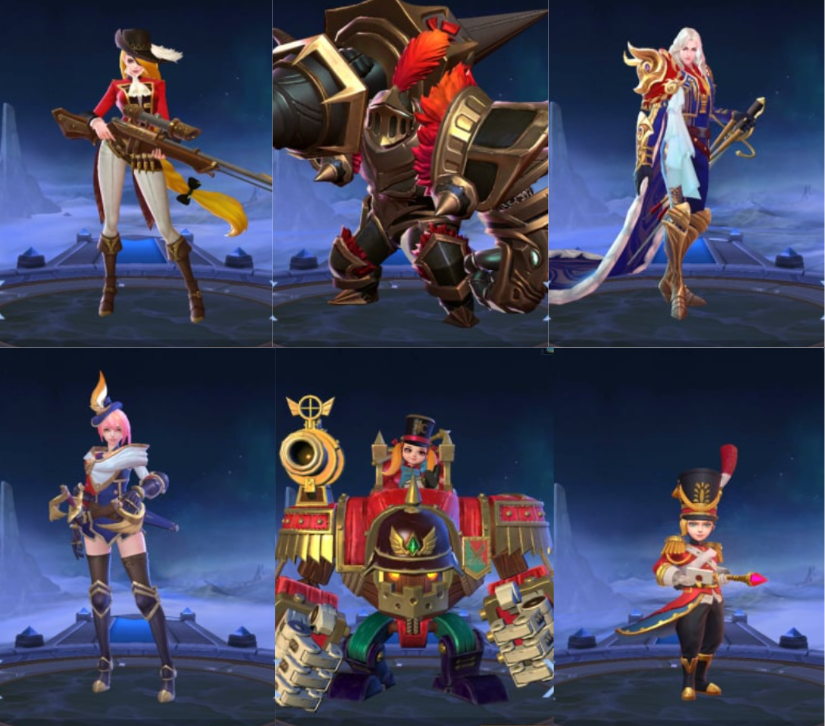 Care for some royal guards to protect you from harm's way? Your cavalry has arrived!
Members: Lesley (Royal Musketeer), Grock (Castle Guard), Lancelot (Royal Matador), Fanny (Royal Cavalry), Jawhead (The Nutcracker), and Harley (Royal Magister)
Summer Squad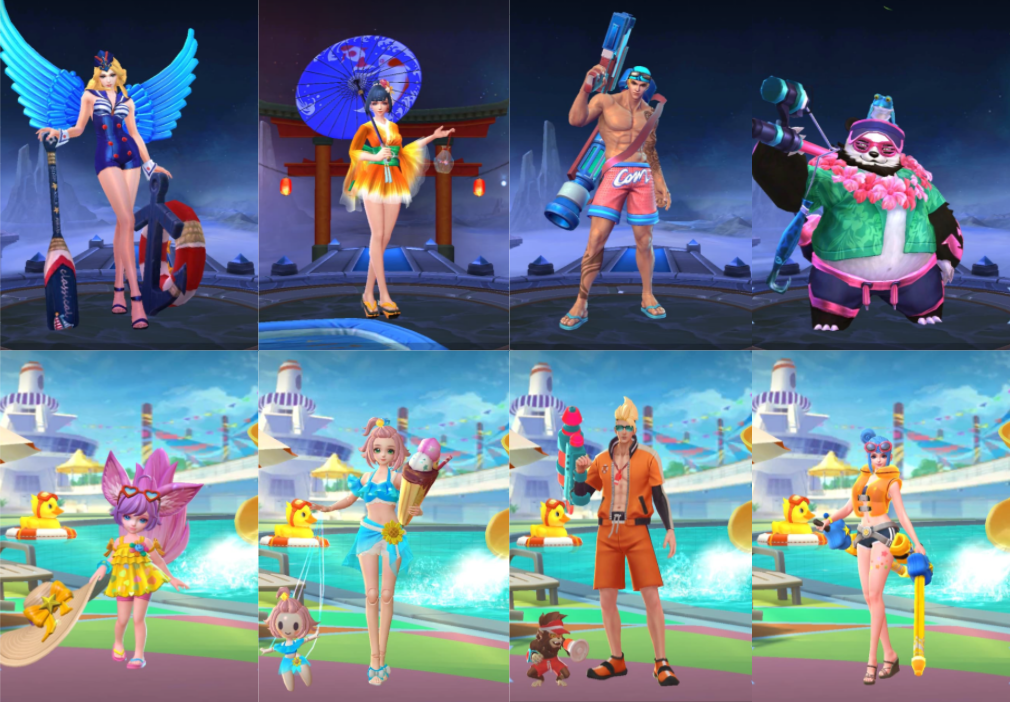 Who said that heroes from the Land of Dawn can't have fun under the sun? Surf's up!
Members: Freya (Beach Sweetheart), Kagura (Summer Festival), Clint (Sun 'n Sand), Akai (Summer Party), Nana (Sundress), Angela (Summer Vibes), Claude (Lifeguard), and Fanny (Lifeguard)
Christmas Carnival Squad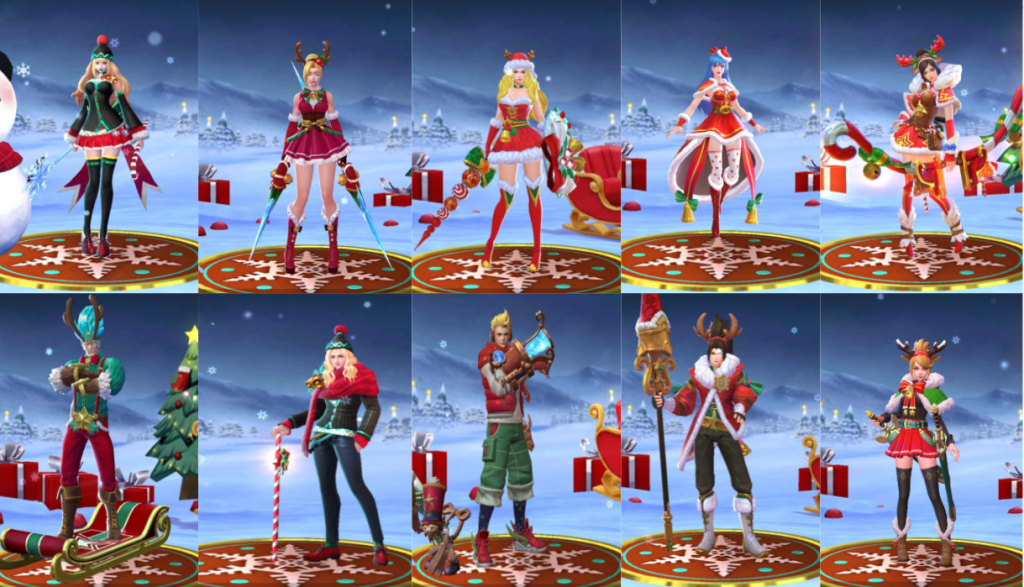 Celebrate merry-making in battle with your favorite heroes in their yuletide outfits!
Members: Odette, Karina, Freya, Eudora, Miya, Gord, Lancelot, Claude, Zilong, and Fanny
Insect Squad

Your favorite heroes as creepy crawlers. You'll need more than a bug spray to wipe them out.
Members: Zhask (Extraterrestrial), Selena (Wasp Queen), Karrie (Bladed Mantis), Hanabi (Fiery Moth), Karina (Doom Duelist)
Elemental Squad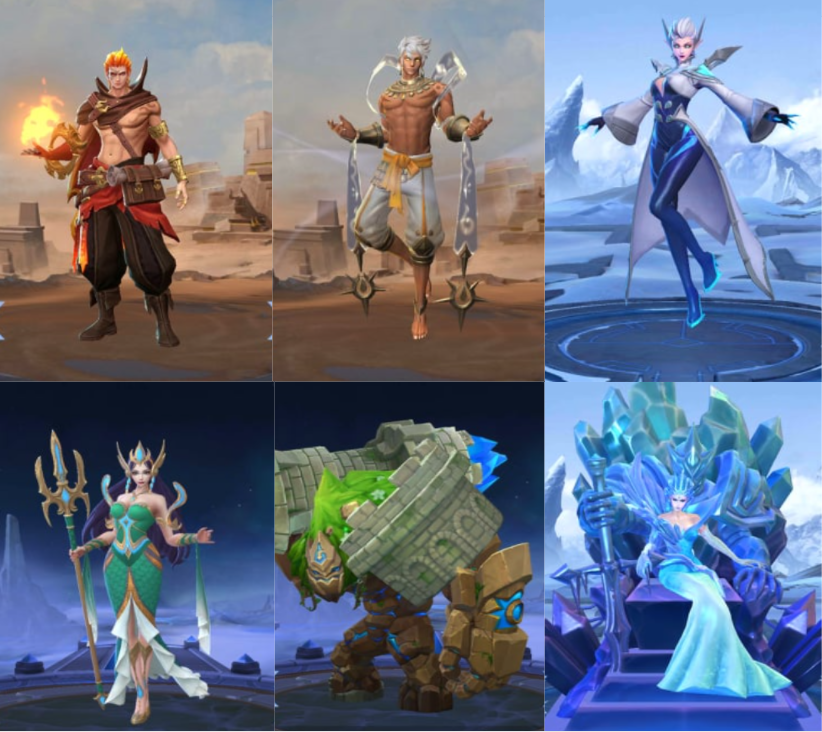 Earth. Fire. Wind. Water. Lightning. Ice. Never underestimate the powers of nature, let alone its designated elemental warriors.
Members: Valir, Vale, Eudora, Kadita, Grock, and Aurora
Bone Squad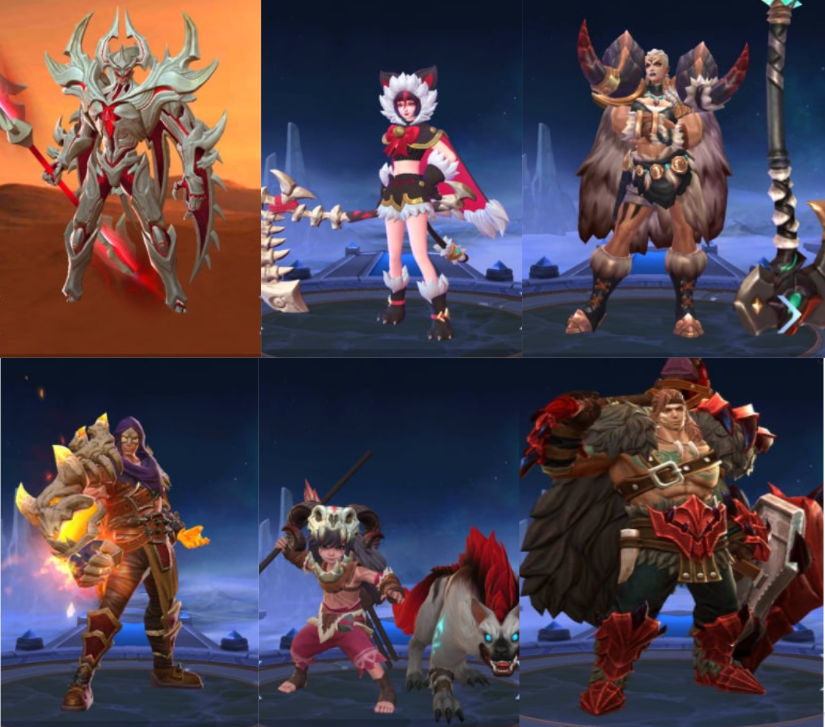 Sticks and stones may break your bones… and so will these hard-hitting bone warriors!
Members: Zhask (Bone Famen), Ruby (Cat Girl), Hilda (Power of Wilderness), Aldous (Death), Popol and Kupa (Tribal Howl), and Tigreal (Wyrmslayer)
Witch Squad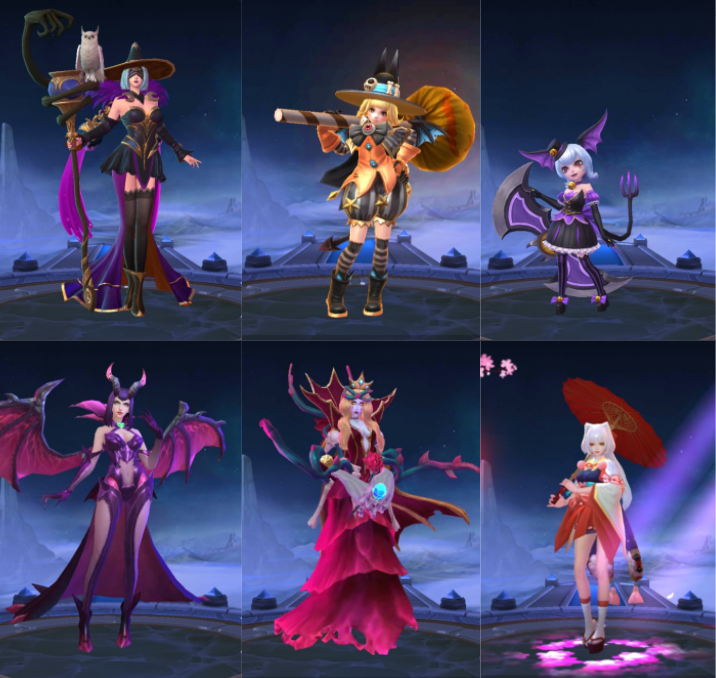 From the spookingly wise words of Vexana: "From the looks of you, you seem scared." You better be, these wicked sisters are up to no good.
Members: Pharsa (Enchanting Witch), Lolita (Impish Trickster), Nana (Graveyard Party), Alice (Spirit Woman), Vexana (Sanguine Rose), and Kagura (Cherry Witch)
Pirate Squad

Conquer the Seven Seas and even the Land of Dawn with these notorious raiders! Aye, Aye, Captain!
Members: Roger (Phantom Pirate), Claude (Plunderous Pirate), Bane (Warlord), and Karina (Black Pearl)
Halloween Squad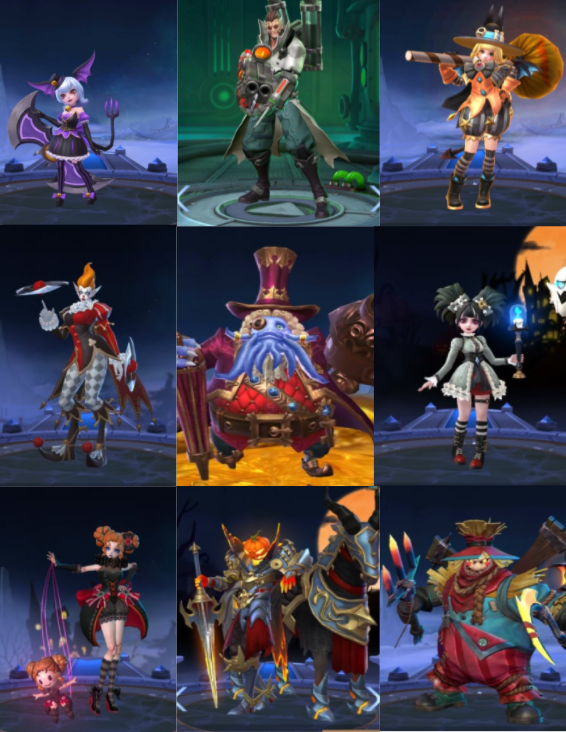 Be warned that it won't be the usual Trick or Treat when you knock on the door of this spooky crew.
Members: Nana (Graveyard Party) Roger (Dr. Beast), Lolita (Impish Trickster), Karrie (Jester), Bane (Count Dracula), Lylia (Haunted Doll), Angela (Scream Doll), Leomord (Jack-o'-lantern), Franco (Wheatfield Nightmare), and Terizla (Hammer Giant)
Phantom Squad

Spectre. Wraith. Shadow. Whatever it is you want to call it, this squad will battle you with every bit of bogey skills and weaponry.
Members: Roger (Phantom Pirate), Karina (Phantom Blade), Hylos (Phantom Seer), Leomord (Phantom Knight), and Natalia (Phantom Dancer)
Don't forget to top up on your Mobile Legends Diamonds only at Codashop. We guarantee faster and more convenient top-ups so you can enjoy a hassle-free gaming experience.