Spam-worthy TPs that deserve your attention
Pretty sure you've come across MLBB players (both allies and foes) who flex their Recall Effects during the game. From as early as the beginning immediately after spawning, when taunting enemies from a distance, shortly after a kill, or even for a photo-op, spamming that TP button has become a popular culture in the game. With that said, let's check out the dopest recalls and rank them in terms of their coolness factor!
How to get a Recall Effect?
Battle Effects allow players to customize their in-game Notification, Spawn Effect, Custom Action, Elimination Effect, and of course the Recall Effects. There are different Recall Effects in the game that you can buy permanently, under center conditions. 
You can earn a new Recall Effect using Diamonds to buy from existing bundles in the Shop and through special events. You can also purchase limited-time recalls in the Lucky Shop using Lucky Gems or buy from the Starlight Shop using your Starlight Magic Fragment.
The Best Recall Effects
Now let's get to the cool stuff. Check out some of the dopest, coolest recall effects in Mobile Legends!
Party Star
This free recall effect is from the Party Star event of 515 eParty 2021. It features two colors in its base form and top emblem. The strong animation effect makes it a pretty spammable TP option to jeer enemies. Party on and be careful not to abuse that recall button.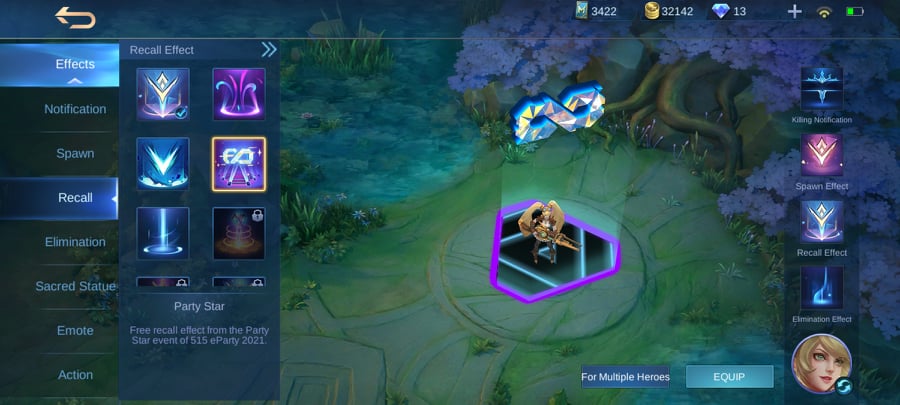 Will Spam: 5/5
Return of the Future
This Future Series limited recall effect is obtainable from the "Future Foreseen" event. The sleek combination of polygons, insignia, and beaming effect creates a stark sight. But because of its slow animation, this one does not top the bill as a go-to TP for freestylers.
Will Spam: 3/5
Dashing Cat
This Epic Animal Theme Recall Effect is pretty rare and can only be obtained from Limited-time Bundles. Those who are lucky enough to earn will forever see four cute and chubby felines running in circles and tumbling as they head back to base. Cuteness overload even your enemies will find hard to resist.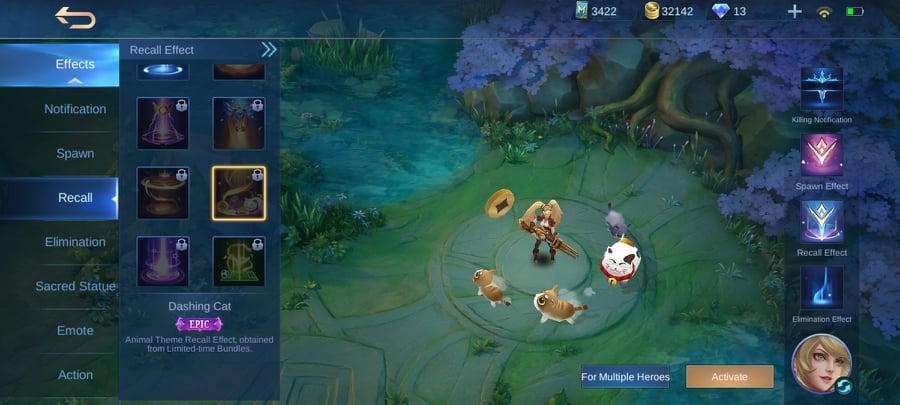 Felt Cute, Will Spam: 4/5
Seal of Anvil Crawlers
This is undeniably one of the most electrifying recall effects in Mobile Legends. The Epic Seal of Anvil Crawlers creates powerful lightning effects circling your hero, you'd want to just spam that recall button for no apparent reason. If recall effects could kill, you may want to stay away from this one. Obtain via limited-time bundle.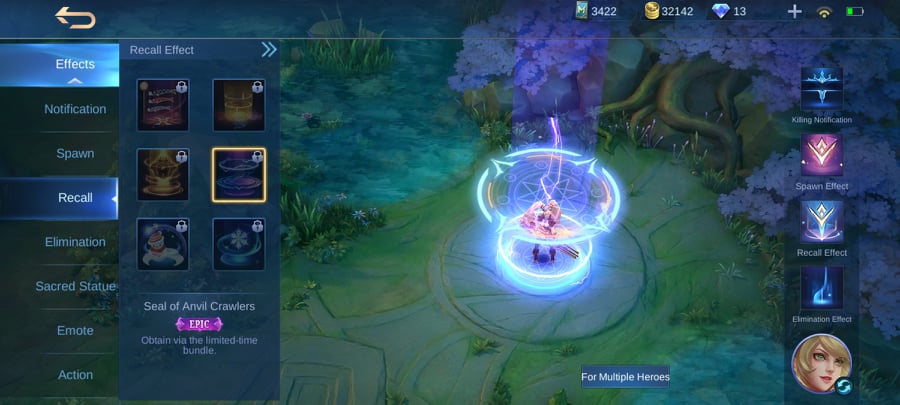 Will Definitely Spam: 5/5
MLBB x Star Wars Recall Effect
Earn this recall effect, you must. Relive the sight and sound of the force with this brand new recall every time you push that TP button. Padawans will surely appreciate this one, which comes complete with lightsabers too! Obtained by exchanging from the MLBB x Star Wars event. May the force of the TP be with you.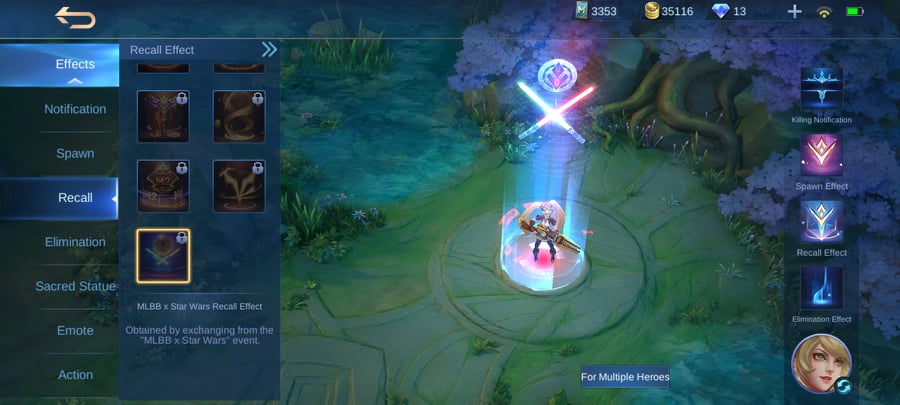 Strike that TP Button! 5/5
Thunder Returns
This is perhaps the coolest recall effect in MLBB's Hero series. Thunder Returns is a fitting TP for our Kung-Fu Boy Chou and his lightning-quick moves and thunderous combos. This recall effect sports a golden 'V' with bolts of lightning blanketing the hero. Obtained via The Rolling Thunder event.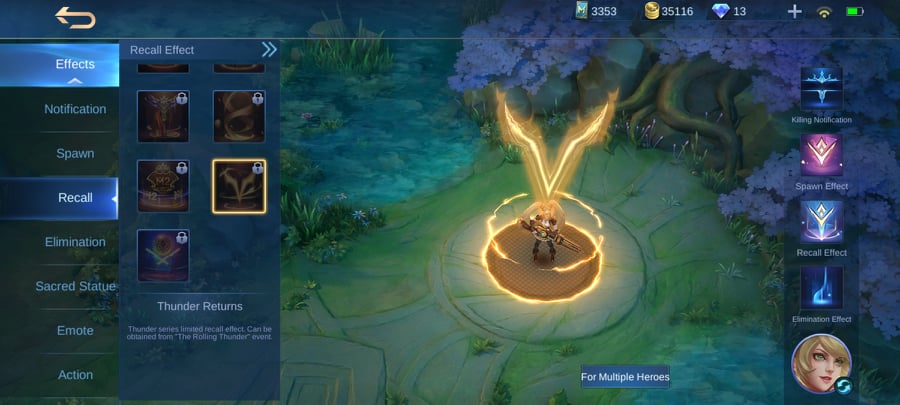 Will Freestyle For Sure! 5/5
Seal of Eternal Flower
If you're as cold as Aurora, this is your (recall) crowning glory. This rare TP effect is only obtainable via Limited-time Bundle, so if you want to have it permanently, you need to save up on those Diamonds. Wrap yourself in glowing ice effect complete with a center snowflake that pops up just before you let go.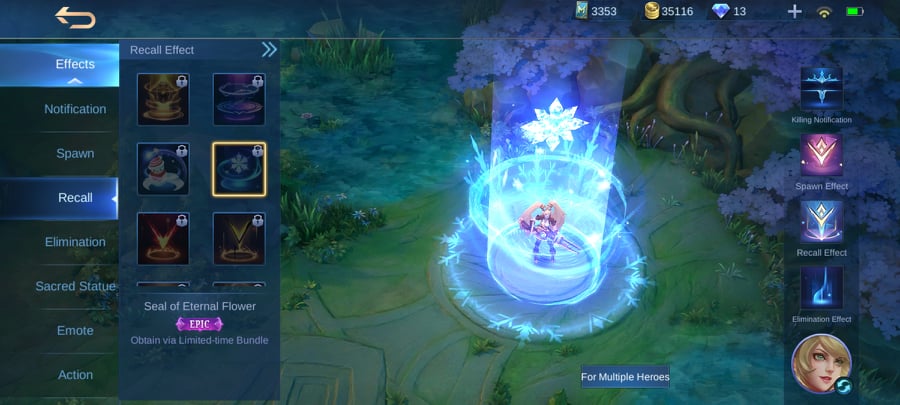 Ice Ice Baby! 5/5
Summer Gala
We know you've been itching to go out for a change of scenery but cannot. Why not get that beach vibe straight from the Land of Dawn with the Summer Gala recall effect? It comes complete with sand, waves, birds and even a coconut tree. Relax while getting double kills. This special recall is obtained via Limited-time Event.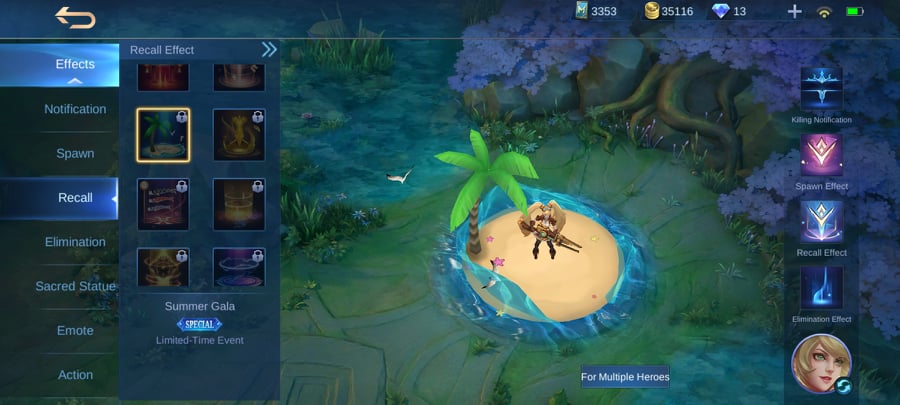 Spawn a whole island. 4/5
Sky Guardian
This Magic Dust Shop exclusive lets you spawn a stacking golden armor that definitely leaves a class act when you hit the recall button. Even if you lose the match, you still feel like a winner with this trophy of a recall.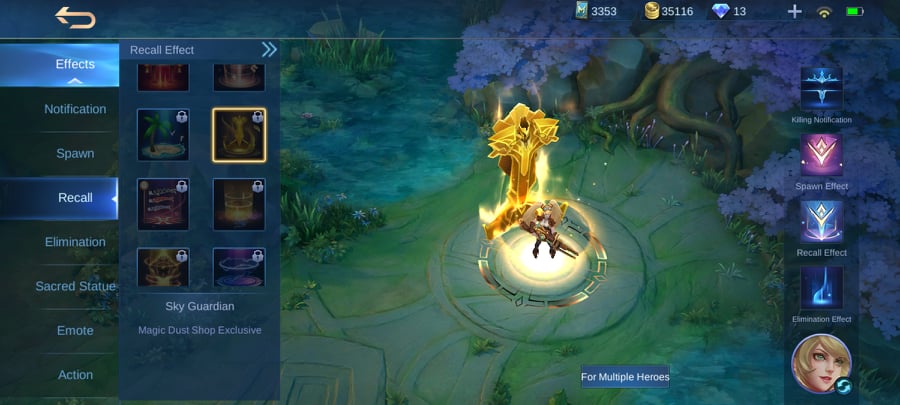 Transform and Go Home! 4/5
Fire Crown
This Epic recall effect is absolutely on fire! For trigger-TP happy players, the Fire Crown is a must to your collection. It features flames circling your hero and a fire crown that completes the animated look. Obtain via Limited-time Event.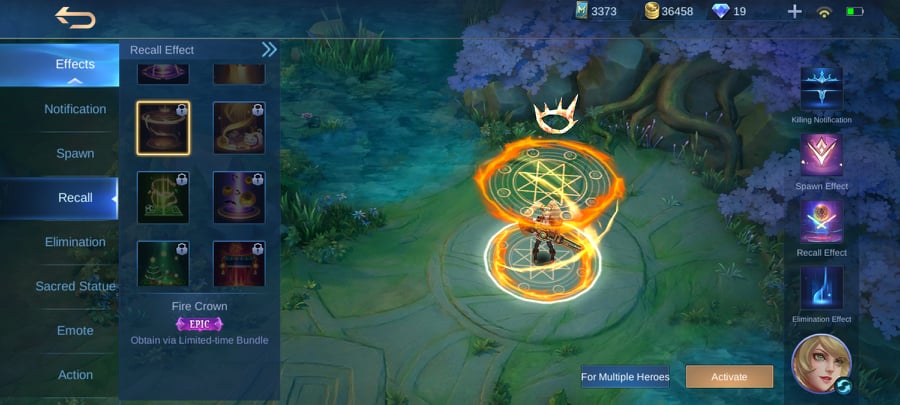 Will Spam: 5/5
Dragon Mark
This Dragon Tamer Series Skin Exclusive lets you flex the way of the Dragon when you hit recall. Flash a massive golden mythical beast as you make your way back to base. Unlock by collecting all Dragon Tamer Series Skins.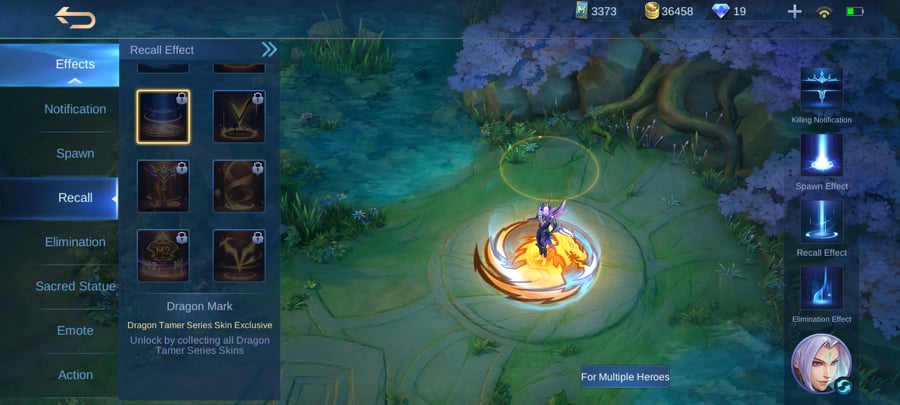 Spam-worthy. 4/5
M1 Champion Recall
Show off like a champ! The list is not complete without this M1 Champion Recall. It proudly features the EVOS Legends banner lighting it up as you hit that go-home button. This limited-time reward is from the M1 Champion Exclusive Bundle from 2019.

Flash the flag! 4/5
Don't forget to top up on your Mobile Legends Diamonds only at Codashop. We guarantee faster and more convenient top-ups so you can enjoy a hassle-free gaming experience.