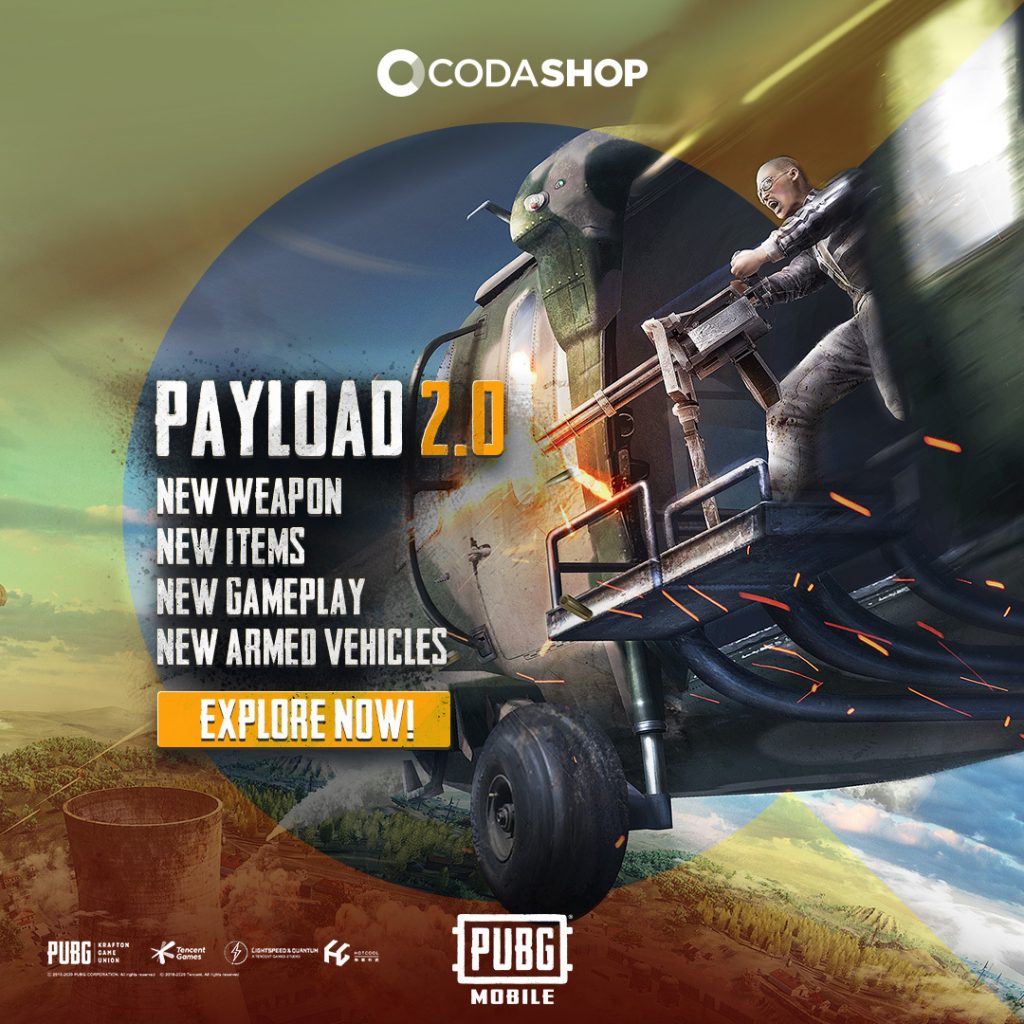 PUBG Mobile's Payload Mode 2.0 puts you in the mood for more mayhem with fresh features. Undeniably one of most exciting in-game fixtures, Payload 2.0 lets you experience all the action with new armed vehicles! From terrain up to the sky, rev up your engines and prepare to dominate the battlefield. You also get to take on bases to snatch heavy weaponry and other new items. Super Weapon Crates are also up for grabs so you can reign supreme over enemies.
Rock and Load
With the new feature now up and running, players can use powerful vehicles and gather massive firepower to gain the upper hand in the match. They include:
Armored Vehicles: The classic vehicles have been armed for Payload 2.0 with three devastating weapons.
Flamethrowers – Spews fire to cook enemies that get in the way
Gatling Gun – Powered with 7.62mm rounds and fire 150 rapidly
Rocket Launcher – Terrorize foes with its noise alone
Vehicles for demolition include:
New Armed UAZ – Can seat up to 4 people. Driver is equipped with a weapon. Player 1 can use a Flamethrower. Players 2 and 3 in the back can use the Gatling Gun and Rocket Launcher. Seat 4 for is to the team leader who calls the shots.
Armed Dacia – This compact vehicle can seat up to 4 persons. Seat 1 gets the Flamethrower. Seat 2 operates the Rocket Launcher. Backseat players can fire their weapons at will from the windows. No Gatling Gun available.
Armed Buggy – This mini vehicle is a big challenge to control. Built with two seats, Seat 2 Player operates the Gatling Gun fitted on the roof. No Rocket Launcher.
Armed Pickup – This trailblazer pickup is fitted with a Gatling Gun and has 3 seats available. Seat 1 mans the Flamethrower while Seat 3 controls the gun.
Armed AH6 Helicopter – Dominate the battlefield from above!. It has room for 4 players. Seat 2 mans the Rocket Launcher. Seats 3 and 4 get one Gatling Gun each. Getting the AH6 though is not a simple walk in the park. If you have the guts, try to snag and fight for one at a base. If lady luck is on your side though, you might spot one sitting like a duck somewhere in the road.
On a side note, to make up for the absence of Rocket Launchers, Floaters are made available for the Buggy and the Pickup. Floaters turn these two into amphibious vehicles built with good water speed. A Lv.3 backpack for all the crazy heavy armory is necessary. To ease out this dilemma, the vehicles are designed with a storage locker to share items like supplies and ammo without ever leaving the vehicle.Gatling Guns come with a protective shield for good measure.
Superpowered Weapons: Feast your eyes on the new laser-guided missile and four-barreled rocket launcher and get ready to deal more damage to enemies. Available on the Super Weapon Crates.
Special Tactical Gear: The 30-second UAV Control Terminal, armed with eight missiles, exposes nearby enemy locations. The Man-Portable Radar reveals info about enemy vehicles.
Bomb Suit: This new lootable suit can be equipped to lower all explosion damage. But take caution, it will only help you to last a bit longer.
Secret Room and Base: This one's for all the treasure hunters! Payload 2.0 comes with Secret Rooms and bases that randomly refreshes with super weapons and other powerful equipment. Players can also revive fallen teammates through Advanced Communication Towers to stay in the battle.
How's that for a new feature? Pretty sure it's going to get crazy when you jump out of that plane! Payload 2.0 is now available for PUBG Mobile.
Need your dose of PUBG Mobile UC Redeem Code? Top up PUBG UC at Codashop for #BetterFasterSafer recharge and convenient payment options.