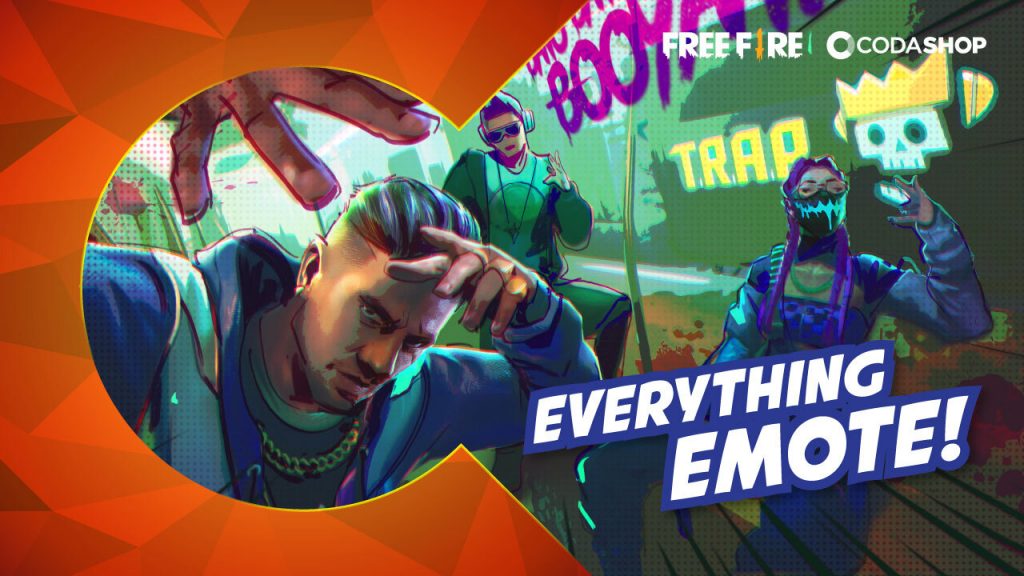 Garena does a great job of keeping Free Fire action-packed and spicing things up with fresh elements and cosmetics. From skin designs to character profiles and even the concept of integrating pets, gameplay elements have been in sync. To inject more fun in battle, there are 'emotes' to celebrate and joke around teammates and enemies. The spotlight is on these hilarious gestures and how you can cop them!
What are Emotes in Free Fire?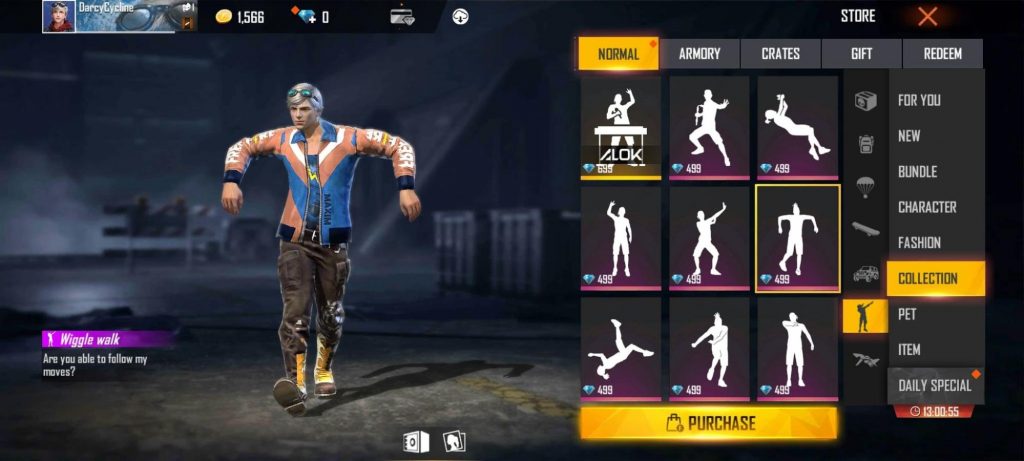 Emotes are fun gestures that are used by Free Fire players to communicate with their teammates and other players in the game. Emotes are also used to express celebration and dominance in battle, a sort of 'victory dance' so to speak. They can also be used to tease enemies and poke fun during battle.
There are currently around 63 Emotes featured in the game. They go from iconic dance moves like Baby Shark, Jaguar Dance, and Arm Wave. Exceptional skills like Top Scorer and Kongfu (complete with nunchucks). There are also bizarre emotes like 'I'm Saitama' (inspired by One-Punch Man) and cute ones like Doggie (includes the pet Shiba). Rare and cool emotes include the Pirate's Flag and LOL.
Here is the list of the current Free Fire Emotes based from the recent OB27 update.
Colors depict their rarity.
Yellow
| | | | |
| --- | --- | --- | --- |
| Let's Go | Pirate's Flag | I heart you | Make It Rain |
| Flowers of Love | Top DJ | Tea Time | Captain Booyah |
| FFWC Throne | Power of money | Doggie | Booyah! |
| Selfie | Eat my dust | I'm Rich! | I'm Saitama! |
| Obliteration | | | |
Pink
| | | | |
| --- | --- | --- | --- |
| LOL | Provoke | Chicken | Shoot Dance |
| Baby Shark | Mummy Dance | Push-Up | Shuffling |
| Dragon Fist | Dangerous Game | Jaguar Dance | Threaten |
| Shake With Me | Devil's Move | Furious Move | Moon Flip |
| Wiggle Walk | Battle Dance | High Five | Shake It Up |
| Glorious Spin | Crane Kick | Party Dance | Jig Dance |
| Soul Shaking | Death Glare | Break Dance | Kongfu |
| Bon Appetit | Aim, fire! | The Swan | Bring It On! |
| Why? Oh Why? | Fancy Hands | Shimmy | Challenge On! |
| Lasso | Dust Off | Piece of Cake | The Victor |
| Sii! | Top Scorer | | |
Blue
| | | | |
| --- | --- | --- | --- |
| Hello! | Applause | Dab | Arm Wave |
How to Equip Emotes
Players can use up to 8 emotes and change them in-game according to their preference. To add an emote, simply: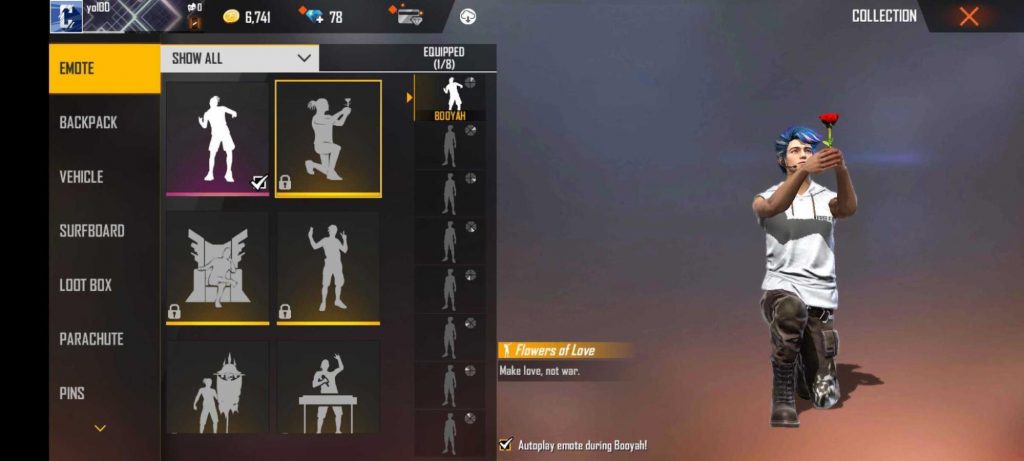 Go to

"Collection"

Click on

"Emote"

On the

"Emote tab"

, select any vacant slot

Select the Emote you wish to add.
If you want to replace an Emote, it's almost the same when you're adding it but this time, you have to select the slot you wish to change and then pick the Emote that you want to use.
Ways to Obtain Emotes in Free Fire
Emotes come with a price tag but you can also purchase them at a discounted price during events. Here are some ways on how you can get Emotes in Free Fire. 
Via Store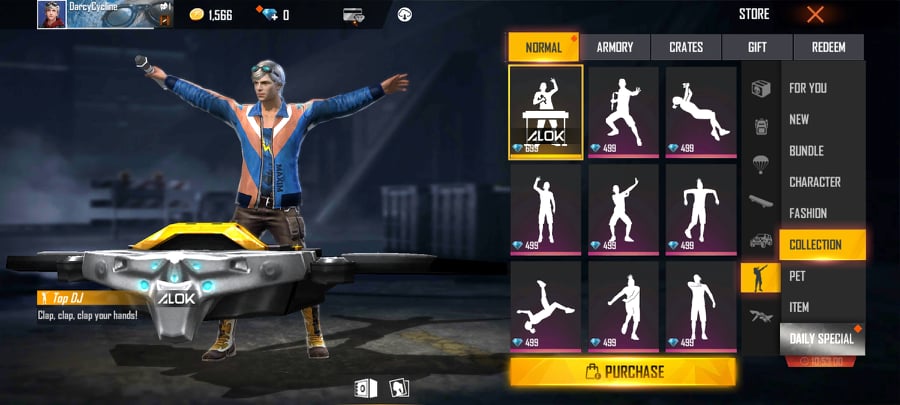 You can get Emotes in the Store as some of them are readily available and some at a limited-time. From the Store, click on the Collection tab and then go to the Emote icon.They range from 299 – 699 Diamonds. You can also wait for time-limited discounts to get them at a cheaper price.
Via Gift
If you want to surprise your friend with an Emote, you can send it to them via Gift. Also from the Store, just click on the Gift section, go to Collection>>Emote. Pick the Emote you want to give, click on the "Give" icon and enter the correct player ID or nickname.
Via Elite Pass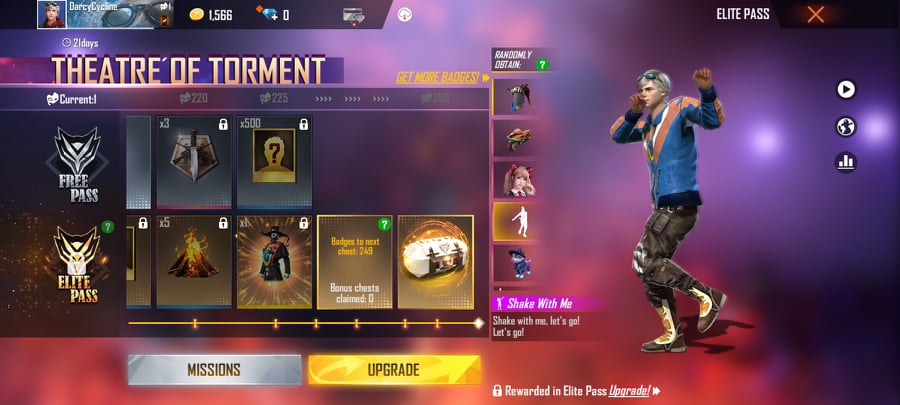 When you subscribe to an Elite Pass, you'll have a chance to earn an Emote as you progress through the badge count. The Emote included in the Elite Pass is exclusive, so you won't be available to get them after the season expires.
Don't forget to top up on your Free Fire account only at Codashop. We guarantee a better, faster, and safer top-up experience with more payment options to choose from.