Did you say you want to stack up on awesome gears and premium rewards on PUBG Mobile? Then Royale Pass is your golden ticket to get tons of awesome loot and other cosmetic items. In this post, we'll teach you how to buy your RP fuss-free!
How It Works
Royal Pass is one of the best ways for players to earn rewards in PUBG Mobile. It's a seasonal event where players can participate in different missions to rank up and snag amazing prizes. Rewards available will be based on your respective tier, starting from 1 up to 100 max. Royale Pass Points can be collected in the following ways to increase the rank:
Completing RP Daily Missions as well as Challenge Missions. Elite Pass holders will have access to Elite Missions to rank up faster.

Finishing weekly challenges and joining events to earn RP Point Cards that grant  RP Points.

Opening crates (if you are lucky), will give you free Royale Pass Points.

Participating in various in-game events to get more points.
Daily Missions are easier while Challenge Missions can be slightly difficult, with some missions only available for Elite Pass members. By the end of each season, players will also be entitled to additional rewards based on their seasonal rating. When you reach the max rank, you get 600 UC towards upgrading next season's pass. Elite Royale Pass rewards are worth 30,000 UC!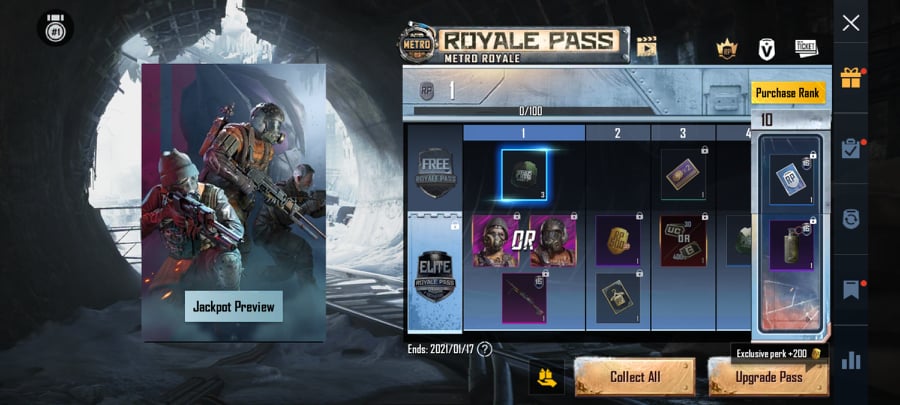 How to Buy Royale Pass
To purchase Royale Pass in PUBG Mobile, you need to have at least 600 UC for the Elite Pass and 1800 UC for the Elite Pass Plus. Click here to top up or proceed to the steps below if you have enough UC.
Open PUBG Mobile on your smartphone.

Click on the RP section located in the upper right corner of your screen.

Click the Upgrade Pass button in the lower right corner.

Select between the two variants of the Royale Pass (Elite Pass or Elite Pass Plus).

Click on Purchase and complete the payment.
Upon completing the payment, UC (Unknown Cash – the in-game currency in PUBG) will be deducted from your PUBG Mobile account and the Royale Pass will be credited to you. It's that simple!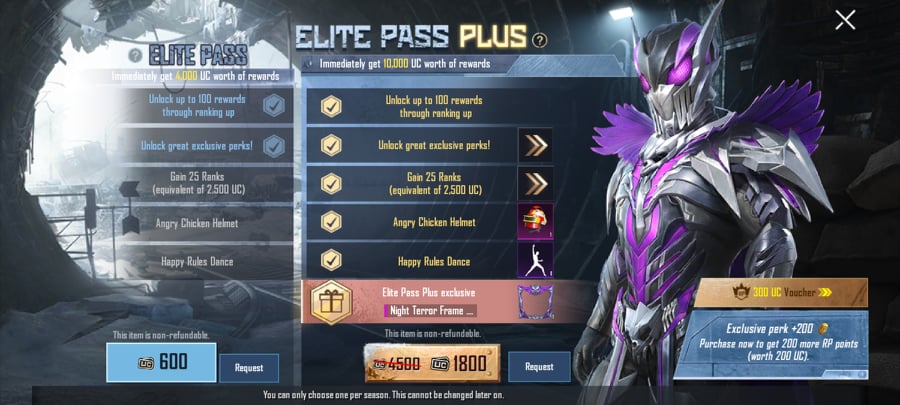 Types of Royale Pass
Elite Pass: Requires 600 UC to purchase. Unlock up to 100 rewards by ranking up. Players gain 25 ranks. Other exclusive perks. Get instant rewards worth 4000 UC.
Elite Pass Plus: Costs 1800 UC. Unlock up to 100 rewards by ranking up. You get all the perks offered by Elite Pass. Players gain 25 ranks. Plus lots of exclusive perks to unlock. Get instant rewards worth 10,000 UC.
There's also a Free Pass available for all players.
Free Pass: Open to all players. You get Royale Points for completing missions, items and crates to rank up and collect prizes.
Have you gotten the latest Royale Pass? What's your favorite reward so far? Don't forget to top up on your UC for PUBG Mobile only on Codashop. You can also purchase it directly here. We offer easier and faster top-ups with no logins or passwords required.