Garena Free Fire is a third-person online multiplayer battle royale game that was developed by 111 Dots Studio. It was recognized by Google Play Store as the most downloaded game of 2019. Luckily with the availability of various Android emulators, you can play this game on your PC or laptop.
Free Fire will work on most emulators available for download with Bluestacks, Nox, MEmu Play and GameLoop populating the top of the list. You can simply download the game from the play store if you already have them installed.
If you don't have an emulator installed yet and if Free Fire will be your first mobile game to play on an emulator feel free to download the latest versions on the following websites:
https://www.bluestacks.com/
https://www.bignox.com/
https://www.memuplay.com/
https://gameloop.mobi/
You will have to take note of the recommended specs on using emulators. We would definitely recommend meeting these specs to play Free Fire on PC:
Windows 10
Quad or Octacore Processor running @ 1.8~2.0 GHz (you can always overclock)
8 GB of Ram
We didn't include a graphics card requirement because the onboard GPU is usually enough to process mobile game graphics. However, if you plan to play on the best settings anything that passes the 4 GB mark would be more than sufficient as mobile game graphics are not that demanding.
Once you have the emulator that you want to be installed, you can simply login your google play store account and download Free Fire. We'll skip discussing optimal settings on another blog as the predefined settings of these emulators are more than sufficient to run the game smoothly.
Playing Free Fire on PC
The Good Side
You might ask if Free Fire is a mobile game. Why should I play it on a PC? There are various reasons why and the most common are the following.
1. Not everyone has a mobile phone good enough for a smooth gaming experience.
Budget phones are usually running on 2GB of RAM which is barely enough to run any sort of battle royale game. While a pc running on an i3 and 2GB of ram can run a handful of mobile games using an emulator with the right settings. While we do not recommend using a low-end PC to play Free Fire, it is smarter to invest in a mediocre pc than a slightly expensive mobile phone as it can give you better gaming experience.
2. Some gamers, especially for shooter games, find it more comfortable using a keyboard and mouse for aiming and shooting.
As gamers who are used to playing PUBG and CS: GO, we found mobile controls sluggish when we first started to get into battle royale games. This is also true for most people, muscle memory plays a big part in shooter games, and switching from mouse aiming to thumb or even gyro aiming can mess up your game a lot. Playing on PC lets you maintain your muscle memory. And it's always going to be easier to land a headshot using a mouse.
3. PC is still the most powerful gaming console and a lot of gamers would either invest in a powerful PC because of its diversity when it comes to games.
Nobody can argue with this point and it is very self-explanatory. Plus the wider range of games you can play because of the availability of emulators.
4. Streaming will be so much easier using a PC if you decide to get into it
If your PC meets the recommended specs for streaming, then you'll find it easier to stream Free Fire or any other mobile game without needing to buy additional equipment like capture cards.
As far as the downside goes there are only two:
1. You can't play competitively using PC
Esports is now a steadily growing market especially due to the recent crisis. And if you want to join the competitive scene you will need to play the game on a mobile phone. Even iPads and tablets are banned from tournaments. So your only option is to join online tournaments (in some cases playing on emulators can get you banned too) or just play casually.
2. The game loses its "mobility"
Garena Free Fire is a mobile game, and the essence of mobile games is to be able to play them on the go. But if you are using a laptop, in some cases it's still portable, isn't it?
Bluestacks
I personally recommend Bluestacks as I have been using it for quite a while now and I play lots of mobile games on it. The best about Bluestacks is that there is a wide number of guides available on tweaking your settings to make gaming much smoother.
Plus compared to other emulators where you need to download APK files, you can virtually download any app available on Playstore or iOs using Bluestacks so you can avoid accidentally downloading malicious files.
I personally play Free Fire on a mobile device, but I didn't have to do a lot of changes in the settings to make Free Fire run smoother on my PC.
Step 1. Download the latest version of Bluestacks here.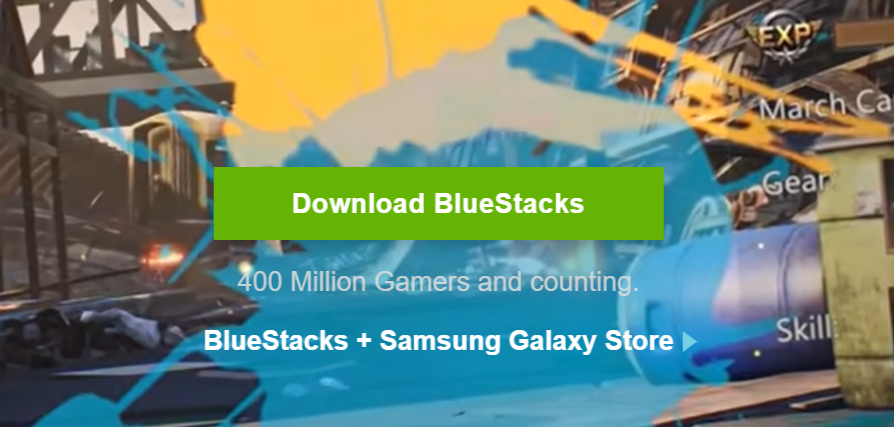 Step 2. Log-in your Google account and simply download Free Fire on Play Store (Play Store is pre-installed in Bluestacks)

Note that Bluestacks will automatically detect your system specs and adjust its settings upon installation so that It will not take up much of your RAM. But, if you are running between 2GB and 4GB you might need to set the allocation of RAM in Bluestacks itself. Because you will need at least 2GB to run free fire on 30~45 fps constantly. Anything lower will be graphically sluggish.
Step 3. Once in-game, go to settings first and choose one of the following preset settings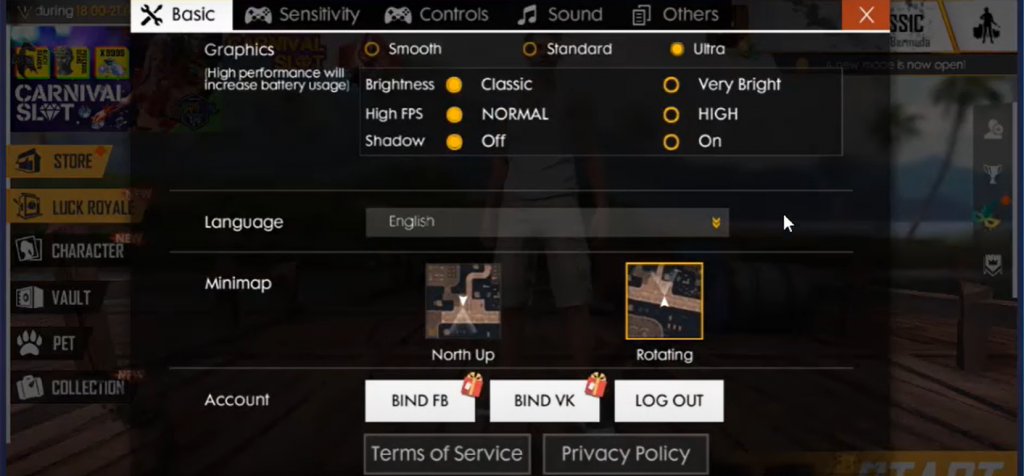 I would recommend getting Ultra and High FPS for the best experience.
Simply queue up and you're good to go!
NOX Player
Nox is one of the more sophisticated emulators available. I would not recommend this for first-time users as it's quite complicated to set up correctly. But, on the positive note, if you take your time to learn, it is much more powerful compared to Bluestacks.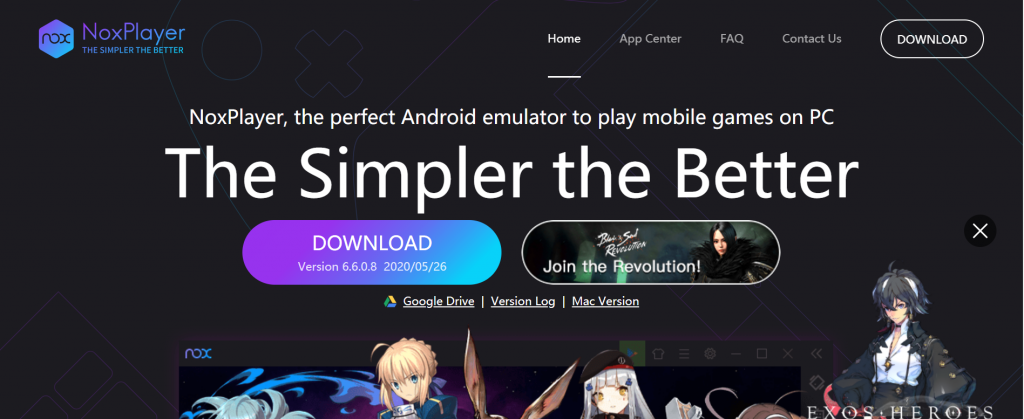 Step 1. Download and install the Nox Player and run it.
Step 2. With Nox installed you have two options after logging in your Google Account. You can either use the in-app search bar or download an APK. If you are a veteran when it comes to downloading and installing APKs I would recommend Nox than Bluestacks.
Step 3. Once you have the app downloaded running Free Fire should be smooth. But, the default settings for Nox had me running around 10~20 fps slower than Blue stacks (Which was running 45~60 fps) on Ultra. Let's discuss the in-depth settings for Nox another time but the overall smoothness is okay, Nox wins by having a cool in-app layout though.
MEmu Play
While I personally prefer Bluestacks because of its simplicity, MEmu is like the cool dude version of Bluestacks. Aesthetically MEmu trumps Bluestacks and some streamers I personally know use either MEmu or Nox.
Downloading and playing Free Fire using MEmu is also straightforward.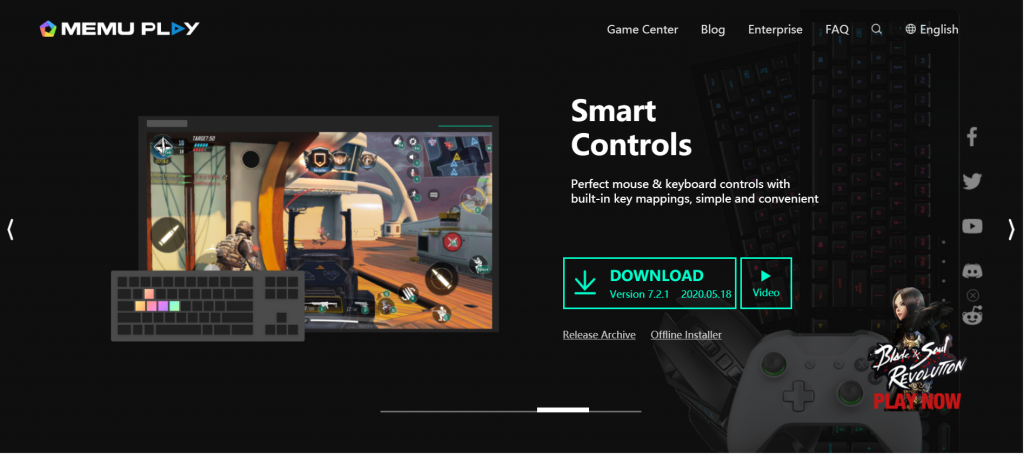 Step 1.Download the app, install then open
Step 2. Login Google account and download Free Fire and you are good to go!
MEmu ran smoothly for me without any tweaks even on Ultra, But I was clocking in around 50 fps maximum on MEmu. Framerate plays a huge role in shooting games as it can decide a firefight dramatically. But if you are playing casually the 10 fps difference is negligible. I can be quite competitive and the final 1v1s on solo play can be decided by whoever can see the enemy first.
GameLoop
This one is a hidden gem, Gameloop is actually an emulator specifically designed for battle royale games. It was designed for PUBG and is considered the game's official emulator. Free Fire shares a lot of similarities with PUBG especially the gameplay, which makes GameLoop a good emulator for a game like Free Fire.
The same procedure is done with the other emulators – download, install, open and then login google play

Search the game centre and simply download free fire.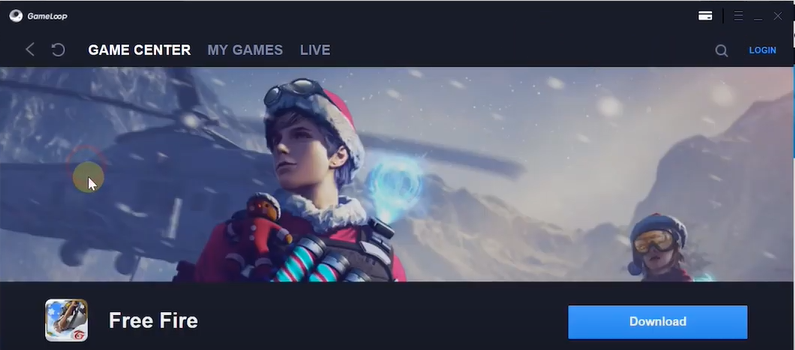 The best part about GameLoop is that it's simply straightforward because it is designed for battle royale games. Default settings no other tweaks give you 60 fps on the recommended specs right away.
To Sum Things Up
In my opinion, playing casually and getting more comfortable in the game is easier on PC. This is a personal preference having a better hand to eye coordination using a mouse and a keyboard.
Overall all of these 4 emulators will allow you to play Free Fire on PC smoothly. It will all just depend on your personal preference and available resources. If you strictly want to play BR games then go for GameLoop, if you want to play other games without having to tweak settings every time go for Bluestacks. If you want to stream then I would recommend either Nox or MEmu. What matters is that you enjoy the game and get your yummy chicken dinner!
Get an extra advantage on the fields of Free Fire and read our in-depth guide for beginners, complete weapons guide, or you can click here for more pro tips, news & updates on Garena Free Fire.
Once you have your gaming arsenal hot and ready, you can start investing in characters to get an advantage (in some cases) and weapon skins (they say if looks could kill). You can easily top-up FF diamonds in Codashop and enjoy the convenience of paying through bKash in Bangladesh.