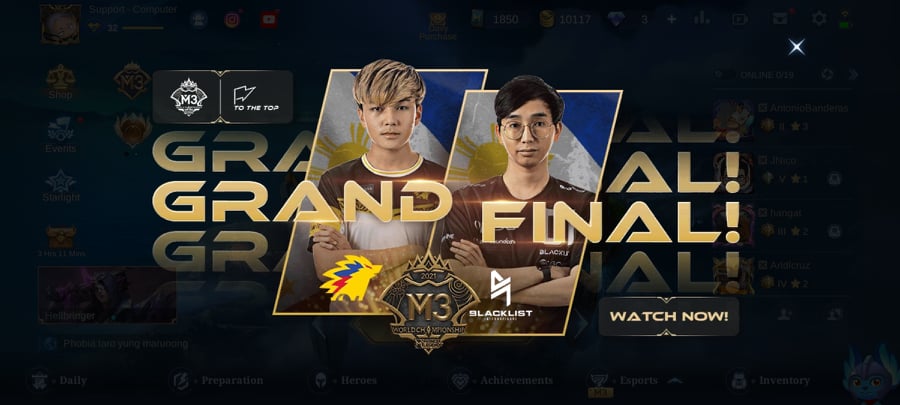 Break the code! On Sunday, the Philippines' Blacklist International were crowned Mobile Legends M3 World Championship champions after defeating Onic PH, 4-0 in Suntec Singapore Convention and Exhibition Centre. It was mission accomplished for OhMyV33nus, Wise, Edward, Oheb, Hadji, Eson, Dex Star, and coach Bon Chan, as the team climbed back from the ashes of the lower bracket, needing five wins to forge the historic all-Filipino title showdown.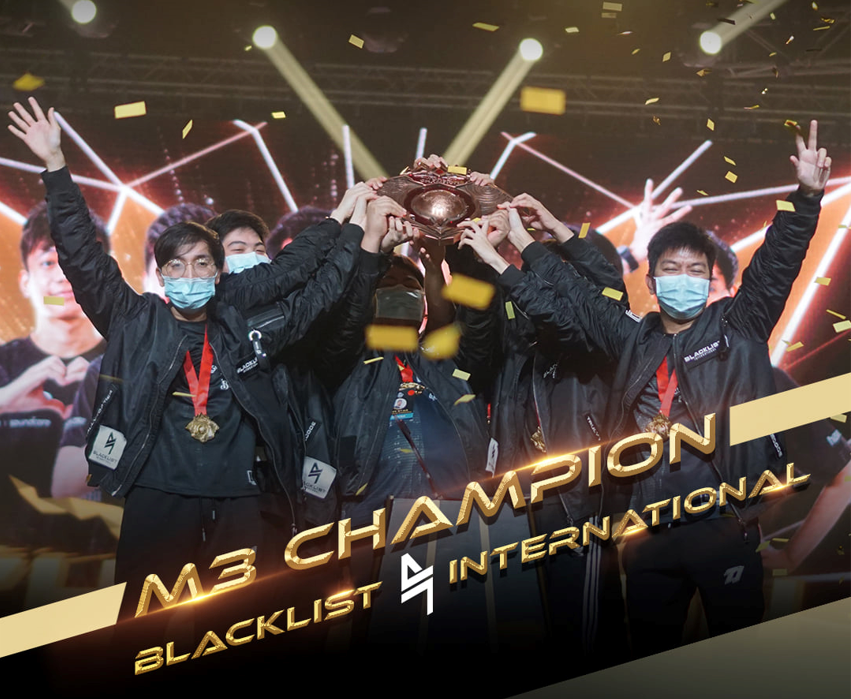 It's redemption time as Blacklist International finally win the MLBB World Championship title. Image credit: Moonton
Lower Bracket supremacy
It was redemption time for Blacklist, who finally got over the hump of finishing as runner-up in their last two international campaigns – MPLI 2021 and MSC 2021. For M3, the group went on an entirely different route. Blacklist was relegated to the lower bracket after a 3-2 loss against Blood Thirsty Kings (BTK) of North America in their first upper bracket encounter.
After that setback, Blacklist was a different beast. The team went on a tear in their lower bracket run, winning consecutive games against Onic Esports (2-1), Keyd Stars of Brazil (3-0), Indonesian powerhouse RRQ (3-0), and EVOS SG (3-0). After reaching the lower bracket finals, the team got the chance to redeem themselves against their former tormentor in BTK. The two teams figured in a best-of-five rematch, with Blacklist coming up on top this time with a 3-1 gentleman's sweep.
All-Filipino finals
Onic PH, the other Filipino team, was already waiting in the finals after their convincing performance in the upper bracket. Their dominant wins against RSG (3-0), RRQ (3-2), and BTK (3-0) set them up for the title shot against the lower bracket's top finisher. 
During the best-of-seven grand finals, Blacklist displayed their championship mettle. Wise led the charge in Game 1 to score the 3-1 win. In the second game, the agents used a 4-0 wipe to gain the upper hand en route for the victory. A pivotal takeover of the luminous lord in Game 3 ensured Blacklist a commanding 3-0 lead, even as Onic kept the pressure to stay in the hunt. In Game 4, Blacklist secured no more let-ups as they took crucial wipeouts to close out the game.
Blacklist International is the second straight Filipino team to win the world title after Bren Esports brought the crown in M2 last January. The Filipino team takes home $300,000 of the $800,000 prize pool. Kiel "Oheb" Soriano clinched the Finals MVP honors for his stellar performance.