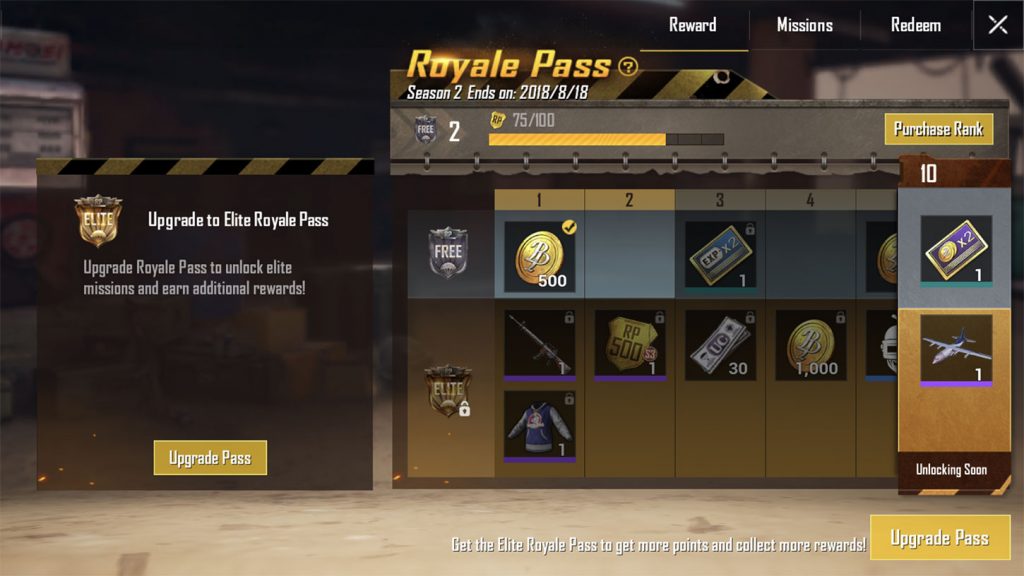 You say you want to zero in on various rewards, weapon skins, outfits and more in PUBG? Learn about PUBG Mobile's Royale Pass System to find out how you can get tons of awesome loot.
How It Works
To get started, Royal Pass is PUBG Mobile's seasonal event where players can participate in different missions to rank up and snag amazing prizes. Rewards available will be based on your respective tier, starting from 1 up to 100 max. Currently, PUBG Mobile is at Season 12, dubbed as 2GETHER WE PLAY to commemorate the game's second year anniversary.
The types of Royale Pass subscription include; the Free Pass, the Elite Pass and the Elite Pass Plus. For Season 12, you get the following:
Free Pass: Open to all players. You get Royale Points for completing missions, items and crates to rank up and collect prizes.
Elite Pass: Requires 600 UC to purchase. You get better rewards and rank faster via Elite Missions. Get instant rewards worth 4000 UC.
Elite Pass Plus: Costs 1800 UC. You get all the perks offered by Elite Pass, plus players are granted 25 ranks. Get instant rewards worth 10,000 UC.
I see you, UC. Unknown Cash or simply UC, is the in-game currency in PUBG Mobile. You can use your UC to purchase premium items in the store including weapon skins, clothes, crates, parachutes and more.
Get Points, Rank Fast
As you play along, you can increase your rank and earn Royal Pass Points by:
-Completing RP Daily Missions as well as Challenge Missions. Elite Pass holders will have access to Elite Missions for fast ranking up.
-Finishing weekly challenges and joining events to obtain RP Point Cards that give you RP Points.
-Opening crates (if you are lucky), will give you free Royale Pass Points.
-Participating in various in-game events to get more points.
Daily Missions are easier while Challenge Missions can be a bit trickier, with some missions only available for Elite Pass members. By the end of each season, players will also be entitled to additional rewards based on their seasonal rating. So, if you've been good, you get better loot. Naughty, not so much.
Take note that when you reach max rank for Season 12, you get 600 UC towards upgrading to next season's pass. Elite Royale Pass rewards up for grabs are worth 30,000 UC. Boom!

Name Your Prize
Check out this rundown of top-notch prizes for Elite Pass holders for Season 12:
| | |
| --- | --- |
| Rewards | Unlockable at |
| Wasteland Soldier Set | RP 1 |
| Wasteland Soldier Headgear | RP 5 |
| Mr. Unicorn Ornament | RP 20 |
| Cupid Helmet | RP 25 |
| Anniversary Celebration Dacia | RP 30 |
| 2nd Anniversary Collector's Crate | RP 32, 52, 62, 65, 72, 85, 95 |
| Twist | RP 35 |
| Anniversary Celebration Finish | RP 40 |
| Royale Pass Avatar Frame (Season 12) | RP 45 |
| Foxy Maiden Set | RP 50 |
| Hardened Veteran | RP 55 |
| Mr. Woof Grenade: | RP 60 |
| Lion's Majesty Pan | RP 70 |
| Anniversary Revelry Avatar (Season 12) | RP 75 |
| Battlefield Geek Backpack | RP 80 |
| Anniversary Celebration- PP-19 Bizon | RP 90 |
| Hardened Veteran Set and Phantom Catgirl Set | RP 100 |
For FREE players, rank rewards mostly consisted of free coins.
Final Drop: Why Get A Royale Pass?
Is it worth getting a Royale Pass? Different players will have different takes, but consider these:
For happy collectors who adore grabbing most if not all, the possible items in the game, paying for a Royale Pass is worth it. Great inventory brings them unspoken cheers.
Premium gamers who can afford also want to show off. Enough said.
And finally, it's also a show of support to developers who sustain the game. This can be a form of encouragement for them to continue and create fresh concepts to make the game more interesting and engaging to players.
Choose Codashop when you top up on PUBG Mobile to enjoy lower prices and a more convenient top-up experience.