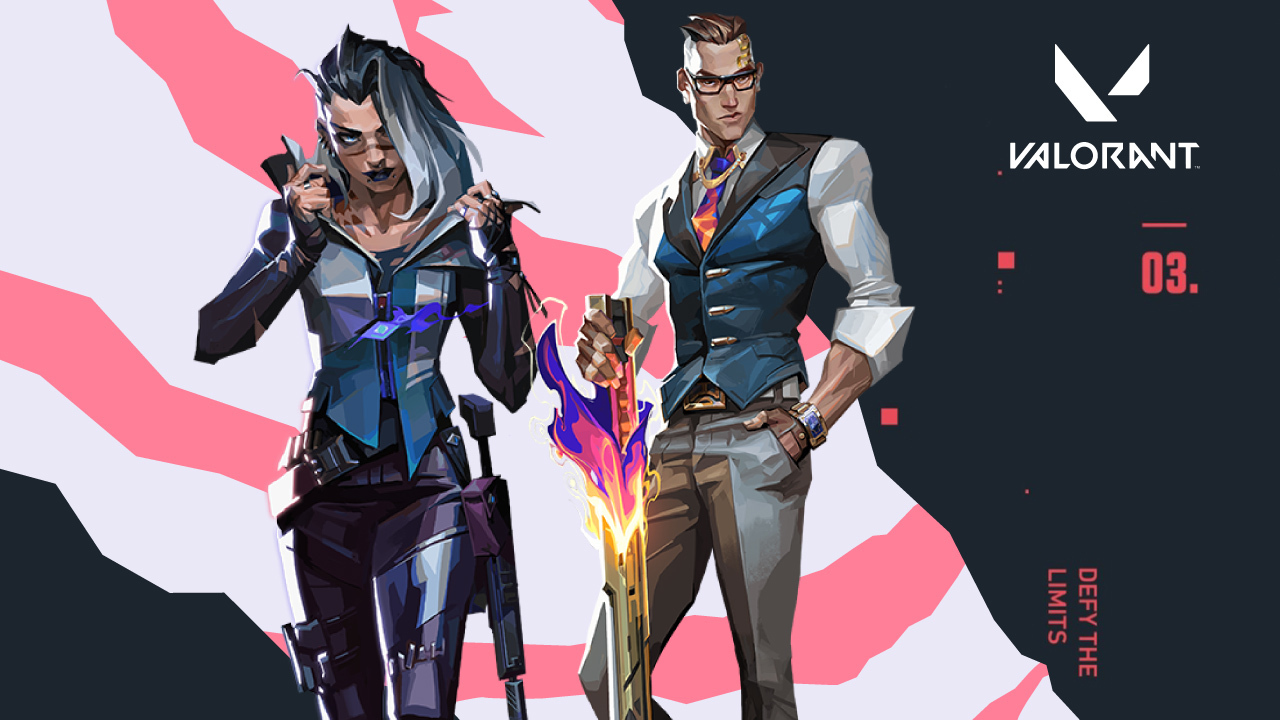 The new VALORANT currency was introduced alongside the numerous changes in Patch 7.0.` This new in-game currency, "Kingdom Credits (KC)," has multiple uses. In this article, we will look at the many uses of this new currency and how to earn them in-game.
What are Kingdom Credits?
Kingdom Credits is the new in-game currency introduced in Patch 7.0. The currency can be used to purchase in-game items, including Agents, Agent accessories, and previous Battle Pass items like banners, player cards, gun buddies, and sprays. The latter is available through the Accessories store.
How to Earn Kingdom Credits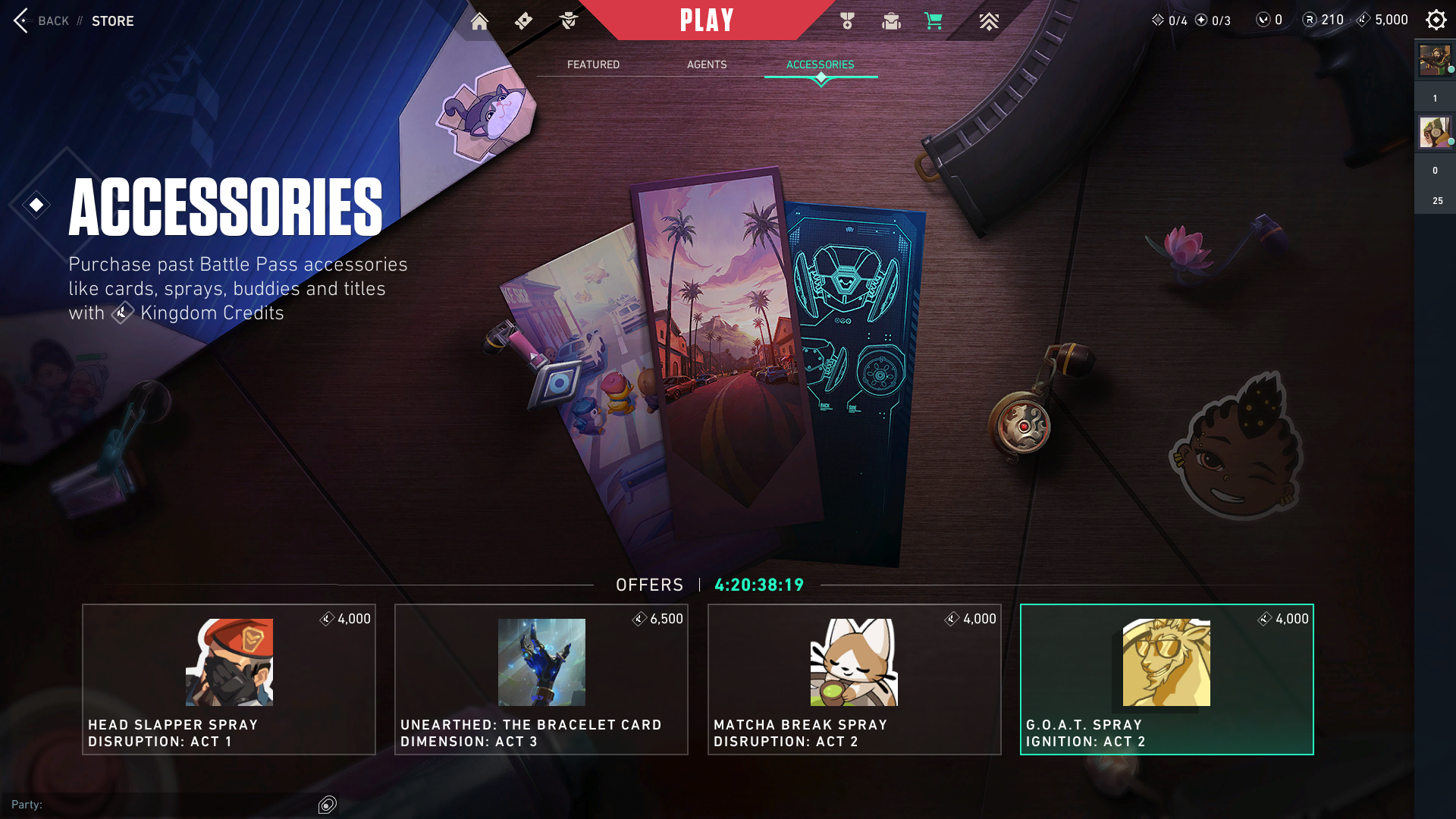 Upon logging on to the game after updating VALORANT, players are awarded 5,000 Kingdom Credits. 
Play matches to acquire KC and spend them to earn some more. Note: Once your KC reaches the 10,000 KC limit, you will not gain any more KC.
The amount of KC that will be acquired is as follows:
2 KC per 100 XP earned by completing matches in any game mode except Deathmatch; XP earned from Battle Pass and the Weekly and Daily Missions are not included.

150 KC per completed Checkpoint. Checkpoints are denoted in four stages, so you can earn a total of 600 KC when you complete all four checkpoints. This refreshes daily.

2,000 KC per unlocked Agent's Gear at Tier 5 except for the original five unlocked Agents (Brimstone, Sova, Sage, Jett, and Phoenix)
It is important to note that disrupting the match mid-way will forfeit your acquisition of KC.
Items available in the Accessories store refresh daily.
Agent Recruitment
To acquire new Agents using Kingdom Credits, there is a two-week window from the introduction of the new Agent and their availability for purchase with KC. This ensures that players who do not play too much will not be left out if they do not have enough XP earned from dailies but have enough KC. Each Agent costs 8,000 KC.
The Impact of Kingdom Credits on the In-Game Economy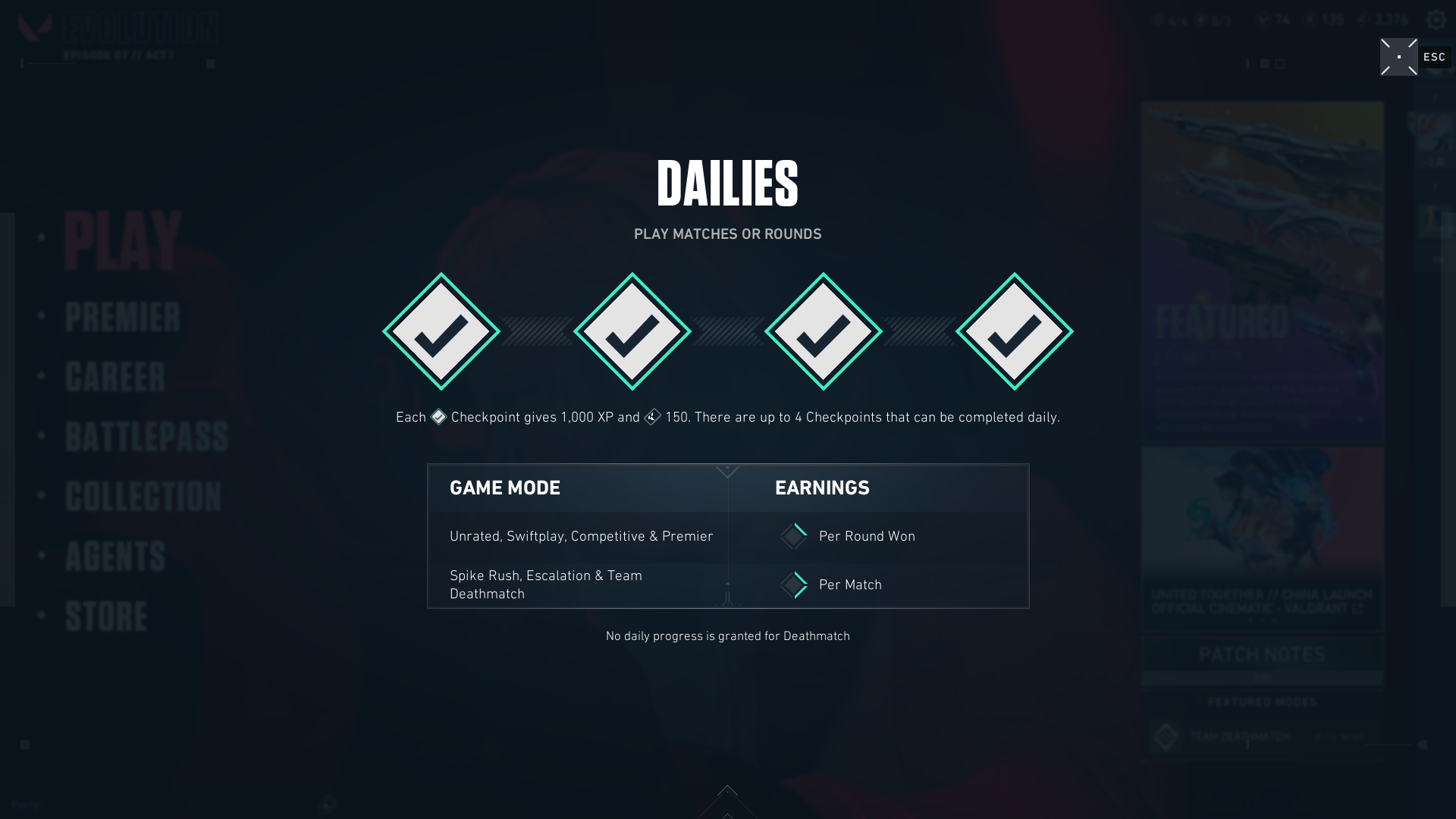 As the second in-game currency in VALORANT (Radianite Points being the first,) Kingdom Credits addresses the one thing VALORANT players want from the game: a more valuable way to play the game. To contextualize this, Players who have not spent anything on the game will own past items that were once available to older VALORANT players. Radianite Points were only used to buy Skin Upgrades if applicable (the Ion skin line, for example) and, therefore, was not a valuable way to play the game.
Introducing KC provides VALORANT players a new way to experience the game while being rewarded with awesome items. This gives KC its "staying power," the reason for players to keep playing for a long time.
With the new Kingdom Credits, players are expected to play more matches to earn enough to acquire Agents and accessories. This new system invites potential players who want to earn enough KC for those old Battle Pass items that were exclusive. Those who want the old "Save Widejoy" player banner may finally get it with KC. We are excited about this new currency. What are your thoughts? Let us know.
Don't forget to top up your VALORANT Points at Codashop. We have a fast and convenient way to purchase VALORANT Points. Just provide your Riot ID, the amount of VALORANT Points you want to purchase, and the method of payment you prefer. It's simple, fast, and effortless.