The Wild Rift hype train is still going strong, and there are no signs of stopping it! With the release of Wild Rift Patch 4.1 comes a host of new updates, events, champions, and of course, new skins. In fact, there are almost 20 new Wild Rift skins to look forward to in this patch, and some of the best skins in Wild Rift are the Arcade Skin series. These skins feature champions in retro arcade-style designs, complete with flashy animations and sound effects. If you're a fan of this series of skins and you're undecided about which one to pick, here's a quick guide for you.
What Are Arcade Skins and Why Are They Popular in Wild Rift?
Arcade skins are a series of skins in Wild Rift that feature champions in retro arcade-style designs. The skins are inspired by classic arcade games, with flashy graphics and sound effects that add a fun and unique twist to the game. The look and feel of the skins are far from the usual designs of the champions, making them stand out and highly sought-after by players who want to customise their in-game experiences. Arcade skins have become popular among players because they offer a nostalgic feel that harkens back to the golden age of gaming. Additionally, the skins offer a fresh and exciting look for champions that players have grown accustomed to seeing in their default skins. 
Currently, there are a couple of different Arcade skins available in Wild Rift. With the addition of Final Boss Veigar, Mythic Chroma Veigar, Battle Boss Brand, and Arcade Ezreal, it now brings the total number of Arcade skins to 13. That's quite a handful of skins to choose from! There are also some emotes, borders, icons, and poses that players can unlock to complete their Arcade-themed collection.
Top Picks for Arcade Skins in Wild Rift
With the current Wild Rift's Arcade Skin event, you'll have a better chance at getting Arcade skins aside from buying them outright using Wild Cores. However, if you're looking to spend your Wild Cores on Arcade skins, here are some of the top picks:
Arcade Ahri


Fan favourite Ahri gets an adorable arcade makeover in this skin, complete with rainbow-coloured tails, purple hair, and a pair of cat ear headphones. In this version of Ahri, she's known as the Queen of the Arcade due to her accomplishment of getting the highest score in the beat-em-up game Demacia Vice.

Final Boss Veigar


Here's a new one to look forward to in the Arcade Skin lineup. Final Boss Veigar is a perfect fit for the theme, as he's a villain in his own game. This skin gives Veigar a futuristic, neon look, with his staff taking the form of a golden rod topped with a ginormous green diamond. Veigar is looking both menacing and cool in this skin, making it a must-have for any Wild Rift player who loves playing as Veigar.

Arcade Miss Fortune


Miss Fortune gets a hip arcade makeover with her neon purple hair, red and pink outfit, a pair of oversized headphones and a hat reminiscent of Super Mario. She's armed with a retro-style gun and a whole lot of attitude, ready to take on any opponent in the Arcade World and become the top player.

Arcade Sona


Of course, we can't forget about Arcade Sona! She's now sporting her signature blue and purple colours with a futuristic twist. Her instrument has transformed into an oversized retro arcade stick that emits some neon-coloured pixels when she strikes a note. Sona's outfit is a mix of both cute and playful, with her hair styled in pigtails and a long flowing dress adorned with stars.

Arcade Corki


Corki mains rejoice! Arcade Corki is here to give your gameplay a fresh new look. This skin features Corki in a classic arcade shooting game style, complete with a futuristic hovercraft and a robotic-looking helmet. His machine gun has been replaced with floating turrets that shoot green lasers at any opponent. If you're used to Corki's fantasy and steampunk aesthetic, this skin is a fun and exciting change of pace.
Getting the Most Out of Arcade Skins in Wild Rift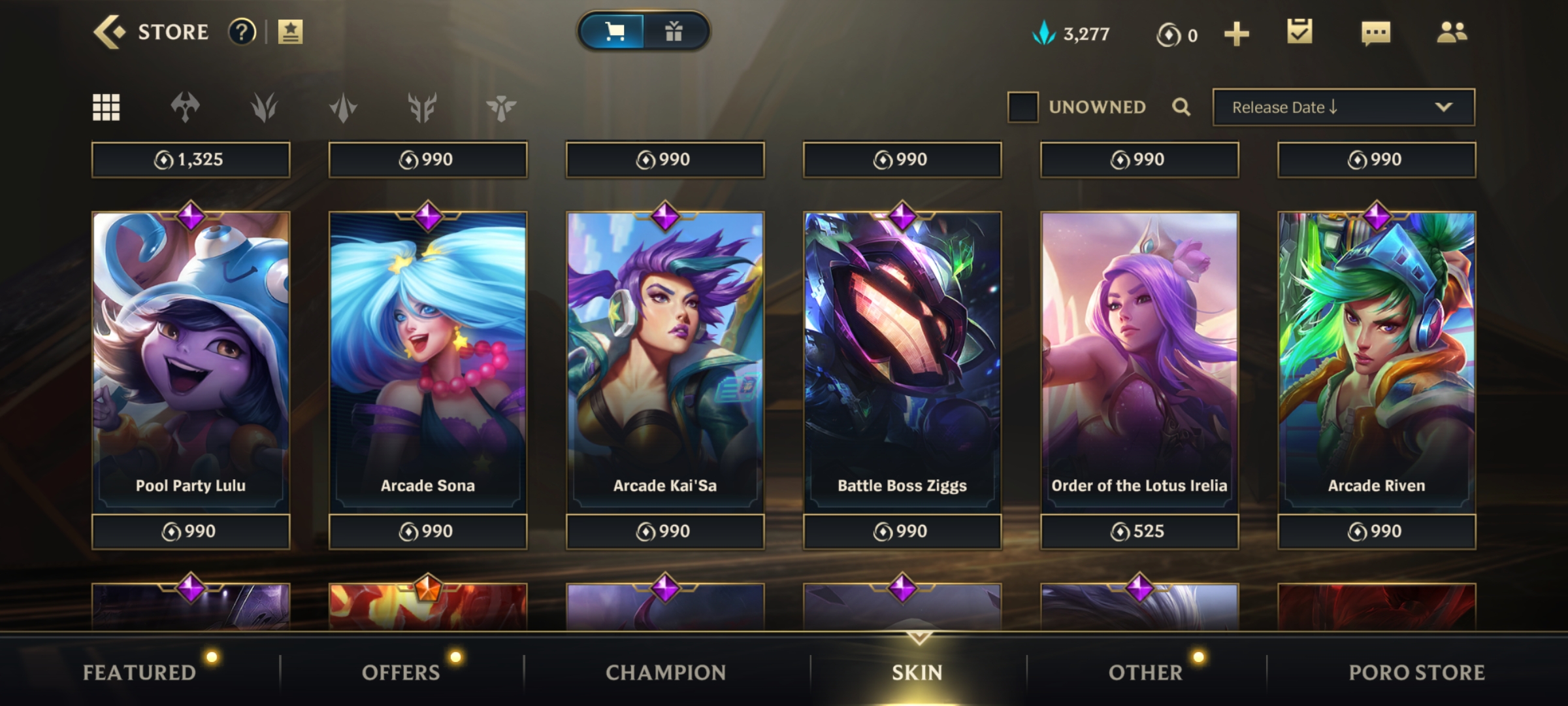 Obtaining new and fantastic-looking skins for your characters is great, but there's more to it than just the aesthetics. Here are some tips on how to maximise the benefits of your new Arcade skins in Wild Rift:
Know Your Character's Strengths and Weaknesses
While Arcade skins may look cool and flashy, it's important to remember that they don't change your character's abilities or stats. Make sure you understand your character's strengths and weaknesses to fully utilise their potential.
Practice, Practice, Practice – The more you play with your new skin, the more comfortable and familiar you'll become with it. Take the time to practice using your new skin in different situations and scenarios to improve your gameplay.
Use Skins to Your Advantage
 Arcade skins can sometimes be distracting to your opponents. Use this to your advantage by using your flashy new skin to draw their attention away from crucial objectives or to bait them into making mistakes. Skins can also be utilised to help you better aim and time your skills, as some skins may have different visual cues or animations that can help you predict your opponent's movements. For example, the Arcade Corki skin now leaves some pixel art on the ground instead of just the usual scorch marks. This gives you better visibility of his range of attack, helping you aim better at your enemies.
Have Fun! – At the end of the day, skins are meant to be enjoyed. Have fun with your new Arcade skins and show them off to your friends and opponents. After all, who doesn't love a little bit of style and flair in their gameplay?
Conclusion
All in all, Wild Rift's Arcade skins have always been a popular feature among players, and for a good reason. They add a unique and fun element to the game while also providing some practical benefits. By following these tips, you can make the most out of your Arcade skins and stand out in your matches. So go ahead, grab your favourite skin, and let your style and skills shine in Wild Rift.
Ready to get your hands on the latest LOL: Wild Rift skins and champions? Then, be sure to top up Wild Cores only through Codashop! We promise fast, safe, and convenient transactions so you can get back to playing and showing off your new skins in no time. Happy gaming!