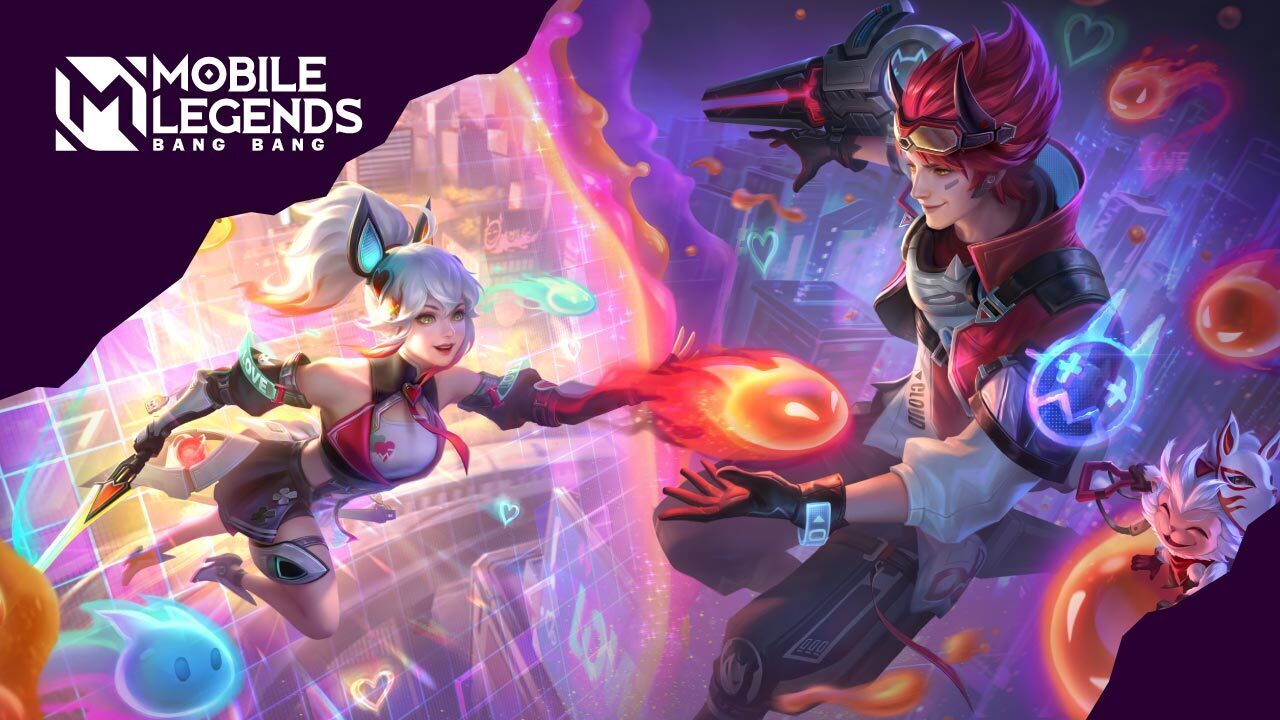 Mobile Legends: Bang Bang (MLBB) is back with another exciting event – "Get Your Squad Back Together: MLBB Friends Callback Event". This special event is aimed at bringing back old players who have been inactive for some time. The event offers a unique opportunity for players to reconnect with their friends, form their dream team, and jump back into the thrilling world of MLBB. In this article, we delve into the details of this event, explaining its purpose, benefits, and how to participate. So, get ready to call back your friends and rekindle the gaming spirit!
Playing with friends and conquering the opposing team has always been the highlight of any competitive multiplayer game like Mobile Legends: Bang Bang. However, sometimes life happens, and you and your squadmates drift apart due to various reasons, such as a lack of time, a shift in interests, or other life commitments. Recognizing this, Moonton has brought back the MLBB Friends Callback Event to reignite the camaraderie among old gaming buddies while also providing them with exciting rewards and incentives. Let's break down what this event is all about and how you can make the most of it.
What's the Friends Callback Event All About?
The MLBB Friends Callback Event is a limited-time event that aims to bring back old players who have been inactive for a period of time. It encourages players to reconnect with their friends and form a squad to participate in MLBB matches together. The event provides players with various rewards and incentives to motivate them to come back and play the game.
Rewards for Participating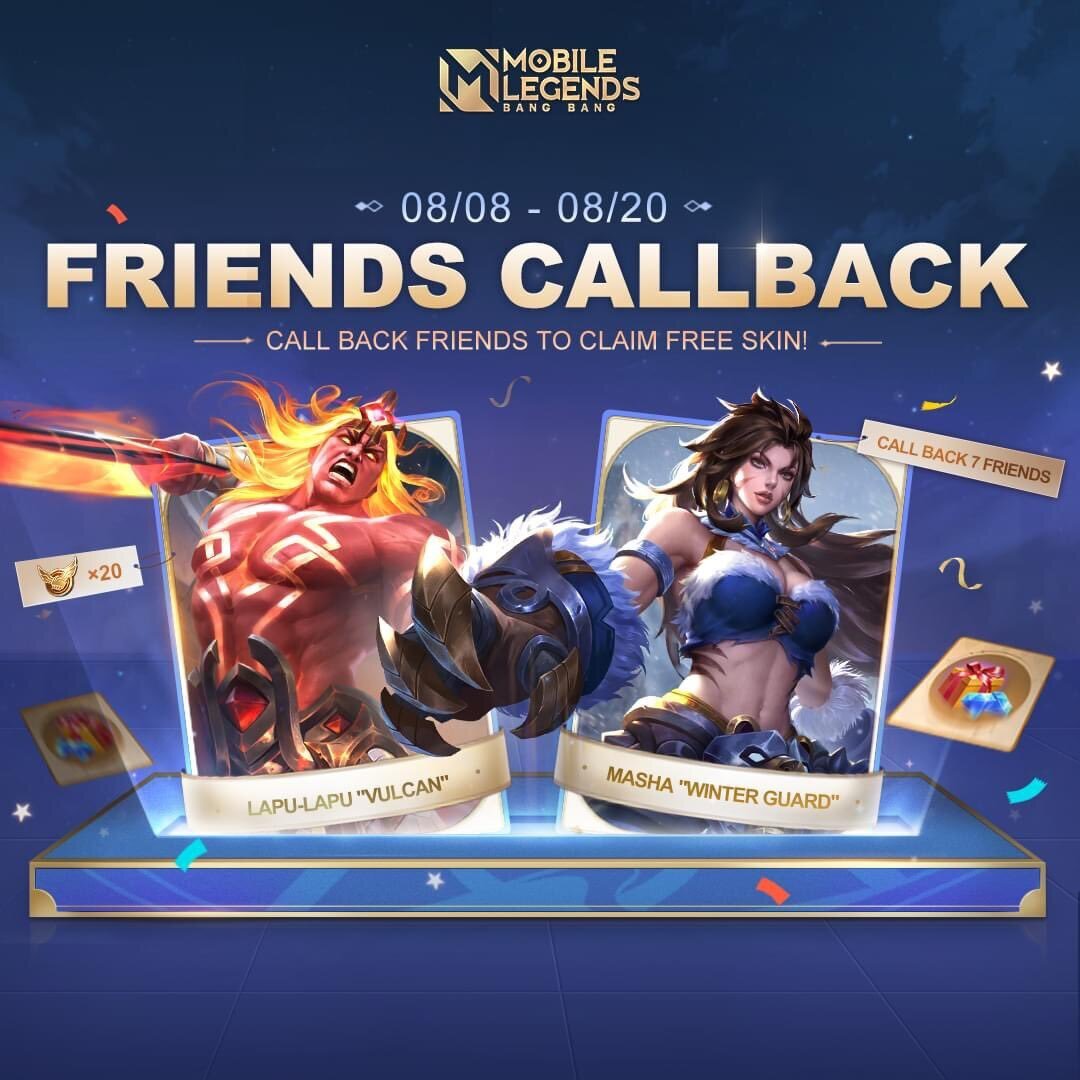 By participating in the Friends Callback Event, players can earn a variety of rewards. These rewards may include in-game currencies such as diamonds, skins, and fragments. For example, once you invite seven returning friends, you'll immediately unlock Masha's Winter Guard skin! For every friend you invite, the more rewards you get:
Invite 1 friend to unlock Diamond Chest I

Invite 2 friends to unlock 2*Diamond Chest I and 1 Synergy Coin

Invite 5 friends to unlock 3*Diamond Chest II and 1 Synergy Coin

Invite 15 friends to get 3*Diamond Chest IV and 1 Synergy Coin.
You'll also get Synergy Coins which you can exchange in the events shop for even more rewards. Gather 20 Synergy Coins, and you'll have enough to unlock Lapu-Lapu's Vulcan skin. That's two free skins you can get just by reconnecting with your friends!
How to Participate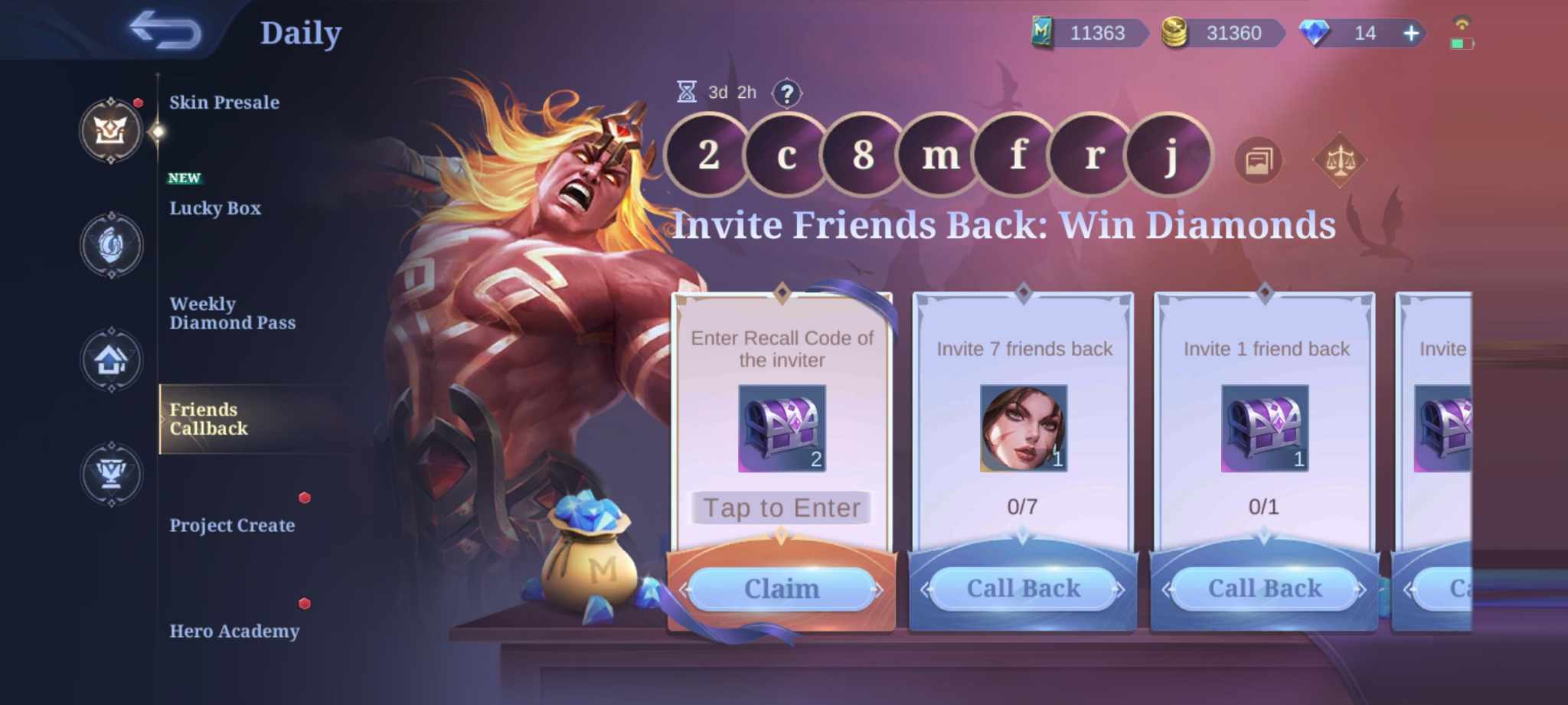 The Friends Callback Event runs from August 8 to August 20. To participate in the event, all you need to do is follow these simple steps:
Launch MLBB and tap the Events page on the left of your screen.

Tap on the Friends Callback category, and you'll see a list of inactive friends.

Tap "Send Notification" to invite your friends back into playing the game.

Once your invites get accepted, you both earn rewards.
You can also participate using your personal Invitation Code on the Friends Callback Event page. Just share your invitation code to your social media pages or MLBB chat groups to invite your friends back into playing MLBB.
How to Get the Most Out of the Friends Callback Event
The best way to invite your friends back to the game is to use your Invitation Code. You can easily copy and paste this on your social media profile and other messaging apps so that your friends can see it and use it to join the event. You can invite up to 10 maximum inactive friends per day. So it's best to send out as many invitations as possible to increase your chances of earning rewards.
The Friends Callback Event is the perfect opportunity to bring back your inactive friends to the game and earn rewards in the process. You'll get the squad back together and relive the good old days of gaming. So don't miss out on this opportunity, and start inviting your friends back to playing MLBB today!
Make sure to top up your MLBB diamonds at Codashop and complete your roster of heroes! Expect fast and secure transactions, so you can quickly get back into the game and play with your friends.