Introducing new soda flavors has always been the territory of Coca-Cola (Coke). Throughout the years, they have changed how their original soda tastes by tweaking its formulation. Derivative flavors like Cherry Coke, Vanilla Coke, and Coffee Coke are popular among brand fans. However, their more radical flavors come from their Coca-Cola Creations brand, where the flavors are more imaginative and experimental. The possibilities are endless, from conceptualizing the flavors of computer pixels to imagining what starlight tastes like. And now, another Coca-Cola Creation has been introduced. This time, Coke is pairing up with League of Legends (LoL) to give us the sweet taste of victory… or the bitter taste of defeat.
Coke x LoL Collaboration: Coke Zero Ultimate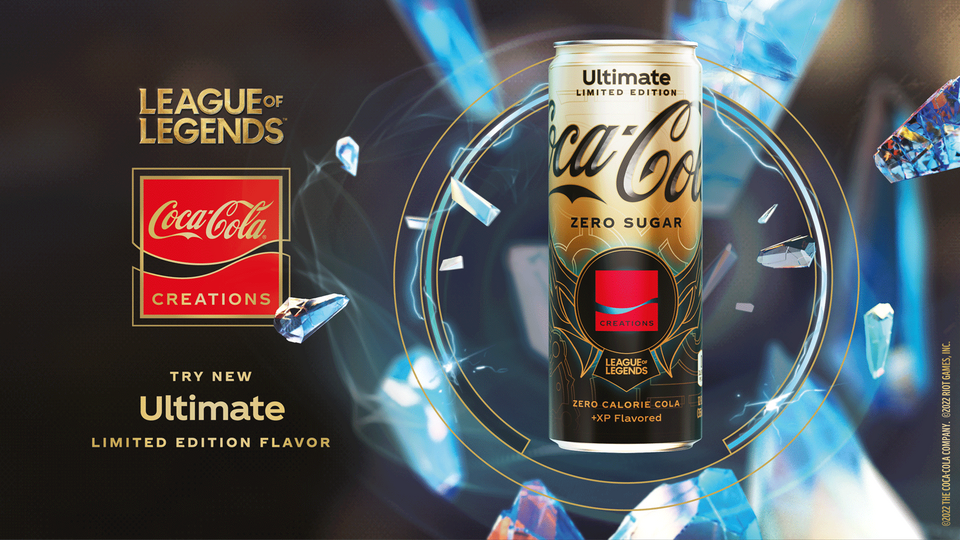 In this limited-edition collaboration, Coke Zero gets the "+XP Flavored" treatment, which we can assume is a different experience than the regular variant of Coke Zero. The collaboration signifies the impact of League of Legends in the annals of popular culture and video game history.
By introducing the Coke Ultimate variants, players can enjoy a new world of flavors.
Availability
The limited-edition soda is currently available in North America, China, South Korea, Latin America, and Africa. Not in these locations? Don't worry. You can still experience the leveled-up goodness of the collaboration.
In-Game Rewards
By completing missions in League of Legends, players can get special, and limited-edition emotes. The table below shows the objectives and rewards.
| | |
| --- | --- |
| Objective | Reward |
| Get seven assists in a single game | Ultimate Teamplay emote |
| Earn 12,000 gold in a single game | Ultimate Gains emote |
| Win a game in under 20 minutes | Ultimate Tempo emote |
The in-game objectives are now online. They will be in the game until July 18, 2023, at 11:59 p.m. Pacific Standard Time 
Coca-Cola Creations Hub: An Immersive Social Media Experience
Each can and bottle of Coke Zero Ultimate has a QR code that can be scanned to access the Coca-Cola Creations Hub, where you can find the Ultimate Emote Generator for an immersive social media experience, including an Instagram filter that "allows players to view themselves in the style of a League emote."
This limited-time collaboration between Coca-Cola and League of Legends will pave the way for more collaborations between Coke and other video game franchises. Grab the opportunity to be the first to experience the history and explore a new way to enjoy Coca-Cola.
Don't forget to top up your League of Legends RP only on Codashop to enjoy a fast, secure, and hassle-free gaming experience.