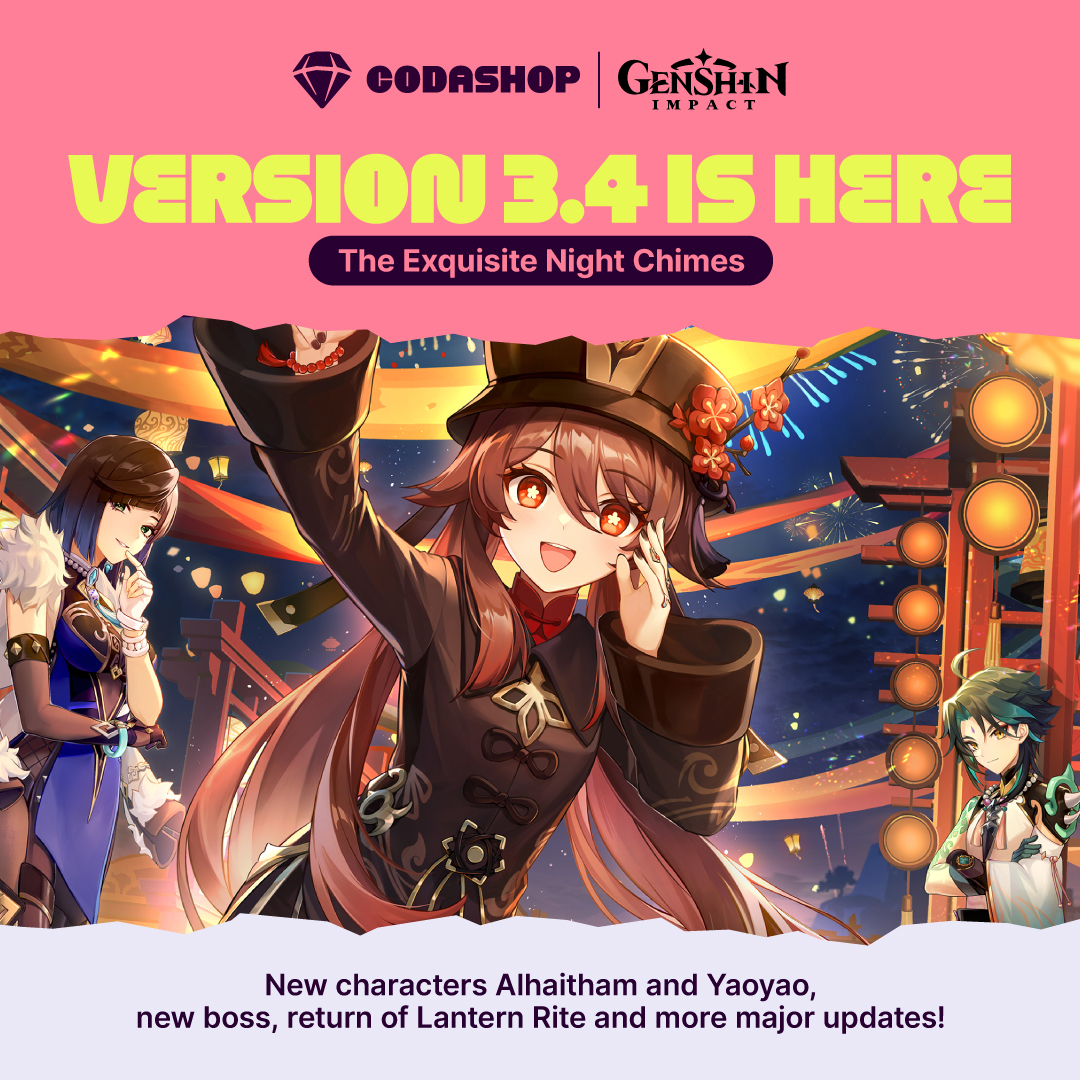 The Genshin Impact Version 3.4 update was released on January 18, bringing new character banners, a new desert region, new mobs and a sandworm boss and other interesting features to Travelers. The 3.4 update, "The Exquisite Night Chimes", also marks the return of the Lantern Rite Festival! Here's all you need to know about Genshin Impact 3.4 update.
New Banner List
1st Phase
For the 1st Phase, Xiao's rerun will be joined by new characters Alhaitham and Yaoyao. This is not-so-great news for people who are waiting to get Xiao or his constellations (goodbye, C6 Xiao). Running alongside them are 4-star characters Xinyan and Yun Jin.
2nd Phase
For the 2nd Phase, Hu Tao and Yelan make a comeback for their second and first rerun, respectively. They will be joined by 4-star characters Ningguang, Beidou, and Xingqui.
New Characters
Alhaitham
With the new update came the highly anticipated character, Alhaitham, a member of the Haravatat and the "feeble" Scribe of Sumeru Akademiya. He is mostly responsible for documenting the scholars' findings and drafting ordinances. He doesn't have much of a reputation, to in-game NPCs, that is.
He features a Dendro vision and wields a sword. He's often featured in the Sumeru storyline, and is regarded as one of the Traveler's most trusted allies during the quest to release the Dendro Archon.
Yaoyao
Aside from her appearance and skills, not much is known about the new adepti Yaoyao. She has a cute and innocent appearance of a young girl, and she is accompanied by her trusty companion, Yuegui. She's kind of similar to Klee in that regard, although Yaoyao has a Dendro vision.
New Weapon
Light of Foliar Incision
This new 5-star sword is the new featured weapon alongside the Primordial Jade Winged-Spear. It's regarded as Alhaitham's weapon, and it does fit him aesthetically and stat-wise. It delivers a Crit DMG substat, and amplifies Crit Rate by 4%.
When the character's Normal Attacks deal Elemental DMG, they can obtain the Foliar Incision effect. This effect boosts the damage dealt by Normal Attacks and Elemental Skills by 120% of EM.
New Events
The Exquisite Night Chimes
The Lantern Rite Festival comes back for the third time, and in this festival, we can see characters from all unlocked nations come visit Liyue to celebrate its biggest event.
As usual, the event offers plenty of mini games that you can play for Primogems, Mora, and other upgrade materials. If you get enough materials, you can head on to the Fortuitous Invitation and invite one 4-star character to join your roster. Here's the list of the available characters:
Beidou

Chongyun

Ningguang

Xiangling

Xinyan

Xingqui

Yanfei

Yun Jin

Yaoyao
Almighty Arataki Extraordinary and Exhilarating Extreme Beetle Brawl
The lovable one and only oni, Arataki Itto, will bring yet another event to Inazuma. This event is, apparently, close to his heart, as you'll be tasked to compete in a series of beetle wrestling fights. It is scheduled to be released on February 16, 2023.
Warrior's Spirit
HoYoverse really wants you to come back to Inazuma with the Warrior's Spirit, where you'll have to prove your mettle in this combat-focused event. The Yashiro Commission will host this event where you're not allowed to use other characters aside from the Traveler. You are also only allowed to use Normal Attacks, Counter and Defend skills to damage your enemies. The event will run from February 9 to February 20.
Second Blooming
Not much is known about this event, aside from the fact that it will be a Lisa-focused one. The event will follow her and Traveler as Lisa returns to Sumeru. Possibly visiting her alma mater? It's scheduled to be released on January 30.
New Character Quest
Although there's no new Archon Quest in the update, we still get a new character quest. The Vultur Volans Chapter: Act 1 is Alhaitham's story quest, which you can automatically start by going to the Akademiya. It directly follows the events of the Archon quest Akasha Pulses, The Kalpa Flame Rises. Tiny spoiler: We get to see Kaveh again!
New Quests
New quests will happen in the new area, and among these will be the continuation of the Golden Slumber Quest Series.
The Dirge of Bilqis

Rejoice With Me, For What Was Lost is Now Found

Tadhla The Falcon

Her Foes Rage Like Great Waters

Apocalypse Lost
New Features
New Area
Desert of Hadramaveth
The new area, Desert of Hadramaveth, was introduced in the 3.4 Update. It's similar to the previously introduced Desert area, but this part of Sumeru brings new domains, caravans, and a giant sand tornado.
New Domains
Fane of Panjvahe
The Fane of Panjvahe is one of the two new domains that players can unlock in the new map. If you plan on completing this domain, we recommend that you bring Dendro and Electro characters due to the domain's Ley Line Disorder. When you activate a Spread of Aggravate reaction, an Electro shockwave will be unleashed from the triggered location, dealing True Electro AoE damage.
City of The Deceased
The City of The Deceased is the other new domain that Travelers can unlock in the new map. You can find it underground in the Dunes of Steel cave. Since this domain doesn't have any Ley Line Disorders, you can bring your strongest characters to clear it. However, we recommend that you bring Dendro and Anemo characters since the mobs inside react with these elements.
New Exploration Gadget
With the new location comes a new gadget! (Sumeru sure loves their tech.) The Jinni in the Magic Bottle — Liloupar is a useful gadget that you can level up using fragments. Travelers can use this device for increased visibility in sandstorms and to mark the locations of the Jinn Shrines on the mini-map. If your Jinni is high enough, you can interact with Jinn Branches to suppress or summon sandstorms!
New Skins
Springbloom Missive
The Springbloom Missive was dropped when the 3.4 update was released. This features Kamisato Ayaka in a spring-themed travel outfit that was inspired by Fontaine dresses depicted in light novel illustrations. She now wears a cute hat with her hair in braids, and her dress is splashed in shades of baby blue.
Travelers would need to pay a discounted price of 1,350 Genesis Crystals to get this until February 27. After that, you would need 1,680 Genesis Crystals.
A Sobriquet Under Shade
The Sobriquet Under Shade skin is Lisa's free skin from the event Second Blooming. The dress is a fantastic blend of practicality and elegance, and it is said to resemble Lisa's former Akademiya uniform. Although her outfit and hat are now in that distinct shade of Akademiya green, purple roses still adorn her braids.
New Recipes
The update brings two new recipes and specialty dishes; namely the Sabz Meat Stew and the Scented Meat Balls. Players can buy these recipes from Lambad's Tavern in Sumeru. For the specialty dishes, you have to use Alhaitham and Yaoyao, respectively, to be able to produce the Ideal Circumstance and the Qingce Household.
New Boss
The 3.4 update brings a new world boss called Setekh Wenut, a predator that lurks beneath the sands of the Desert of Hadramaveth. This sandworm burrows into the earth and bombards players with Anemo attacks.
This world boss is similar to the Ruin Serpent boss in the Chasm. Both burrow underground and have a special charging state that gives players the chance to paralyze them. It drops the Pseudo-Stamens, which is vital to ascending Alhaitham.
New Enemies
Of course, with a new area comes new enemies. The Desert of Hadramaveth introduces new consecrated beasts that drop new materials that you can use to level up the 5-star sword Light of Foliar Incision. These new beasts include:
Consecrated Red Vulture

Consecrated Scorpion

Consecrated Flying Serpent
The new update also introduces two new types of Eremites, namely:
Eremite Scorching Loremaster

Eremite Floral Ring-Dancer
These ladies give players another layer of challenge as they wield Pyro and Dendro elements, respectively. Their drops are the same as any other Eremite, although I have to give it to HoYoverse; they are very pretty.
Don't forget to top up your Genshin Impact account today through Codashop. We provide seamless and convenient top-up methods so you can focus on a hassle-free gaming experience.