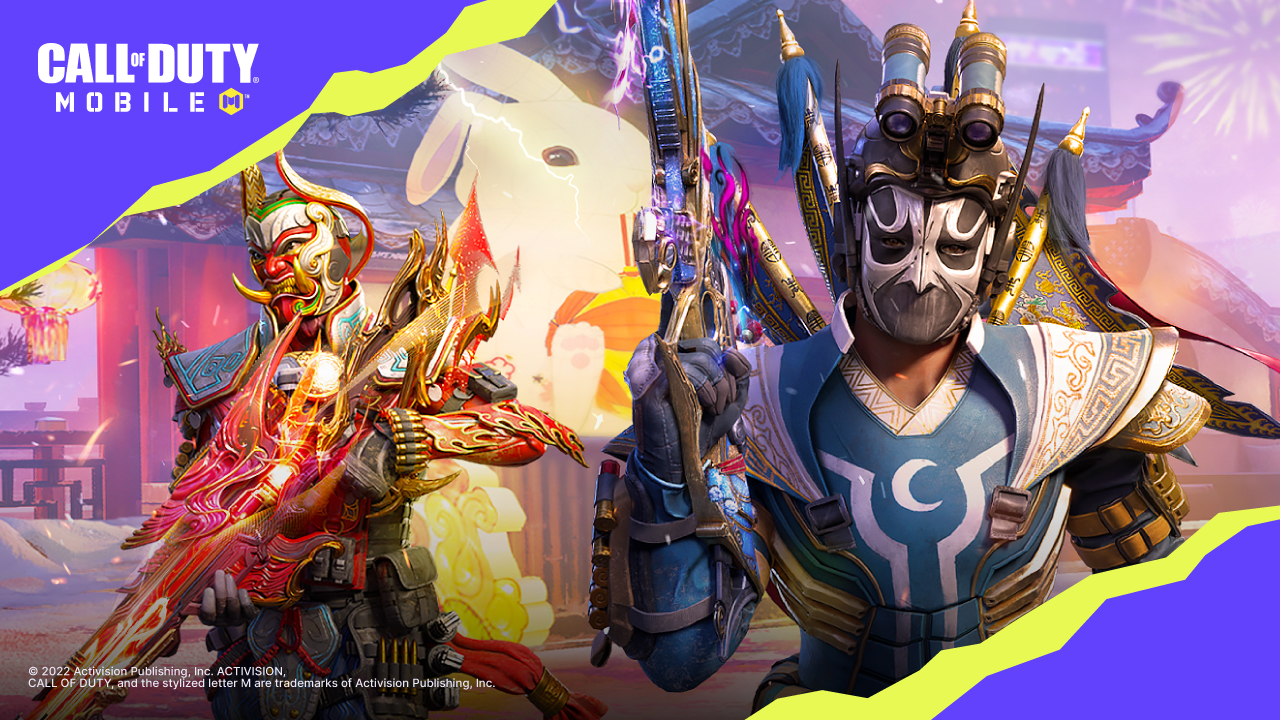 Call of Duty: Mobile is turning back the clock to begin the new year with a fresh Season 1 update. For the first season, players will be able to ring the New Year in style with a new Battle Pass, as well as new character and weapon skins. Here's everything you need to know about CODM's Season 1: Reawakening.
Lunar New Year Theme
Once again, the official theme for COD Mobile's new 2023 season is the Lunar New Year. A Lunar New Year celebration has taken over COD Mobile, starting things off with a bang in Reawakening.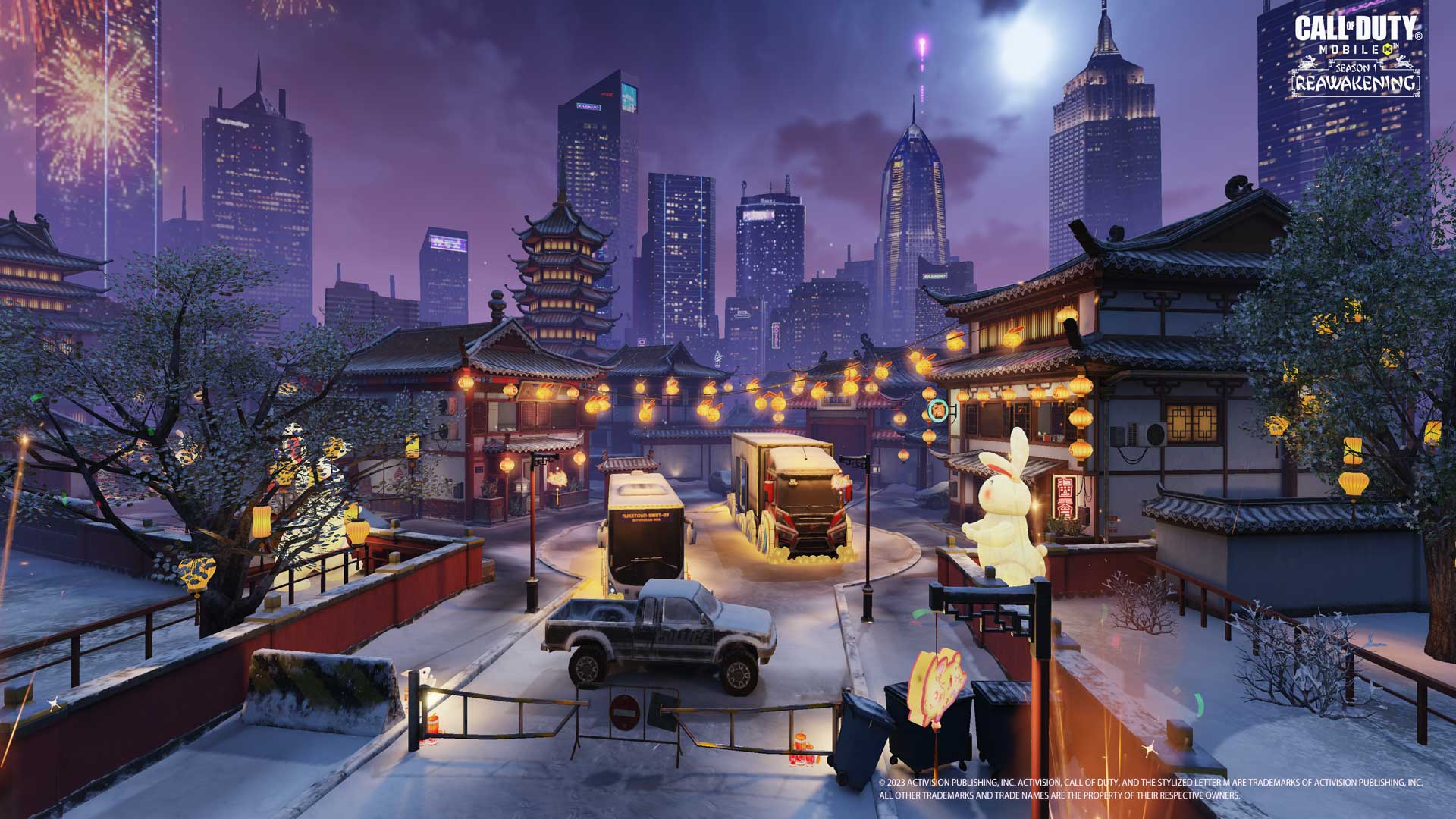 Image credit: Call of Duty: Mobile
Along with the new theme comes the return of the map, Nuketown; although it was known as Nuketown Temple last year. For this year's version of the limited-time map, it's decorated in a festive LNY theme.
Two more LTMs have joined the Year of the Rabbit Nuketown variation. This year, players can play the Big Head Blizzard, a game that literally transforms characters into 'bobbleheads,' as well as Super Attack of the Undead, a familiar playlist for long-time players.
Lunar New Year Loot Opportunities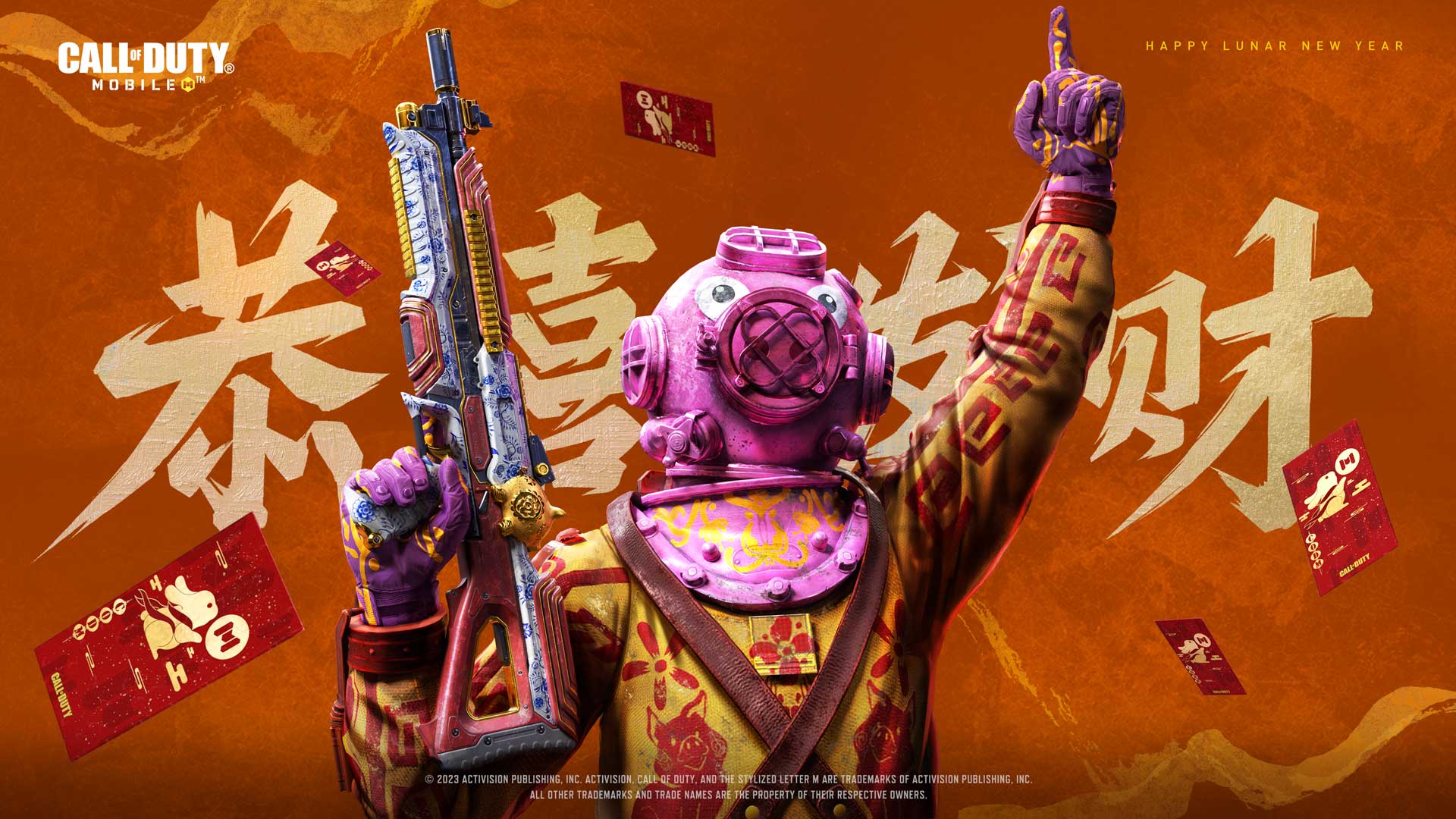 Image credit: Call of Duty: Mobile

Red Envelopes
In celebration of the Year of the Rabbit, find the Atlas NPC located in the new Battle Royale points of interest and complete time-limited missions in exchange for Red Envelopes that contain the new seasonal currency.
R.A.B.T. Robot
Keep a look out for this little rabbit-like robot that may be spotted all across Isolated. Attack it to acquire the loot it hides – the more damage you deal, the higher your payout.
Loot Balloons
Keep an eye out for enormous, Lunar New Year-themed balloons positioned over Isolated's different areas of interest. Shoot them down and seize the riches before the adversary does.
Battle Pass
As always, the release of a new season comes with a new Battle Pass. This season's BP includes both free and paid goodies, such as new Operator Skins, Weapon Blueprints, and Calling Cards.
Free Tiers
Conquer the new year in style with the Dingo – Conquest. They all originally appeared in Call of Duty: Black Ops III, and you can unlock these once you reach Battle Pass Tier 21. At Tier 14, you will be given the Stim Shot. Other features of the free tier include several camos, Weapon Blueprints, and the AS VAL – Mighty Steeds at Tier 50.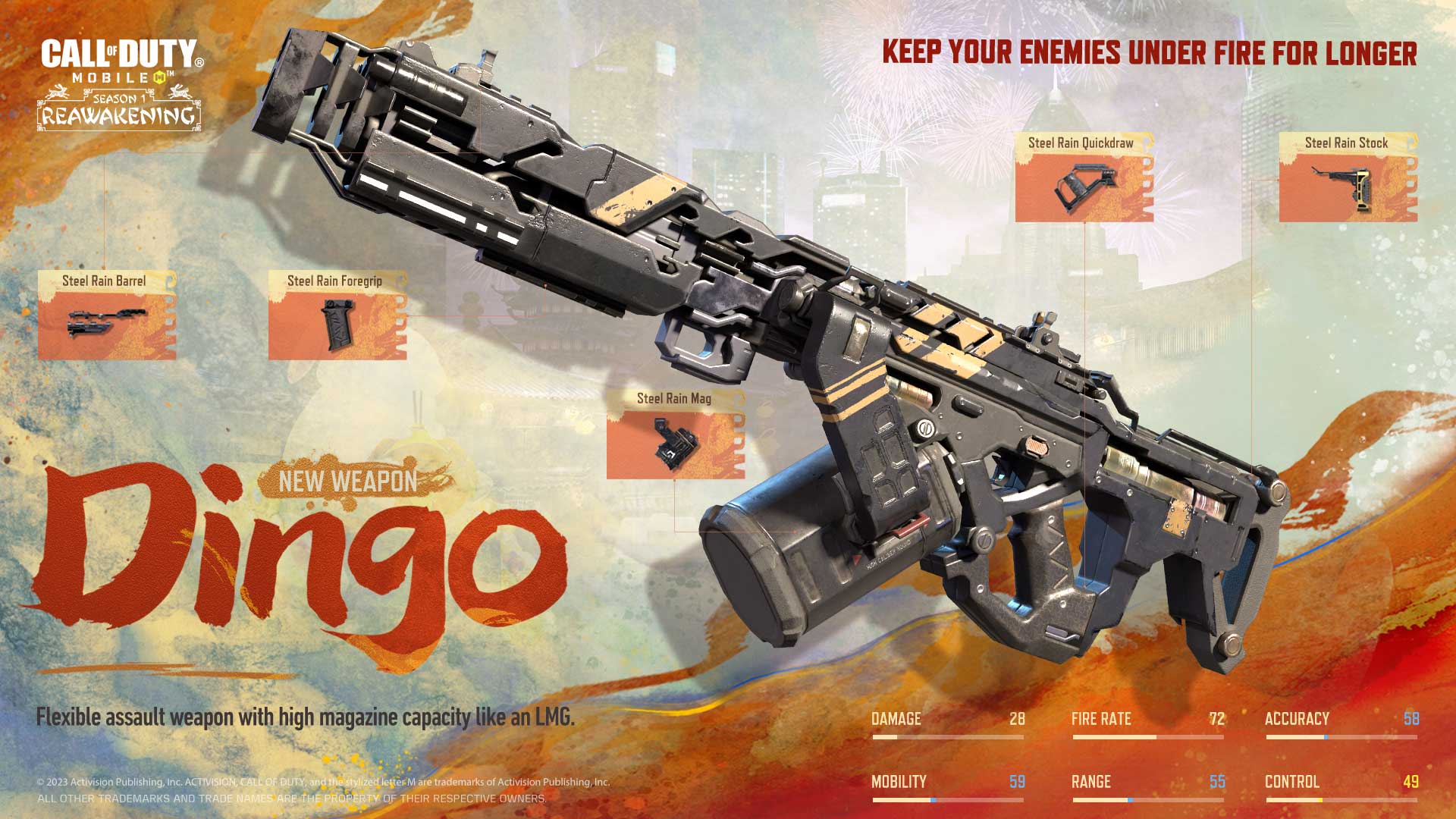 Image credit: Call of Duty: Mobile
Premium Pass
As always, CoD Mobile has some amazing skins featured in its Premium Battle Pass. Some of these include the following operator skins:
Cassius – Fate's Champion

Rampage – Venomous

Baker – Breaker

Special reskin for Bathysphere – Hog Heaven
The Premium Battle Pass also includes these unique weapon skins:
Type 25 – Rooster Dawn

LK24 – Amethyst Serpent

MX9 – Golden Stripes

HS2126 – Pig Dynasty

Blueprint for the Dingo – Monkey King's Legacy
Multiplayer Updates
Big Head Blizzard
Not all battles have to be serious. In this party mode, you acquire energy as you deal damage to enemies. The more energy you acquire, the bigger your Operator's head becomes until you finally transform into a bobblehead-like character equipped with just a melee weapon and increased health points. Go get 'em.
Super Attack of the Undead
In addition to the new mode, Season 1 is also introducing an updated version of Super Attack of the Undead that reflects the Season's Lunar New Year theme, and includes updated character models, new abilities for the infected and survivors, plus support for additional maps.
Ranked Match Update
Rank Match Pool Update
Frontline

Added

Hijacked

to the permanent pool and the new map

Crossroads Strike

.
Team Deathmatch
Although the map

Miami Strike

was removed, CoD Mobile introduces the map

Crossroads Strike

.
Domination
For Domination, the maps

Miami Strike

and

Meltdown

are removed

and added the maps

Apocalypse

and

Crossroads Strike

.
Hardpoint
This mode has the newly added

Crossroads Strike

and

Terminal

maps while the

Miami Strike

map was removed.
Daily First Win bonus adjusted:
Rank XP received from daily first wins has been increased in all ranks.
New Tactical: Stim Shot
For a limited time, increases health regen and mobility speed.
Map Optimization: Practice Range
Optimized light rendering and reflection effect in Practice Range.
Crossroads
Added Ziplines at Crossroads to optimize the experience of traveling between different points.
Mode Optimization
Personal scoring rules in Domination have been optimized.

Personal score will be received after completing one-third of the employment procedure.

The description of the assistance will be more specific.
Ground War
Optimized the performance consumption of Ground War's vehicles.
Others
Teammate's Marker added to the mini map

Teammates will be marked with numbers on the minimap, a more convenient way for soldiers' tactic communication.
Battle Royal Updates
Discover two all-new Isolated locations with interesting new combat opportunities and prizes. Enter the Ecology Lab and interact with the computers to get in-game items like additional ammunition. Climb into one of the two treatment cylinders that generate an updraft to push players up and out of the structure, providing the ideal escape or chance for a surprise assault when exploring the T-3 Refinery.
New Seasonal Currency
The new Limited Time Tickets, which were supported throughout Season 1 and into Season 2, act as a time-limited seasonal currency that can be acquired in-game and then purchased in a new marketplace.
Featured Events
Complete a variety of new Seasonal Challenges and Featured events to earn prizes like new Weapon Blueprints, Battle Pass XP, and other items. One of the extra possibilities available in-game during the season is a challenge that, when completed, provides a new signature magazine attachment for the DL Q33. Bullets that miss their target by a little margin will still do damage on contact.
Store Update
Mythic DL Q33
Test your luck with the new Mythic DL Q33 – Lotus Flames, a blazing Weapon Blueprint that goes well with the similarly terrifying Operator Skin Naga – Destined Destroyer and other flame-themed equipment.
Other Season 1 Draws will include the following Zodiac-themed Operator Skins:
Sparrowhawk – The Hare

Shadowfall

Tiangu
It will also come with Legendary Weapon Blueprints such as: 
Dingo – Scarlet Oracle

MAC-10 – Dragon's Might

AS VAL – Beijing Operatic
Battle Pass Vault
Season 1 adds the Winter War stream to the Battle Pass Vault, giving you the opportunity to earn content you may have missed, such as:
Epic Operator Skins 
Golem – Siberia

Ghost – Dark Vision

Adler – Mountain Drab

Park – Safehouse
Epic Weapon Blueprints 
BY15 – Top Dog

GKS – Pack Warrior

Man-O-War – Pack Leader

RUS-79U – Troika
Don't forget to top-up your COD Mobile account today through Codashop. We offer convenient and safe top-up methods so you can fully enjoy the gaming experience with your new skins!