Streaking bolts of lightning: The VALORANT Smite Collection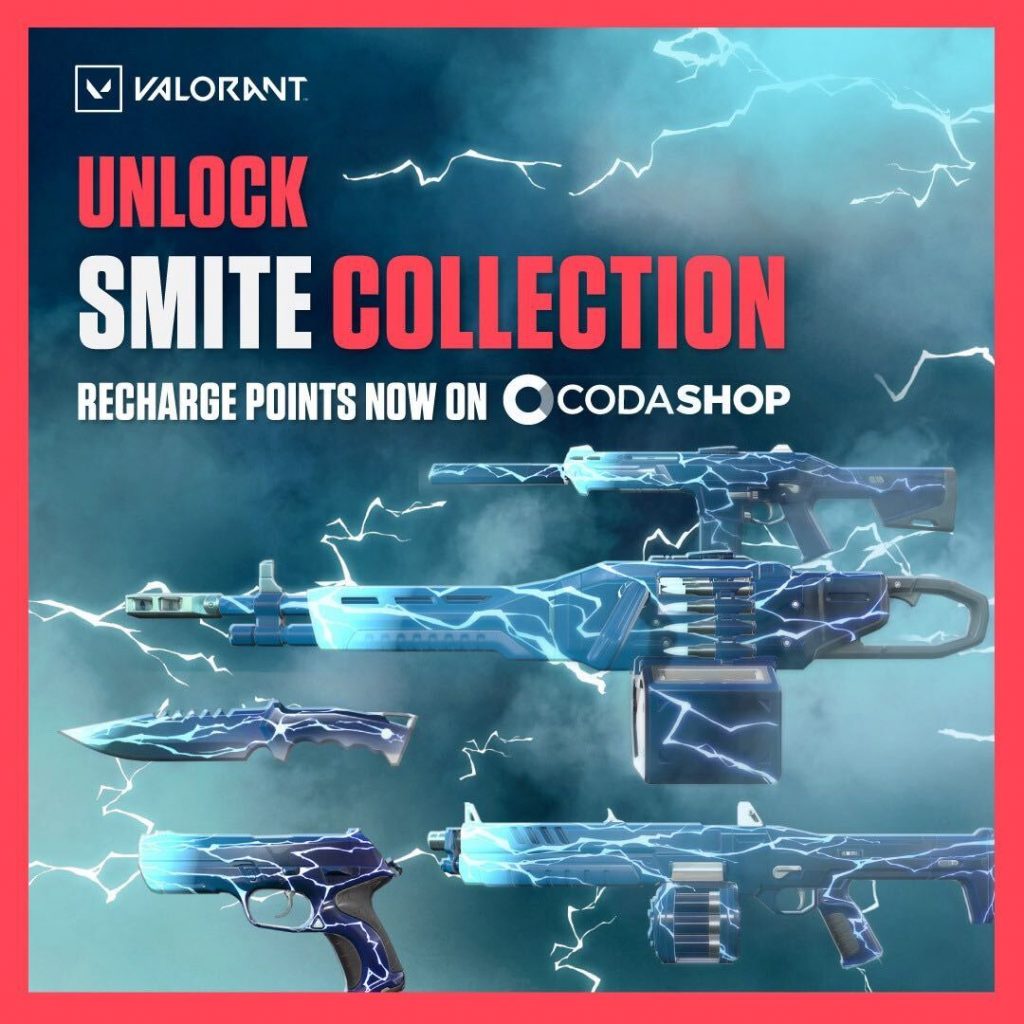 "Smite me O mighty smiter!" If Bruce Nolan was playing VALORANT, he would have loved (or even dreaded) this new set of electrifying skins. Who would have thought that Riot Games can bring the wrath of the heavens straight to the Phantom, Judge and others? And they did so in a flash.
Blue lightning aesthetics
The Smite Collection features a tri-tone blue base color which transitions from dark shade down into a radiant white glow. The guns' bodies are wrapped in streaking lightning bolts that's pretty obvious when in use. The simple combination of blues and whites enhance the guns' lightning strike appeal.
Price and Inclusions
The new Smite Collection features five new weapon skins available for purchase through the in-game store. The bundle is quite the deal as it only costs 3500 VALORANT Points. Each weapon can also be bought separately if you don't want all of them. Price range is as follows:
Classic: 875 VP


Judge: 875VP


Phantom: 875 VP


Odin: 875 VP


Melee (Knife): 1750 VP



Bundle Price: 3500 VP
How to buy the Smite Collection
To buy the new Smite skin collection, you need to go to the in-game store from the main menu. From there, select the item you wish to purchase, either individually or as a bundle. Take note that you need to have enough VALORANT Points (VP) to acquire them.
Light on the pocket
Unlike the previous bundles, the Smite collection is considerably more affordable. This makes it an awesome deal for more players looking for a budget-friendly collection to begin with. However, the weapons come only in its base form and will not be upgradeable. Those who wish for a Finisher effect (with a stroke of blinding lightning maybe) might want to rethink about spending on this set.
If you can settle for something subtle, this set fits the criteria.
Do you fancy this flashy set to add to your collection? Share your thoughts with us. Don't forget to top up your VALORANT Points only at Codashop. It's #BetterFasterSafer and more convenient with plenty of payment options to choose from.