Codashop Grand Challenge winner Kirby Alcantara also won a gaming PC and training sessions with MLBB pro team NXP EVOS!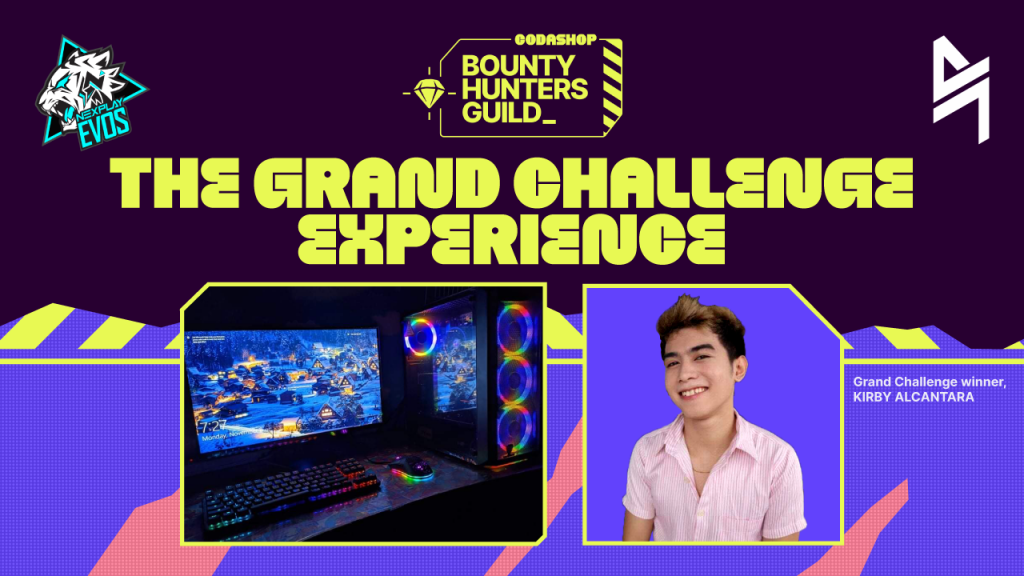 The year 2021 closed on a high note for lucky fan Kirby Alcantara as he won Codashop's Grand Challenge contest. His quirky video, challenging the boys of NXP EVOS, caught our attention and convinced us that he is the one! On top of winning a kickass gaming PC, Kirby met NXP and had two training sessions about MLBB roles. We leveled up his grand challenge reward with a once-in-lifetime chance to battle the recently-crowned M3 World Champions Blacklist International. 
We caught up with 'Big Boy' himself to share more about this experience, what he learned from the MLBB pro teams, and what he plans to do with his new hardware!
Challenge Video
Kirby had his eyes on the prize when he made his challenge video. Among the entries, his had a twist to grab more attention. Realizing that some members of NXP also love basketball (like Renejay), Kirby crossed over his way to winning the grand prize by starting his content with basic hoop handles. He also added some TikTok moves to keep the fun going.
As an MLBB gamer who aspires to become a pro, Kirby mentioned that he looks up to NXP EVOS as his idols. "Gusto ko talaga silang ma-meet, yung mga idol ko.Dati pa nga (po), si Boss Dog (Doggie), china-chat ko. Nangangarap na minsan, ma-seen nya ako", Kirby narrates. You can watch his challenge video here.
When Kirby learned that he had won the top prize, he immediately told his parents, and they were all ecstatic! "First time ko lang po na manalo sa mga ganyan po", (referring to the contest). Adding to the excitement, Kirby explained that "Iba pa rin po talaga kapag nakalaro nyo po yung mga idol nyo, tapos katapat mo pa ng lane".Kirby made a special mention of his sister (a fellow MLBB player too!), whom he shared was a big help with his entry.
Training with NXP EVOS
Part of winning the Grand Challenge is the opportunity to train with NXP EVOS. Together with our Madam P, Kirby met Renejay, Hesa, and Jeymz on his first training day.

Kirby met his idols Renejay, Hesa, and Jeymz.
"The first time I met NXP, kinakabahan talaga ako. Di ko po alam talaga kung ano yung nararamdaman ko", Kirby narrates.
Na-feel mo ba na dapat pakitaang gilas mo ang mga idol mo o dapat humble lang?
"Parehas po. Iba po kapag humble ka at syempre ipakita sa kanila kung ano yung alam mo."
During the first day of the live session, Kirby said he was very nervous. "Sobrang kinabahan po talaga ako. Di po ako makapagsalita.Parang hindi po ako makapag-kulit non". Given that he got the chance to play with his idols, we get where Kirby is coming from.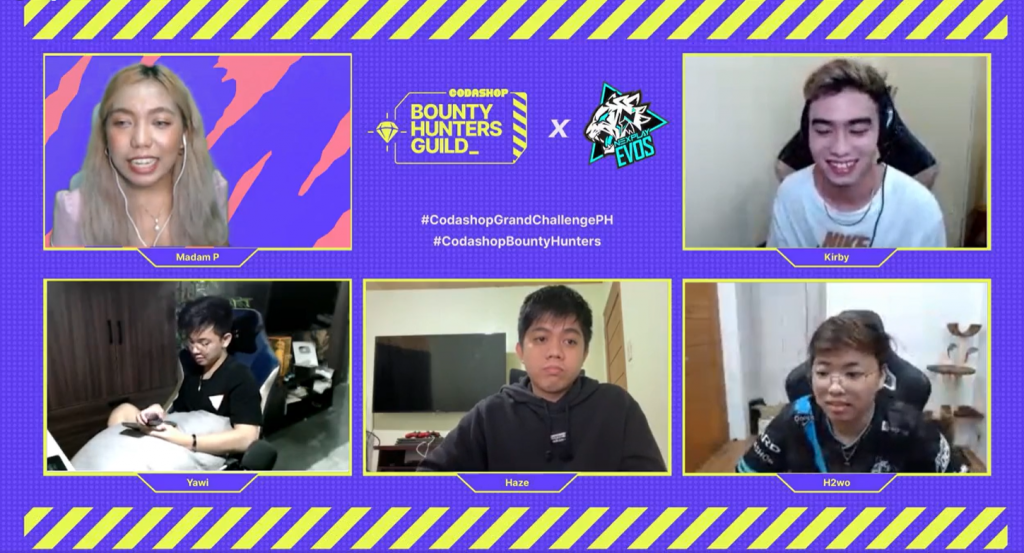 Day 2 training with Yawi, Haze, and H2wo.
On Day 2, Kirby admitted that he is more comfortable and easy talking to his NXP heroes. "Parang mas nakakausap ko na po sila ng mas maayos. Kasi po yung team ng NXP (parang) ma-close din po sila". 
The two-day training was all worth it as Kirby learned straight from the pros, taking insights on how to create better builds, how to use skills effectively, and how to sustain your MLBB heroes in battle.
Confidence booster
Kirby is your typical shy guy."Winning the Grand Challenge boosted my confidence. Dati po kasi mahiyain talaga ako kapag haharap sa mga tao". He explains that the live sessions with Codashop helped him become more comfortable (to talk to other people). Kirby mentioned that he gained more followers on his social media, thanks to the Grand Challenge. "Kahit pano po, may nagcha-chat sakin at nagpapaturo paano (gumamit) ng Chou". 
As for his brand new gaming PC, Kirby said that he uses it to play games and do live streams on his page. He also uses it for his online class, and even his mom uses it to do research.
Break the code with Blacklist International
Perhaps the biggest highlight of winning the Grand Challenge is the chance to meet and play against the kings of Mobile Legends – the M3 world champions Blacklist International. Imagine being on the same stream for a 3-game celebrity showmatch with OHEB, Edward, HADJI, WISE, and team captain OhMyV33nus complete with shoutcasters on the side. That is something that most MLBB players can only dream of.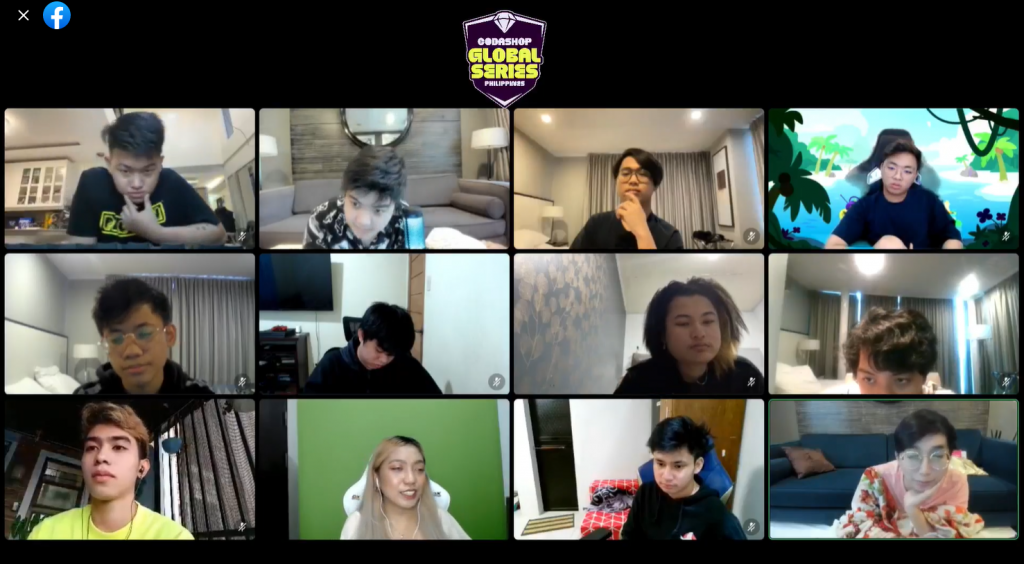 Sana all! Kirby sharing the spotlight with Blacklist International and NXPE! Goosebumps!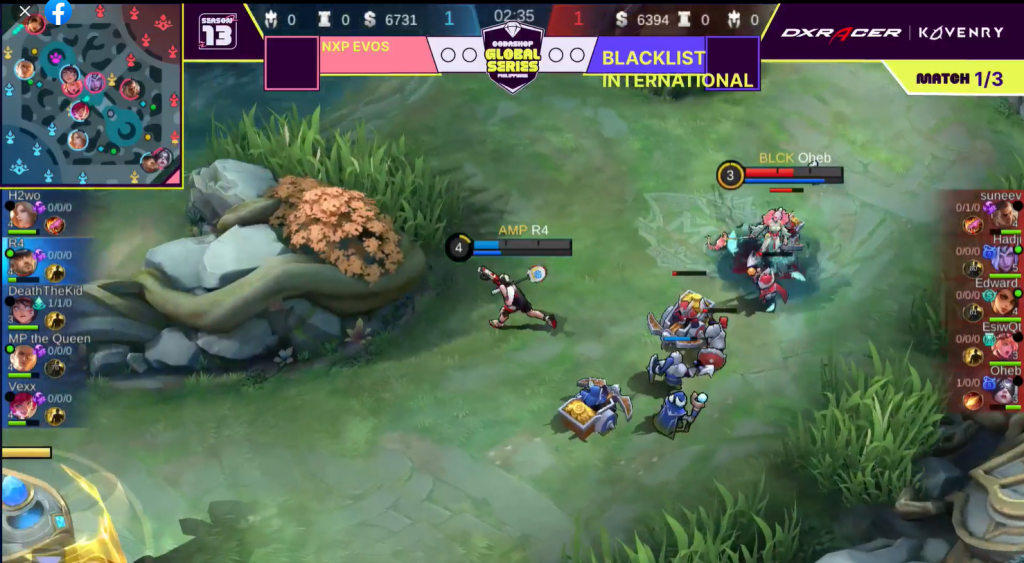 Kirby going 1v1 with the M3 MVP, OHEB!
For Kirby though, he just lived that dream. The Grand Challenge winner felt so privileged and is very thankful to have this once-in-a-lifetime experience. "Sobrang saya ko po! Yung mga kaibigan ko po sinasabi nila sana ako na lang yung nandyan".
And we couldn't help but feel happy and envious of him. GGWP, Lodi!