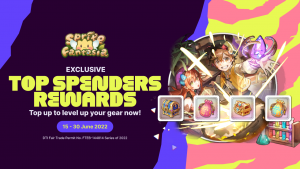 Offer: Purchase as much Sprite Fantasia Prism Gems on Codashop to become one of the top spenders and win prizes!
Promo Period: June 15, 2022 – June 30, 2022
MECHANICS:
Promo is open to all Codashop users.

To join:

Purchase as much Sprite Fantasia Prism Gems on Codashop during the promotion period.

Enter a valid email address upon purchase.

Prizes:

Top 1 Spender:

【

Brilliant Wings Weapon Choice】X1

Top 2 Spender:【Grade III Legendary Card Choice Pack IV】X1

Top 3 Spender:【Legendary Mount Shard Choice Pack IX】X1

Top 4 Spender:【Cool Weapon Pack III】X1

Top 5 Spender:【Cool Accessory Pack III】X1

Only transactions until June 30, 2022, 11:59 PM will be qualified and counted to be considered for the top spenders ranking.

Each email address can be used as one identifiable ID. Users can use multiple email addresses as multiple identifiable IDs, but purchase amounts will only be accumulated under the same email address.

The Top 5 Spenders will be determined in the presence of a DTI representative on July 1, 2022 at 1:30 PM. Announcement will be posted on Codashop's Facebook page within 7 days from the draw date.

A user can only be considered as a top spender only once.

Winners will be contacted via email the same day as the announcement and shall be notified via registered mail. The winner must reply and confirm his/her details to claim the prize.

After the winners confirm the details, the prize will be directly credited to the player's account by Sprite Fantasia within 7 days (before 20 July).

Winners must reply and confirm his/her details within 60 days upon receipt of registered notice, otherwise the prize is forfeited with prior DTI approval.

Prizes are non-transferrable.

All employees of Codashop, their affiliates, including their relatives up to the 2nd degree of consanguinity or affinity are disqualified from joining this promotion.

By participating in the raffle, the winner agrees to cooperate with and participate in any advertising or publicity activities of Coda Payments relating to the promo. The winner agrees that Coda may send communications related to the promo and may publicize their names in such mode and manner as Coda considers fit. The winner's name may be published on Coda's website & social media channels.
DTI Fair Trade Permit No. FTEB-144814 Series of 2022