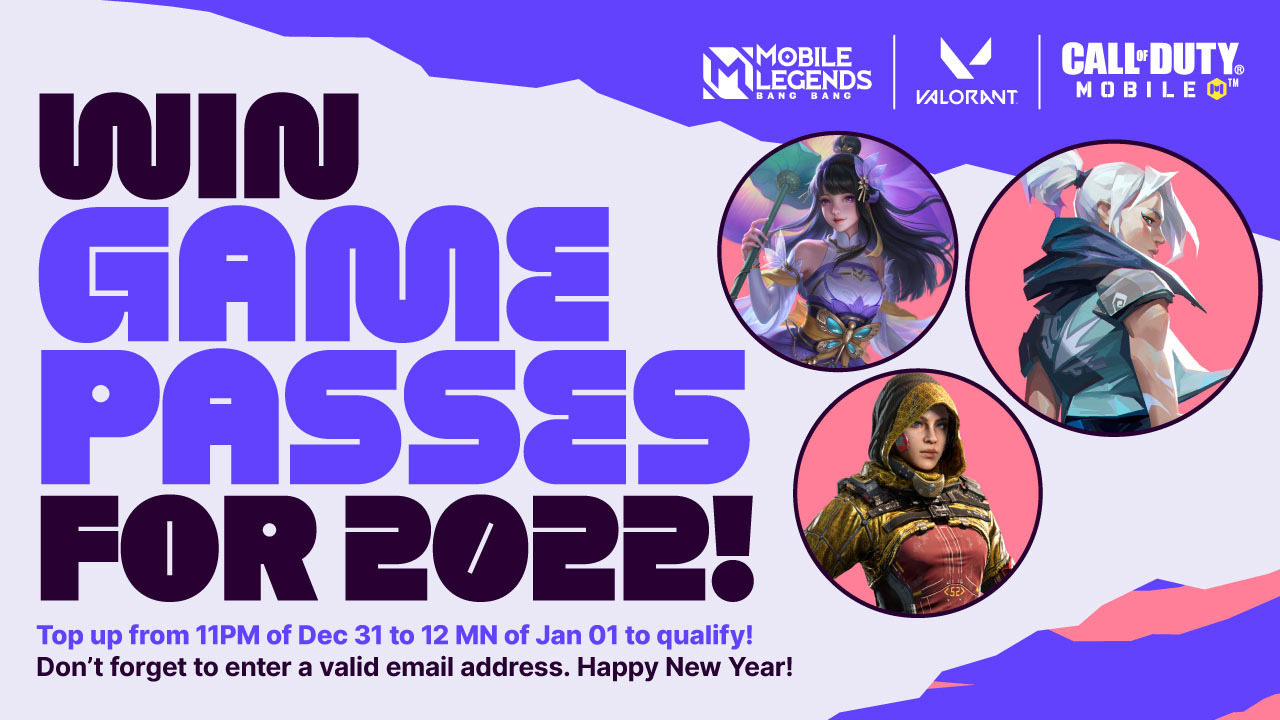 Welcome 2022 with free game passes, year-long!
NYE Countdown Promo Terms and Conditions
  Promo period is 11:00PM of December 31, 2021 to 12:00MN of January 01, 2022.
  This promo is open to all Codashop users nationwide.
  To join: A) Purchase any of the participating titles (MLBB, CODM or VALORANT), at least P100 spend is required B) Enter a valid email address upon purchase, C) You automatically earn a raffle for every valid transaction.
  Deadline of submission of entries is on 12:00MN of January 01, 2022.
  Winners will be drawn in the presence of a DTI representative on January 03, 2022, 4PM. Announcement will be posted on Codashop's Facebook page within 7 days from the draw date.
  The 20% tax for prizes exceeding P10,000 will be shouldered by the winners.
  Winners will be contacted via email. Prizes will be sent to the User ID associated with the winning entry within 15 working days.
  Prizes are non-transferrable.
By participating in the raffle, the winner agrees to cooperate with and participate in any advertising or publicity activities of Coda Payments relating to the draw. The winners agrees that Coda may publicize their email addresses (with last 3 characters/digits masked by ***) in such mode and manner as Coda considers fit. The winner's email address may be published on Coda's website & social media channels.
Participating titles
MLBB
CODM
VALORANT
Prizes
1 winner of 1 year free Starlight Member (winner will get equivalent diamonds)
1 winner of 1 year free CODM Battlepass (winner will get equivalent Garena Shells)
1 wnner of 1 year free VALORANT Battlepass (winner will get equivalent VALORANT Points)
PER DTI FAIR TRADE PERMIT #FTEB 134520 S' 2021