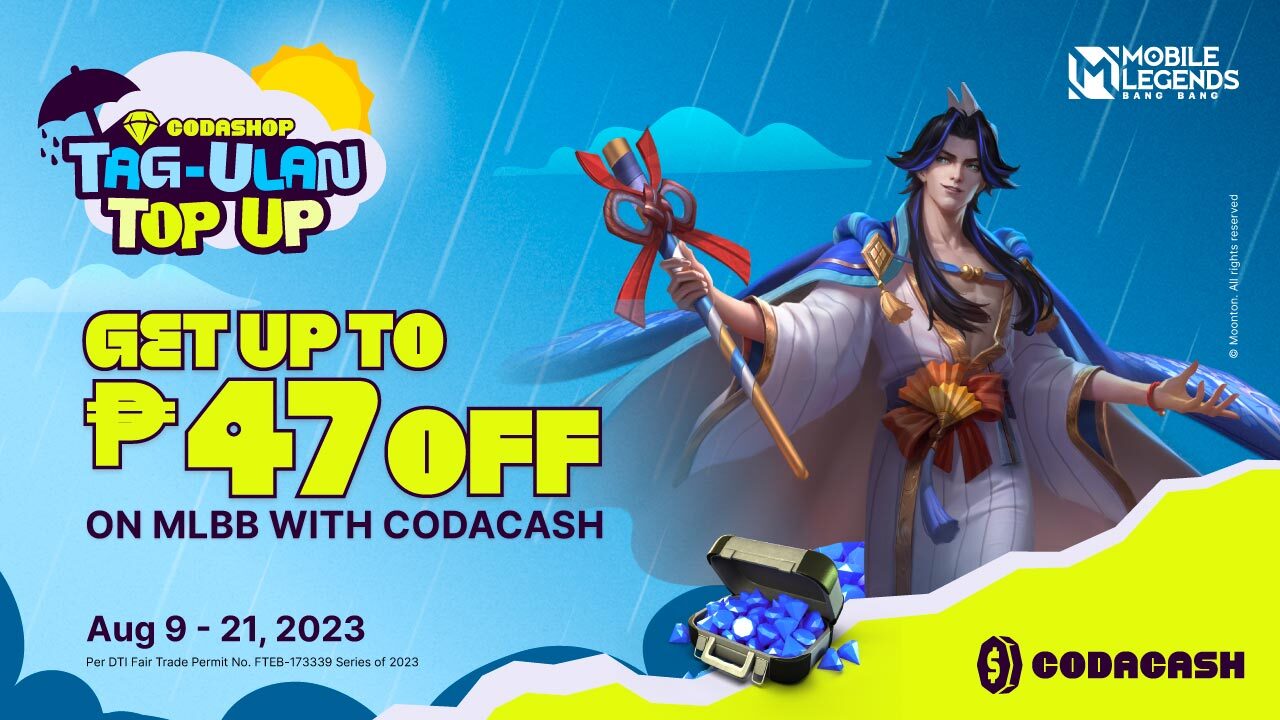 Buy Mobile Legends Diamonds, Twilight Pass, or Weekly Pass to get a 1% Discount or up to ₱47 off on every purchase using Codacash! Simply enter your Mobile Legends user ID and zone ID, select the item you wish to purchase, complete the payment, and the item will be instantly delivered to your Mobile Legends account. 😉
| | | | | |
| --- | --- | --- | --- | --- |
| Discounted Items | Original Price | Discounted Price | Total Discount | % of Discount |
| 5 Diamonds | ₱5.00 | ₱4.95 | ₱0.05 | 1% |
| 10 Diamonds + 1 Bonus | ₱9.50 | ₱9.41 | ₱0.09 | 1% |
| 20 Diamonds + 2 Bonus | ₱19.00 | ₱18.81 | ₱0.19 | 1% |
| 51 Diamonds + 5 Bonus | ₱47.50 | ₱47.03 | ₱0.47 | 1% |
| 102 Diamonds + 10 Bonus | ₱95.00 | ₱94.05 | ₱0.95 | 1% |
| 203 Diamonds + 20 Bonus | ₱190.00 | ₱188.10 | ₱1.9 | 1% |
| 303 Diamonds + 33 Bonus | ₱285.00 | ₱282.15 | ₱2.85 | 1% |
| 504 Diamonds + 66 Bonus | ₱475.00 | ₱470.25 | ₱4.75 | 1% |
| 1007 Diamonds + 156 Bonus | ₱950.00 | ₱940.50 | ₱9.5 | 1% |
| 2015 Diamonds + 383 Bonus | ₱1,900.00 | ₱1,881.00 | ₱19.00 | 1% |
| 5035 Diamonds + 1007 Bonus | ₱4,750.00 | ₱4,702.50 | ₱47.50 | 1% |
| Twilight Pass | ₱475.00 | ₱470.25 | ₱4.75 | 1% |
| Weekly Diamond Pass | ₱94.05 | ₱93.11 | ₱0.94 | 1% |
---
COMPLETE MECHANICS
PROMO DURATION
The discounted prices can be availed from August 9, 2023, to August 21, 2023.
PROMO ELIGIBILITY
The discounted prices are available to all Codashop users nationwide.

The discounted prices are

NOT ON TOP

of other promotions.

No minimum purchase is required.

No limit per user.



AVAILING THE DISCOUNT
To avail of the discount, the user must:

Enter their Mobile Legends: Bang Bang Gamer ID.

Select any denomination.

Choose Codacash as the payment method.

Complete a successful transaction.
Per DTI Fair Trade Permit No. FTEB-173339 Series of 2023.