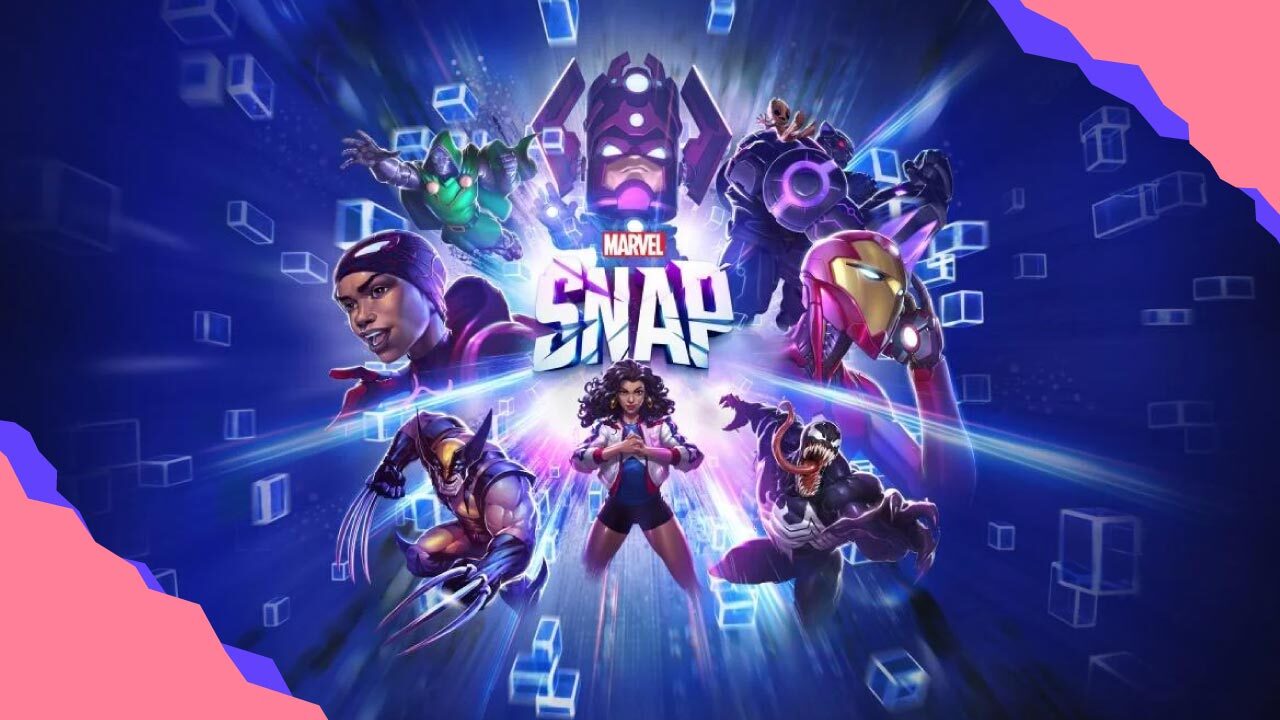 Marvel Snap is a highly-anticipated card game released last October 18th. The free-to-play card game is available on PC open beta, iOS, and Android devices.
The game is a mix of strategy and fast-paced card gameplay. It will feature the most iconic Marvel heroes and supervillains, such as Spider-Man, Iron Man, Abomination, The Punisher, Hulk, The Thing, and more.
It is the most eagerly anticipated card game to hit the shelves, so don't miss a beat by catching up on everything you need to know about the game right here on this page.
Gameplay
Undeniably, Marvel Snap is one of the quickest card games ever released on the market. A player's Deck only has twelve cards and six turns to play. A very straightforward card battle with no unnecessary animations and game-loading sequences.
Marvel Snap is a 1v1 match. Players should dominate majority control over three locations by choosing the best cards on their Deck. Knowing your hero's abilities and keeping track of your opponent's Energy is the key to victory.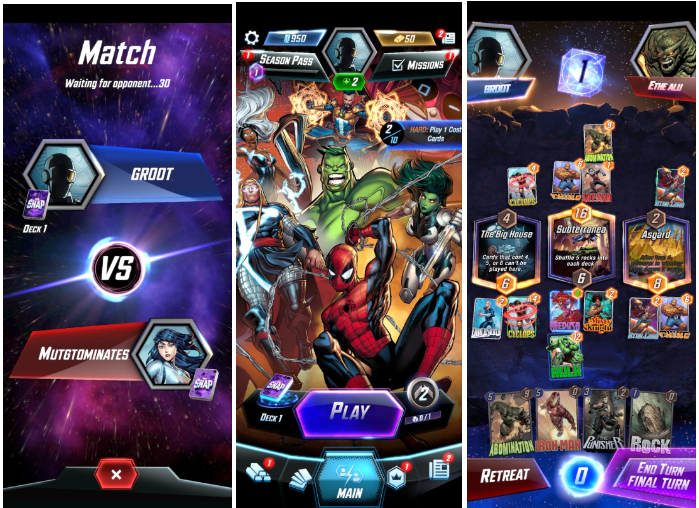 How to acquire Marvel Snap Cards?
Developers confirmed that over one hundred fifty of the most iconic Marvel heroes and villains' Snap cards are expected at launch, with exhilarating abilities that will indeed catch the interest of avid Marvel fans worldwide! Expect that more will be released each seasonal update.
Once you have downloaded the game, you are given a pre-made deck to start out with initial tutorial matches. They are located on the collection panel. Each Deck has twelve slots for cards, and you can add a max of four decks by smashing the plus button beside your first Deck. The starter Deck consists of these twelve heroes and villains.
Hawkeye

Misty Knight

QuickSilver

Medusa

Shocker

Star Lord

Cyclops

The Punisher

The Thing

Abomination 

Iron Man

Hulk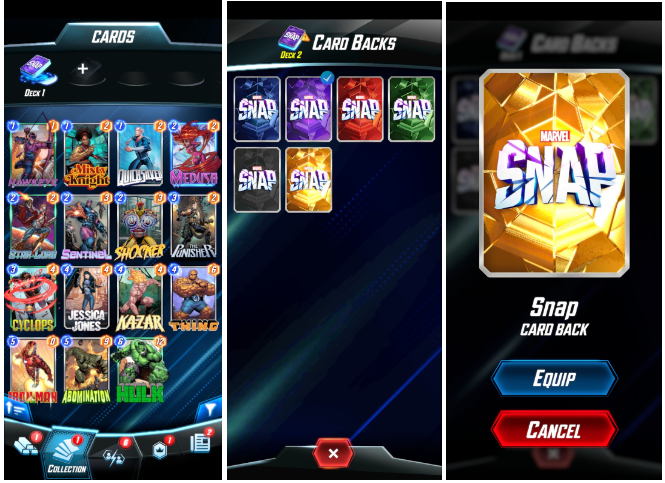 Marvel Snap cards also have six colors to equip as your card backs. 
Card attributes
Each card has an energy cost, power, and ongoing and on-reveal abilities that will give buffs and may even flip sides and reduce the strength of your opponent's Deck. 
Cost
A Marvel Snap card has an assigned Cost. The blue, glowing orb is in the top left corner of the card. Each turn requires an amount of Energy to be able to use your cards. Marvel Snap players must know the Energy assigned cost of every card on their Deck before entering a match.
Power
A Marvel Snap card also has an assigned Power, located inside the glowing orb on the top right corner of the card. The card's power is added to wherever location they were dragged onto.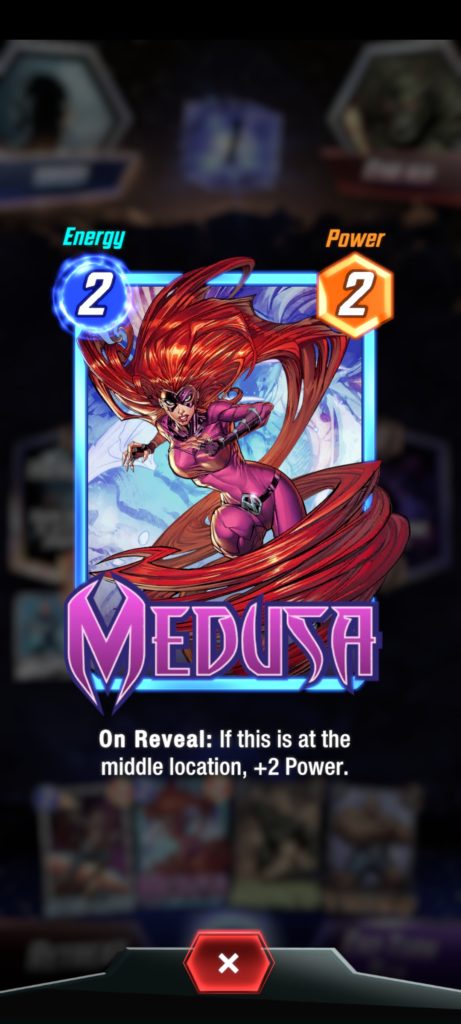 Abilities
This is probably one of the fascinating things every Marvel fan will experience in Marvel Snap. A Marvel Snap card has primary abilities written underneath the card: Ongoing and On Reveal abilities. 
Ongoing abilities
Ongoing abilities take effect once dragged onto a location and remain active throughout the game.
On Reveal abilities
On Reveal abilities will take a one-time effect once triggered when revealed in play.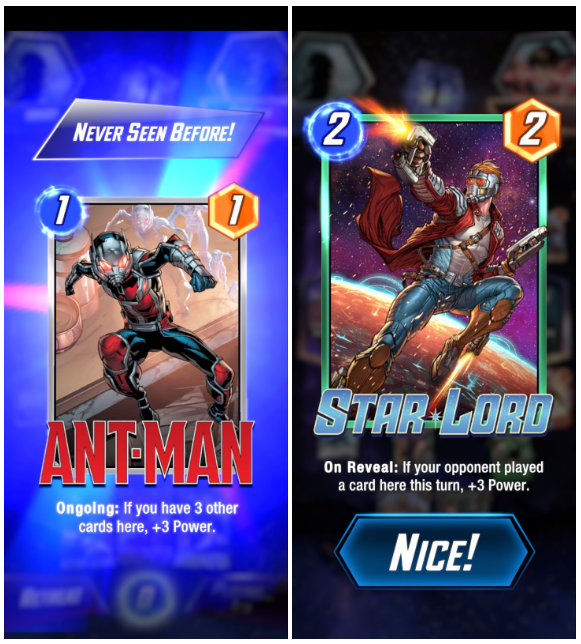 Not all abilities are written in Ongoing and On Reveal. You can browse other cards and abilities on this card database.
Collecting Cards
In Marvel Snap, the primary way you acquire cards is via the Mystery Card rewards that often appear on the Collection Level Road. These Mystery Cards are not entirely random pulls from the whole library of cards in the game. There is a set pool of cards that it pulls from until you obtain all of them and progress into the next pool. This depends on the specified range of Collection Levels.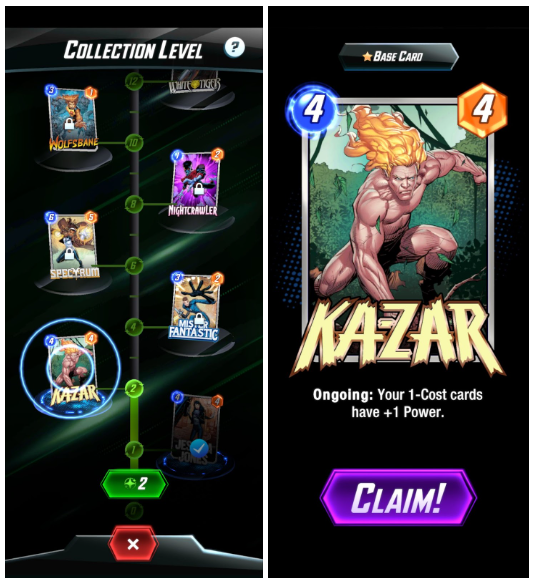 Upgrading Cards
Like any other game, there is no higher joy if you reach the highest peak of the rarity of cards you have on your deck. Marvel Snap features the sassiest visual effects on cards upgraded to higher rarities. 
To earn rare cards and upgrades, you need Boosters and Credits. Boosters are rewarded after every match, while Credits can be earned by completing Daily Missions.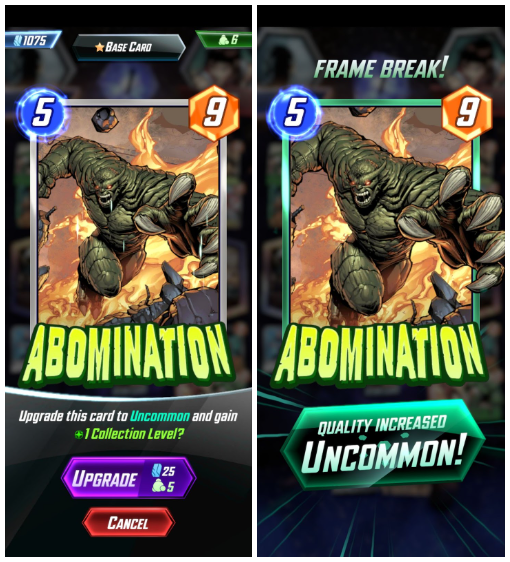 Every time you upgrade your card, you gain Snap calls which is the primary way to unlock more cards.
In-Game Shop
You must keep playing matches to gain Boosters for your upgrades, increasing your Collection level to give you more cards. But Marvel Snap also has an in-game Shop for Fast Upgrades. It will allow you to purchase limited offers, Boosters, Credits, and Golds to upgrade fast.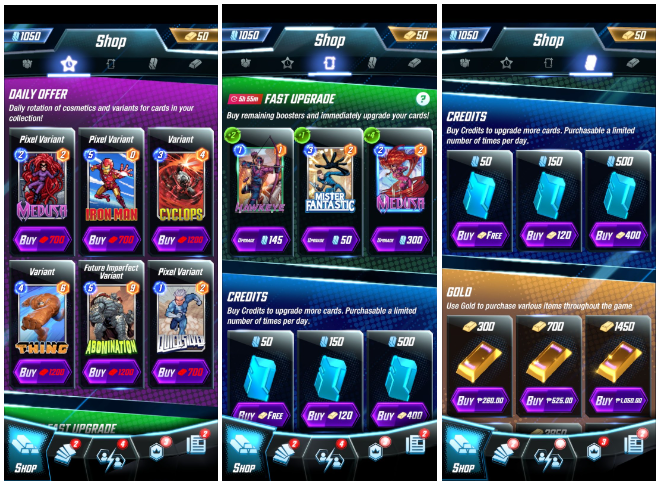 How to play Marvel Snap?
Energy Management
Once players enter a match, they will receive one energy point at the first Turn. This is the circle orb at the bottom of the playing field. Players will receive extra Energy Points for every consecutive Turn after the first. Keeping track of your opponent's Energy will give you a high advantage in winning the match.
Turn 1 – 1 Energy

Turn 2 – 2 Energy

Turn 3 – 3 Energy

Turn 4 – 4 Energy

Turn 5 – 5 Energy

Turn 6/Final Turn – 6 Energy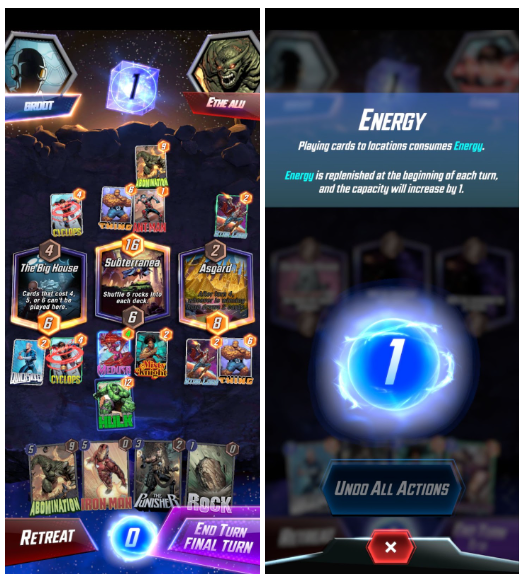 Card Positioning
Marvel Snap has three locations. These are the three hexagonal figures in the middle of the playing field. Each location has buffs and debuffs for you and your opponent's heroes revealed after each Turn. Use them to your advantage!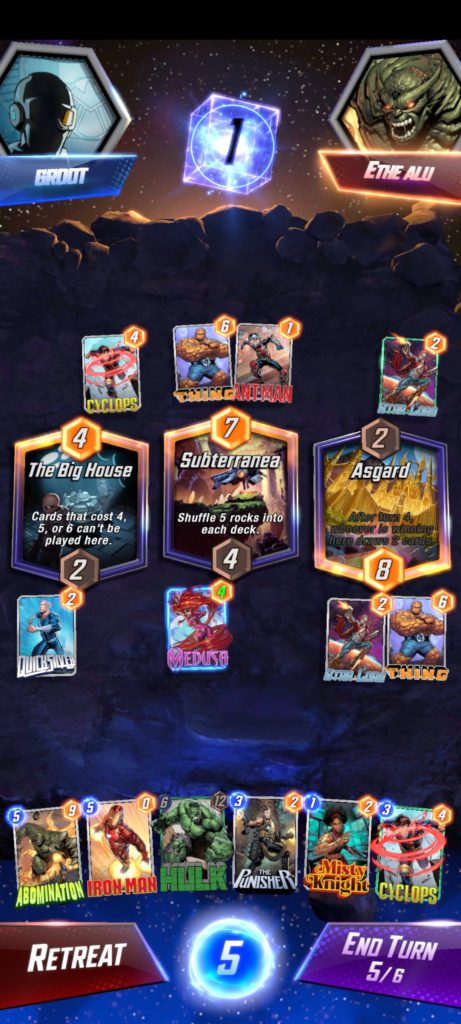 Four random cards on your Deck will be given at the beginning of the match. You only have thirty seconds to decide if you want to drag your card onto a location or just end a Turn to conserve Energy for the next Turn. 
Once the card/cards are dragged onto a location, there is no chance of changing locations or replacing the card/cards. Familiarizing yourself with your card attributes will give you the edge in winning any match.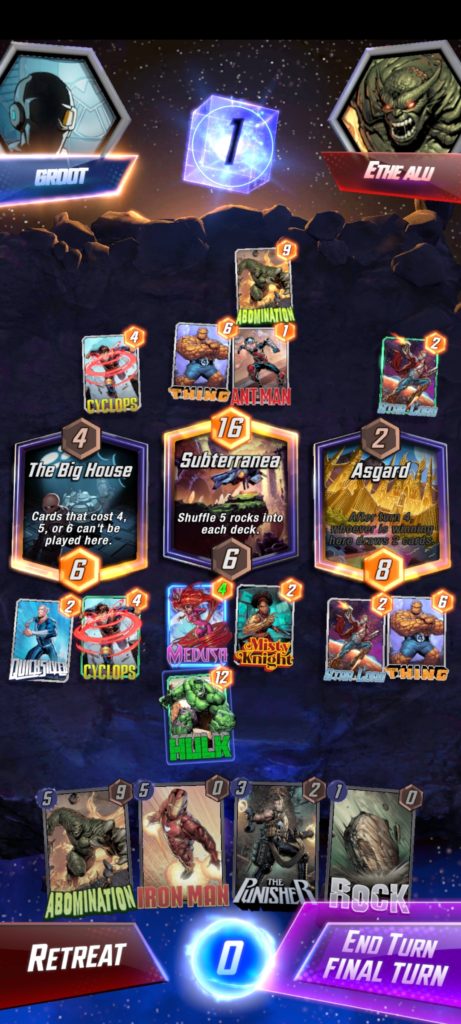 End turn bar is located on the lower right corner of your playing field.
The Cosmic Cube
After downloading the game, each player is given one Cosmic Cube at the top of the playing field. As your rank increases, the higher the chance of obtaining more Cosmic Cubes.
The Cosmic Cube is used for staking during high-ranking matches. You will start battling with one Cosmic Cube at the start of the game; as the battle continues and you think you have a high chance of winning the game, you can stake a max of eight Cosmic Cubes before the Final Turn. You can also retreat if your opponent's snap and think you're going to lose. Stake at your own risk! But for beginners, the main objective is to keep winning to get a higher rank and earn more cosmic cubes.