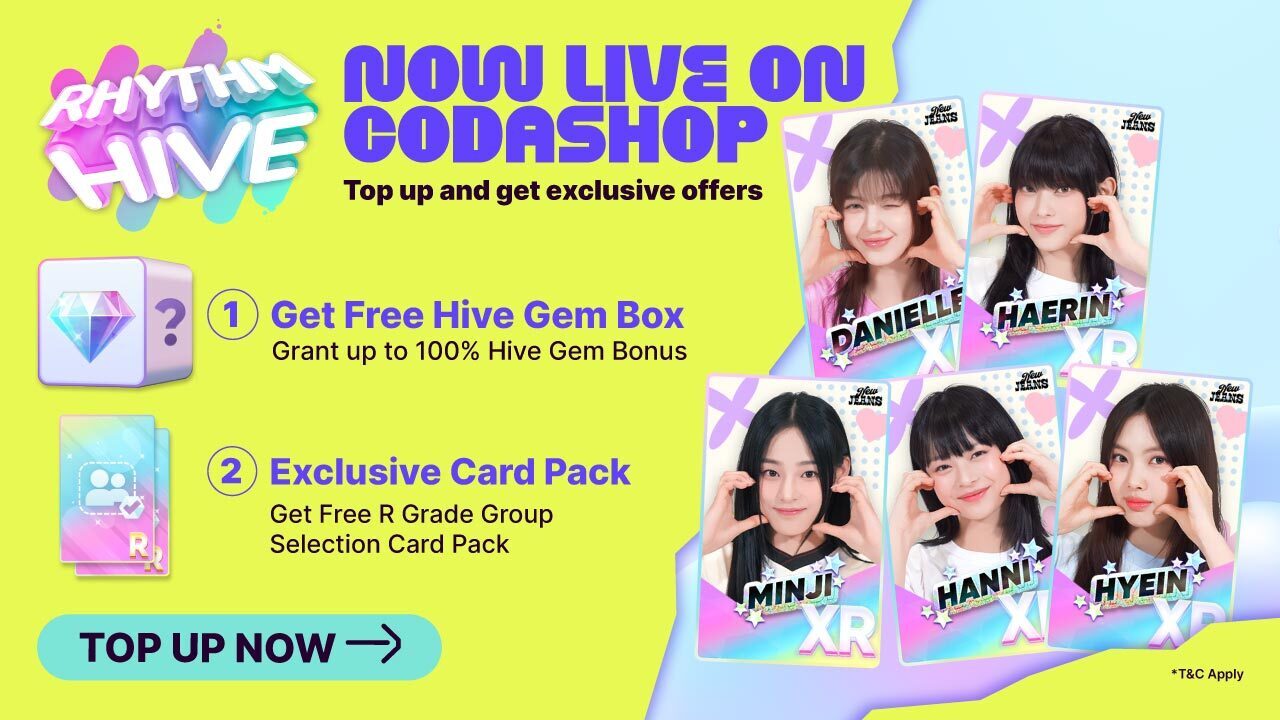 Jam along to the catchiest K-pop tunes with Rhythm Hive–HYBE IM's official rhythm game. Learn everything about this challenging rhythm-slash-card collecting game in this article!
Take your love for K-pop to a whole new level with Rhythm Hive, HYBE IM Corporation's own rhythm game featuring top tunes from the biggest artists in the industry. Jam to the songs of BTS, Enhypen, and many others, and get to know your stans better by collecting glamorous photo cards with personalized messages. Feeling the hype, boy? Stick with us as we uncover everything this captivating game has in store for you!
Rhythm Hive Gameplay
If singing your heart out to your favorite K-pop tracks sounds fun, you'll love jamming to it with Rhythm Hive's entrancing visuals. Touch, slide through, or flick the shiny notes at the right moment and strive for a flawless performance to unlock new missions and song difficulties.


K-pop Star Power!

Attention ARMY, MOA, ENGENE, CARAT, FEARNOT, and Bunnies! Rhythm Hive features songs from some of the most popular idol groups:
BTS

TOMORROW X TOGETHER

ENHYPEN

Seventeen

LE SSERAFIM

NewJeans
Fans can enjoy full or short versions of their favorite K-pop groups' hit songs, including Take Two, Bite Me, Super Shy, and more! Players can even play solo and unit songs, too! What makes Rhythm Hive unique are the fancy Performance Cards players can collect in-game through performances. Players can level up their obtained Cards to complete their Collection, earn exciting rewards, and unlock more content.

Besides being delightful eye candies that show your love for K-pop, these cards also come in handy for topping the scoreboards, as you can equip, level up, and upgrade them to obtain higher score multipliers. Rhythm Hive is available for download on Google Play and the App Store.
Rhythm Hive Game Modes
Rhythm Hive offers two main game modes: Chapter Stage and Studio. In Chapter Stage, players perform a series of songs with set missions of increasing difficulty. Accomplishing these missions rewards players with Rhythm Tokens, Royal Tickets, and many more in-game resources you can use to unlock exclusive game content. 
If you want to showcase your rhythm game prowess, the Studio mode is for you, as it allows you to play any track in the game's vast song list. Here, you can play in Easy, Normal, and Hard mode and have the option to play a short or full version of the song. Completing the Hard mode with at least 50% remaining HP unlocks a Super Hard mode you can use to polish your chops even more. 
Both game modes require Music Points, which you can get from the daily shop recharge or the Hive Pass.
Hype it up with the Hive Pass

The Hive Pass is the game's monthly subscription system that offers a daily stipend of 20 Hive Gems, 20 Music Points, and an EXP card for leveling up Performance Cards. Priced at 5 USD, the Hive Pass also unlocks exclusive concept photos together with a whole slew of player benefits that allow for faster progression and more abundant rewards:
Monthly Login Combo Bonus Additional Buff

2 Free Studio Mode Continue Instances

10 Free Studio Mode Games (+20% Bonus Daily)
With awesome collectibles, rich music, and challenging beat maps patterned on the idol groups' dance moves, Rhythm Hive is a treat for K-pop fans and rhythm game enthusiasts. Collecting Performance Cards showing your favorite idol groups or biases also provides another layer of relatability and satisfaction that fans will dig. Jam to your favorite K-pop tunes in Rhythm Hive and unlock exclusive content by topping up your Hive Gems only at Codashop! We offer secure transactions that are smooth like butter for a hassle-free gaming experience.