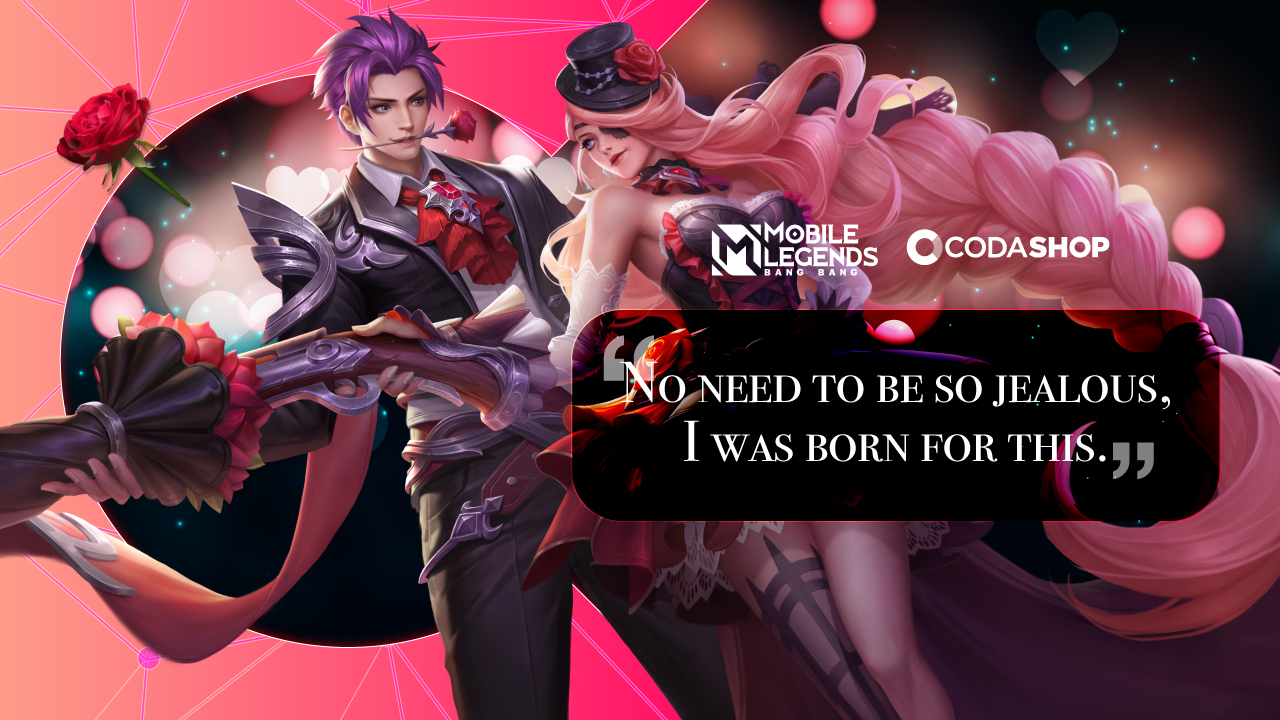 Valentine's Day is just around the corner. And if you think you ran out of sweet nothings to captivate your date or significant other, well you're in luck! We've listed down some of the most romantic and witty quotes to help you score in the love o'meter this V-Day!
Who would've thought that the brawny Baxia had some charmer lines to spark a conversation? Did you know that Barats had such gentlemanly words to sweep you off your feet? Even Harith and Lancelot can help boost your confidence if you're a hopeless romantic. So, get ready to smitten your date with these lines! We've included scenarios to break out your smooth talk and guide you to sweet victory!
'Getting to know you' stage
If you're a couple who's meeting for the first time, make sure you say something pleasant during the first date. A proper greeting is nice, but a suave line from these heroes is godlike better!
Gentleman acts never go out of style so make sure to assist your lady even with little acts of kindness (holding the door, offering the chair, etc.) When she commends you for it, reply with:




"Chivalry is dead, and I will revive it."

(Clint) OR


"I might not be a lighted man, but I do know my traits!"

(Barats)

If you're feeling like a magician and you want to see your date's cute smile try:




"Abra kadabra! Keep smiling!"

(Angela)

Feeling a bit shy to make the first move? Let our Kung-Fu boy

show you the way:




"Everybody has to start somewhere."

(Chou)

Okay, so both of you have started talking and sharing stories. Apparently, you two have things in common. Compliment your date with this line from our resident mage:




"You got a good taste!"

(Cyclops)

Ladies, if your date is the competitive type and is egging you to beat him, you have the perfect rebuttal to win the debate thanks to our sly assassin:




"I'll give you a chance to join my fan club."

(Selena)

Boys, if you think that 'first impressions last', better make it count with this line:




"I think I've met you in one of my dreams."

(Lunox) 

This famous one-liner applies to all. Remind your date to just 'be yourself and have fun':




"Time to shine!"

(Layla)
Interest and Infatuation stage
For couples who have leveled up from their first meeting, these quotes also ranked up to show more interest and affection. Think you can utter them in front of your date?
If you want to surprise your partner on your next date/s and you think you can safely play the 'stranger card', spice up the first conversation with this:




"Hmm.. You're looking a little lost."

(Aldous)

(make sure to follow that up with something recognizable or if worse comes to worst, just reintroduce yourself to avoid being mistaken for a stalker)

You guys adore joking around? Well, the next two lines will make the two of you a dynamic banter duo, laughing your hearts out:




"Stop staring at me. Watch out for neck problems."

(Angela)
Reply with:

"Never seen someone handsome with one eye?"

(Cyclops)

If you're feeling more relaxed and a bit certain that you can pull off little cocky quotes, this one is challenging you to be brave like a fighter:




"I set sparks flying, wherever I go!"

(Baxia)

Still feeling lucky? Get your ducks in a row and turn your ego in assassin mode and kill this line to impress your mate:




"Time to witness the handsome!"

(Lancelot)

We know you guys are enjoying each other's company, so don't forget to commend each other with this magic line:




"You've got the looks, I've got the brains."

(Harith)
Becoming a couple stage
After moving from the infatuation stage, comes the couple stage. More than sparks flying and stars aligning, these quotes will help make it sweeter. Can you handle the heat and say these lines loud and proud?
If you guys are into truth and dare, answer the game with these quotes. It will also help you realize how far you can accept each other's individuality:




"Actually, I can't resist cute stuff at all…"

(Hanabi)


"I never go to the gym."

(Hilda)

Getting more intimate conversations about life and love? This quote has a profound meaning that supports both:




"Love and hope are the two greatest inventions."

(Angela)

On a long-distance relationship (LDR)? Throw this one-liner to make your partner remember:




"A thought to miss you, another to hate."

(Kagura)

Continuing with the last quote, this line will require you to fill in the blank. A good way to talk about your relationship in general. So make it count!




"There are two kinds of people in the world_____."

(Kagura)

There's no perfect relationship. Everyone goes through a rough patch. If you guys are having an argument, maybe these words can help you say what you mean:




No need to be so jealous, I was born for this."

(Gusion)


"Try to keep up! If you can."

(Esmeralda)
Commitment stage
This is where you guys have settled down. You've created a form of emotional stability and trust each other more. As serious as your relationship status, these lines also reflect devotion and sincerity.
When you feel like your beloved means the world to you, why not use this tanky line to assure him/her:




"The world is mine, just for you."

(Khufra)

No matter how long you've been together, it always feels good to make your partner's heart skip a beat. Use this one to remind them that:




"Listen, your heart is beating for me."

(Alice)

All we need is love. And since it's Valentine's Day, make your loved ones feel special even with just words. Go ahead and give this eternal one a go:




"Only love and night are everlasting."

(Cecilion)
We hope you enjoyed our romantic suggestions straight from the words of our favorite Mobile Legends heroes. Good luck saying them to your loved ones and Happy Valentine's Day!
Share your thoughts with us on Codaclub Community, it's our newest forum where you can meet and share experiences with fellow Codashop gamers!

Don't forget to top up on your Mobile Legends Diamonds only at Codashop. We guarantee faster and more convenient top-ups so you can enjoy a hassle-free gaming experience.