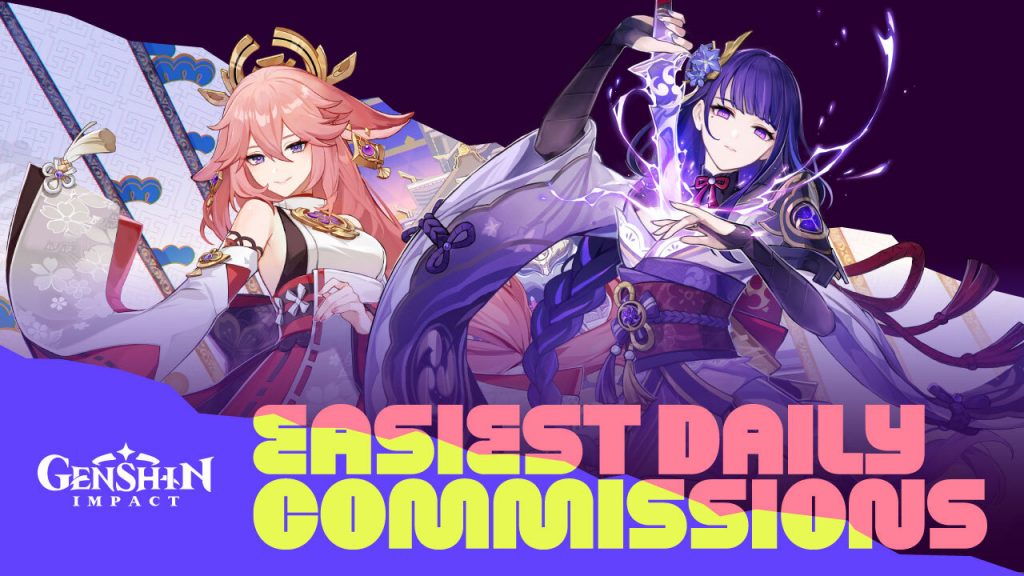 In Genshin Impact, players can join Daily Commissions, considered a fundamental part of the game. Upon finishing a quest, players can earn rewards like precious Primogems. While there are lots to do in Teyvat, including numerous commissions, learn more about the basics of Daily Commissions, and see a list of some of the easiest quests to finish in a jiffy.
What are Daily Commissions in Genshin Impact?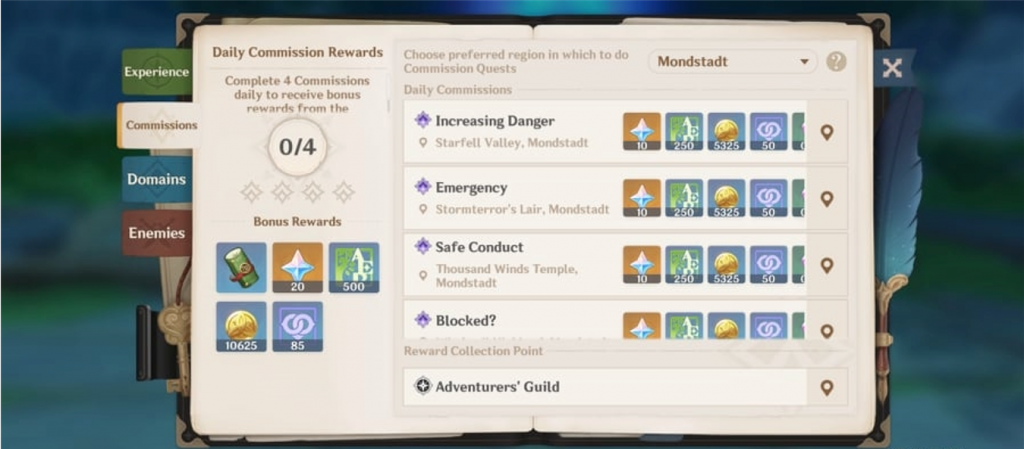 Daily Commissions in Genshin Impact is a system that players can unlock upon reaching Adventure Rank 12 and completing the World Quest "Every Day a New Adventure." Commissions can come from NPCs or the game's basic list. The quests refresh daily every 4:00 AM, server time.
Initially, Adventurers can begin with quests available in Mondstadt. Other regions will open up by fulfilling specific requirements. For Liyue, complete Prologue Act II: For a Tomorrow Without Tears and New Horizons of Adventure. For Inazuma, complete Chapter II Act I: The Immovable God and the Eternal Euthymia and Katheryne in Inazuma. 
Once you select your region of choice, your Commission Quests will center around that region and take effect the following day.
What are the rewards for completing a Daily Commission?
Players can collect lots of free stuff by completing certain every day. The Daily Commission Rewards include:

*10 Primogems each
*Adventure EXP
*Mora
*Companionship EXP
Players will also receive Fine and Mystic Enchantment Ores upon completing a quest, with the number of rewards being AR-dependent.
Bonus Rewards

Completing all four Commissions every day will result in Bonus Rewards redeemable from the Adventure's Guild. Rewards will vary according to the player's Adventure Rank. The prizes include:

*Adventure Treasure Pack (grants Character Ascension Material)
*Primogems
*Adventure EXP
*Mora
*Companionship EXP

Unlock Story Quest
Furthermore, if a player accomplishes eight Daily Commissions, he will earn a Story Key to unlock a Story Quest of a featured character. The maximum number of Story Keys in a player's inventory at any time is subject to a limit.
Easy peasy Daily Commissions
Now that you know how Daily Commissions work let's check out some of the easiest ones to finish. These quests are pretty simple and do not require much effort to complete.
Increasing Danger: The main objective of this commission is to destroy two towers built by Hilichurls at a marked location. All three regions can have this quest available. While players face more enemies during the mission (with a second wave coming in after the first tower is destroyed), players can quickly complete the task by focusing on taking down the towers and ignoring the attackers. You don't even have to fight at all!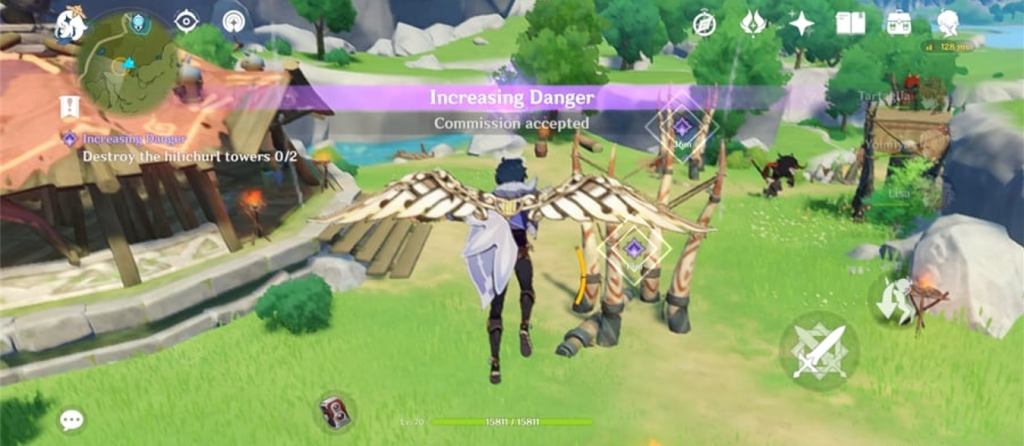 Spreading Evil: If you want a bit of a challenge besides punishing a group of hilichurls, this commission throws in a scheming Abyss Mage to the fray. Once you break the mage's shield, it's an easy clobberin' time! Besides the usual rewards, you also get to take home key line leaves.
Straight to the Heart: This time trial is one of the best daily commissions and is easy to complete. All you have to do is reach the appointed destination within the given time. If you've been playing the game for quite some time, you may have memorized how to navigate through it. You can even finish it well in under a minute!
Blocked?: If you need a few more Primogems to help you make a Wish, clearing a road blocked by a horde of hilichurls is relatively easy to accomplish. Practice your combos, save the helpless and get yourself some goodies!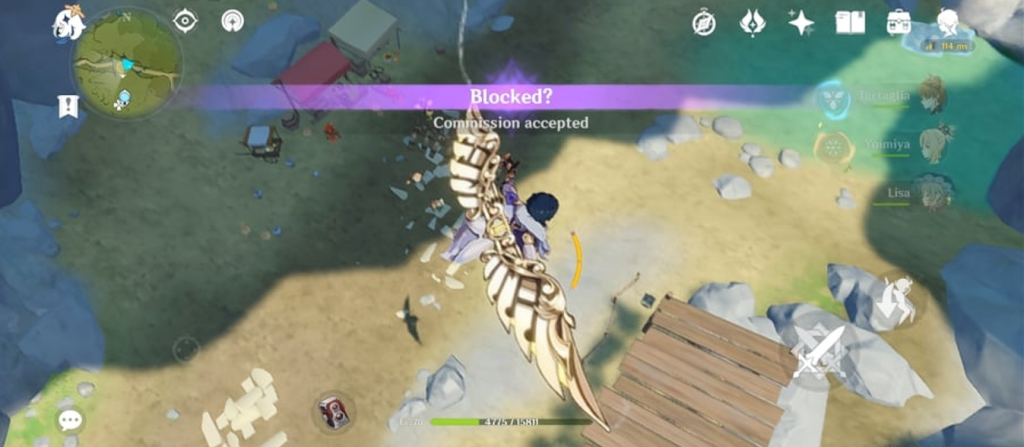 Ellin, the Wannabe Knight: This NPC-initiated commission might seem a little tricky, especially for first-time players. An NPC from Mondstadt named Ellin will ask you (the Traveler) for advice on how to destroy all five training dummies at once within two seconds. If you think this is hard to pull off, simply arm yourself with a claymore and do a spinning charged attack to complete the task. You can also go for a plunging attack to smash the dummies to collect your rewards.
No Honor Among Thieves: If you had it with hilichurls, try challenging a group of men armed with shovels! You will be sent to a camp of Treasure Hoarders and defeat them all for this commission. You can quickly end the fight if you know your elemental reactions. You'll also get ascension materials on top of the bounty.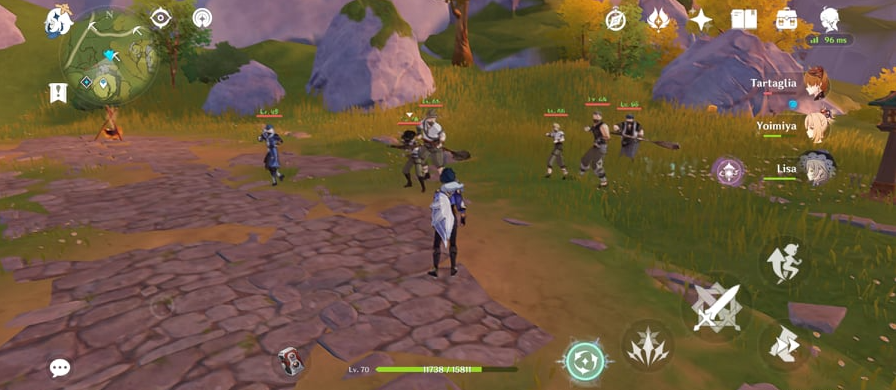 Completing Daily Commissions might seem mundane for some, but it's undeniably a valuable part of the game. It adds to the overall experience in addition to collecting cool rewards.
Don't forget to top up Genesis Crystals for Genshin Impact on Codashop. It's faster and easier, with plenty of convenient payment methods available.