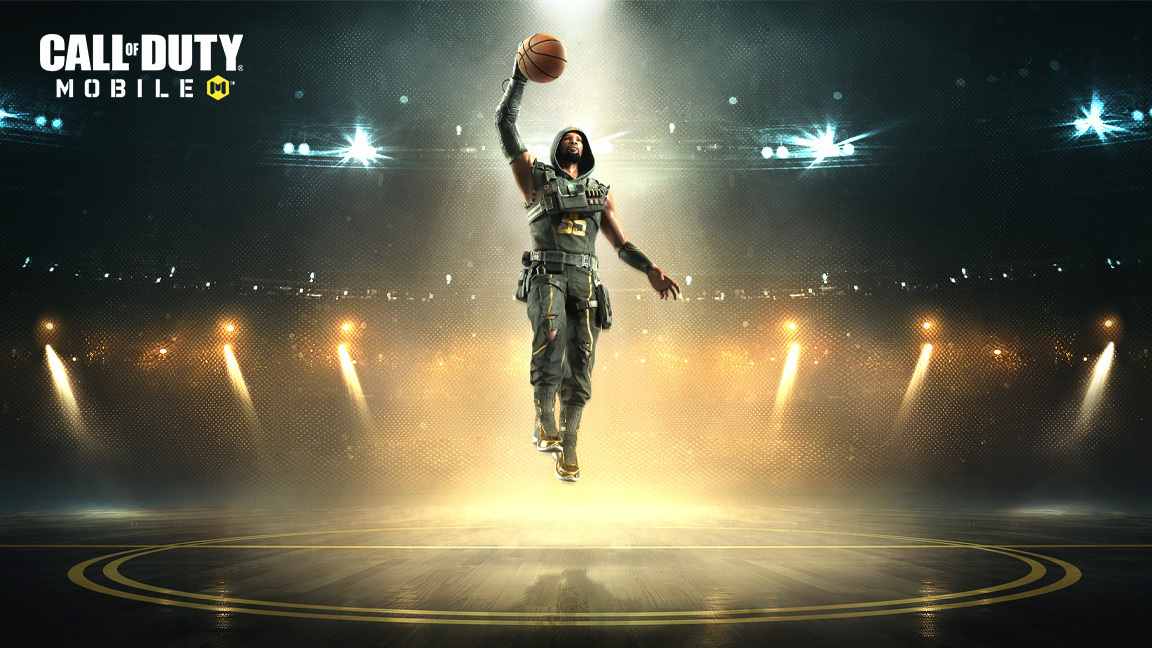 Gaming and basketball communities unite! Who would've ever thought that an NBA superstar like Kevin Durant would make its way into Call of Duty: Mobile? That's right. Call of Duty: Mobile (CODM) recently announced its collaboration with Kevin Durant, much to the excitement of both gaming and basketball enthusiasts. The game has always been known for its adrenaline-pumping action and immersive gameplay, and this collaboration promises to take it to a whole new level. The partnership between CODM and Kevin Durant is a match made in heaven, as both are known for their passion for competition, skill, and excellence. In this article, we will take a closer look at this epic collaboration and what players can expect from it.
NBA Superstar Kevin Durant
For fans of first-person shooters (FPS)who don't follow the NBA, Kevin Durant is one of the sport's most popular players. He's one of the most talented power forwards right now and is currently playing for the Phoenix Suns. What made him a household name was his insane performance playing for the Golden State Warriors in 2017 and 2018, where he bagged the MVP award two years in a row. He also won two NBA championships during his time with the Warriors. Durant is known for his incredible skill, his competitive spirit, and his love for gaming, particularly the Call of Duty franchise.
Call of Duty x Kevin Durant Epic Collaboration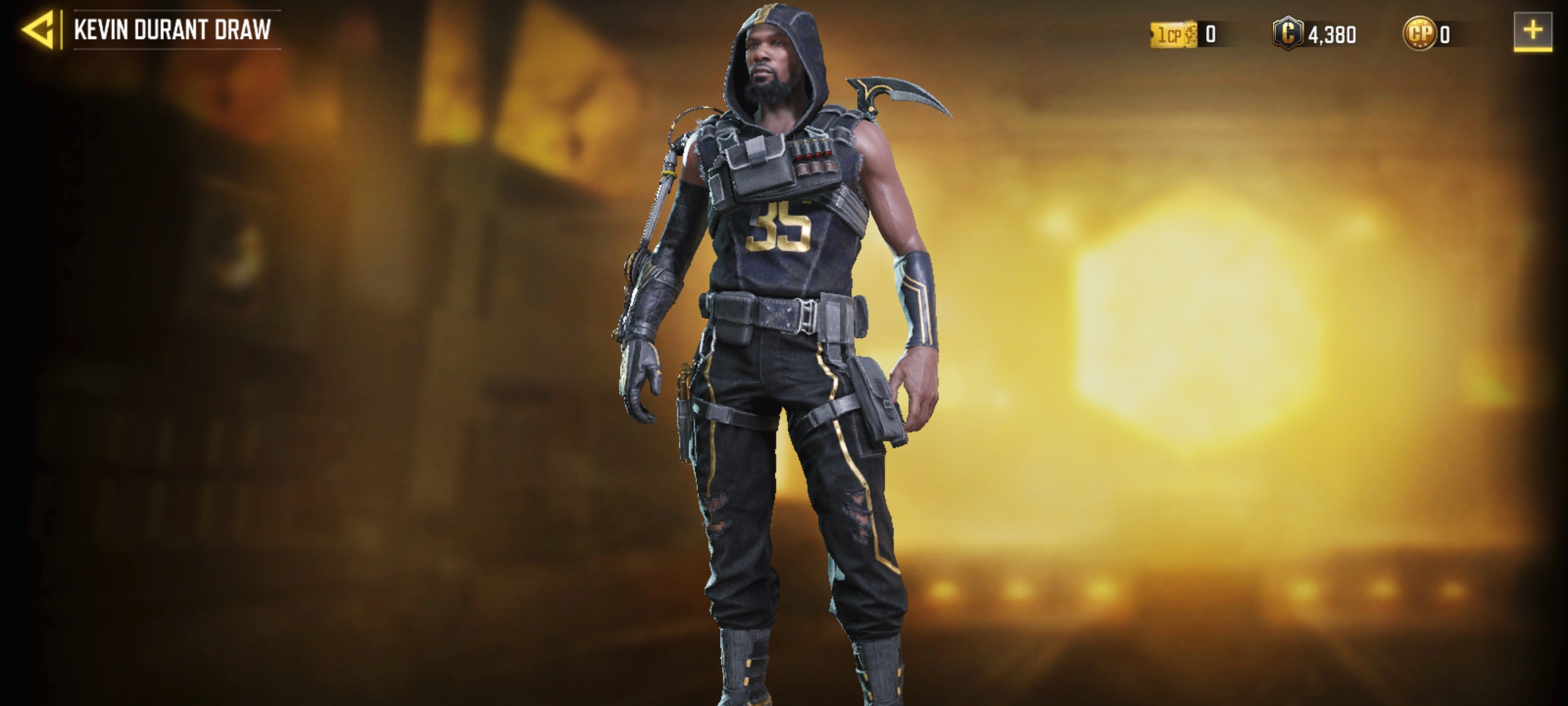 CODM's collaboration with Kevin Durant promises to bring exciting new content to the game. The collaboration runs in CODM as well as Call of Duty: Warzone 2.0 and Modern Warfare 2. In CODM, Kevin Durant will have his own draw for Season 4 of the game, where players get a chance to win a new operator called KD Grim, which is inspired by Kevin Durant's very own nickname, "The Slim Reaper." KD Grim is sporting a black jersey with a gold No. 35 on his chest, combined with some unique CODM additions. He sports a hood with some weapon and gun armaments attached all over his costume. He also has some mechanical attachments on his right arm as well as a black scythe with gold embellishments as his signature melee weapon.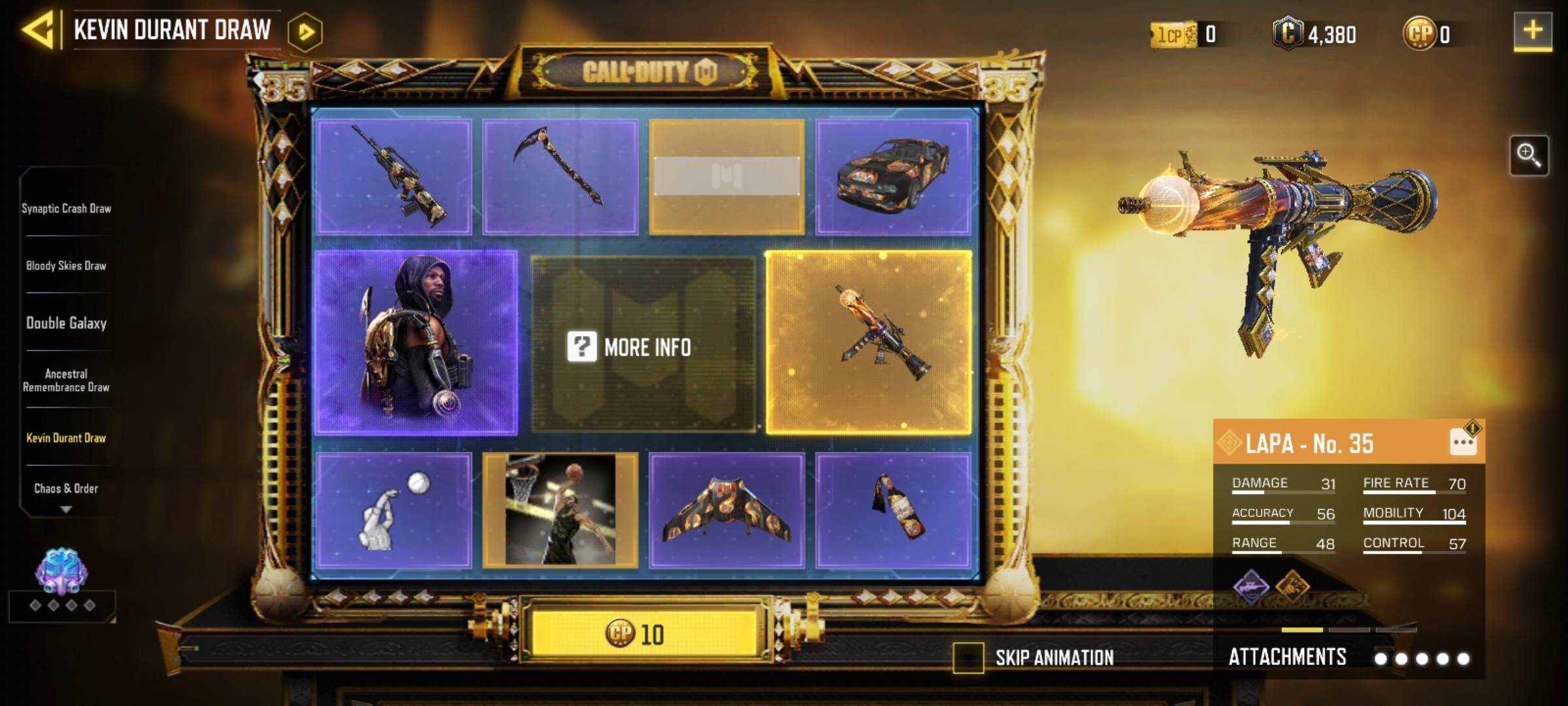 You can also get your hands on the newest weapon addition in CODM, which is the LAPA, a submachine gun (SMG) that was originally added to the game last November 2022. Now it's making a comeback with a fiery new look in the form of the No. 35 skin. The legendary skin has a lot of silver and gold embellishments as well as a fiery basketball attached to the weapon's muzzle. If you missed out on the LAPA before, now is the time to get it and show off your skills as you battle it out in the game.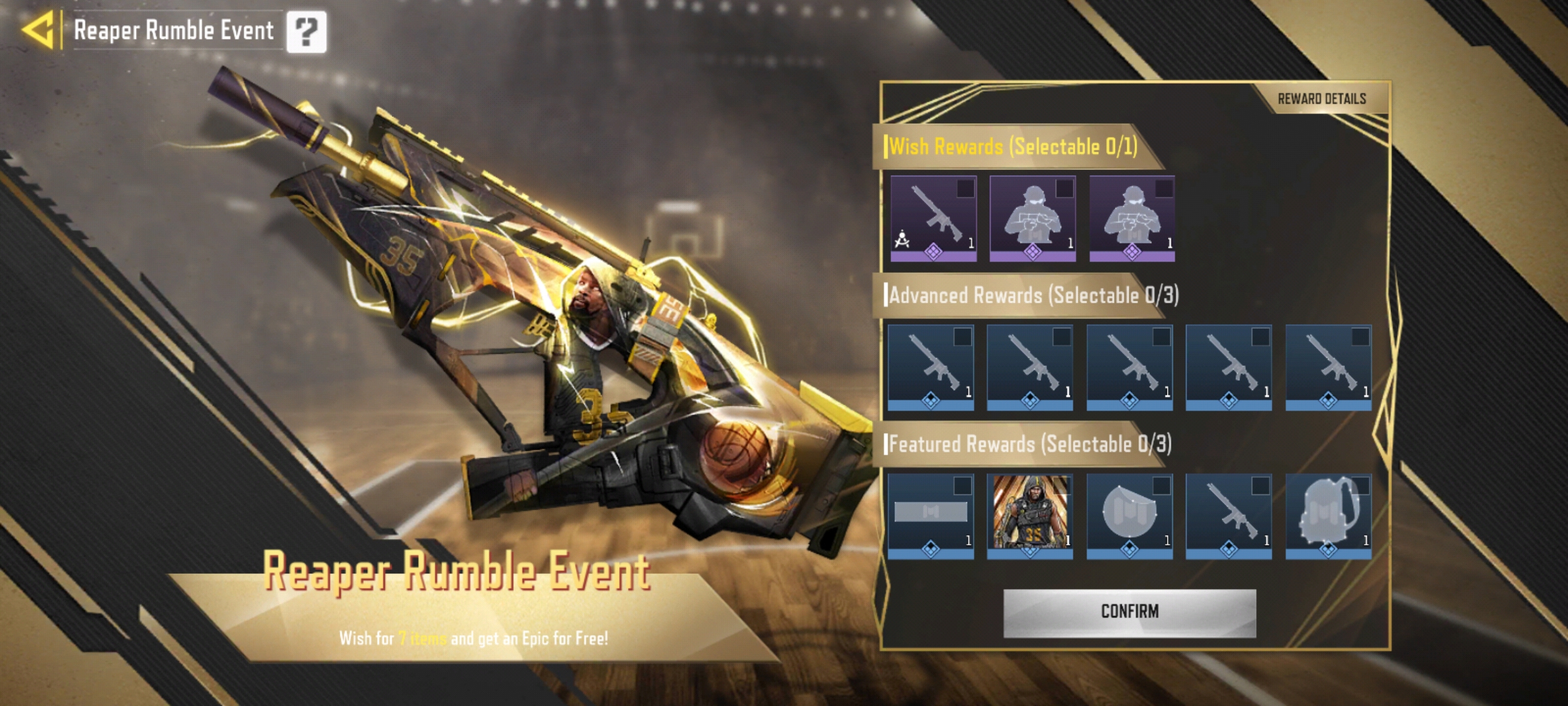 There's also a new Reaper Rumble Wish event where you can also get some new exclusive skins, including a Scythe KD skin for the Razorback. Be sure to check out these new additions to the game and join in on the fun with Kevin Durant in CODM.
How to Obtain the Kevin Durant Skin in CODM
To obtain the KD Grim operator and his signature weapon skins in CODM, players need to participate in the Season 4 draw. The Kevin Durant draw requires players to purchase COD points to get a chance to draw for the skin. There is a fixed number of rewards with different levels in the prize pool, and every time you play, you are guaranteed to win one of them. However, once a reward is won, it's no longer available. As more rewards are won, the COD Point cost to play increases. The chances of winning the remaining rewards increase as more rewards are taken out of the prize pool.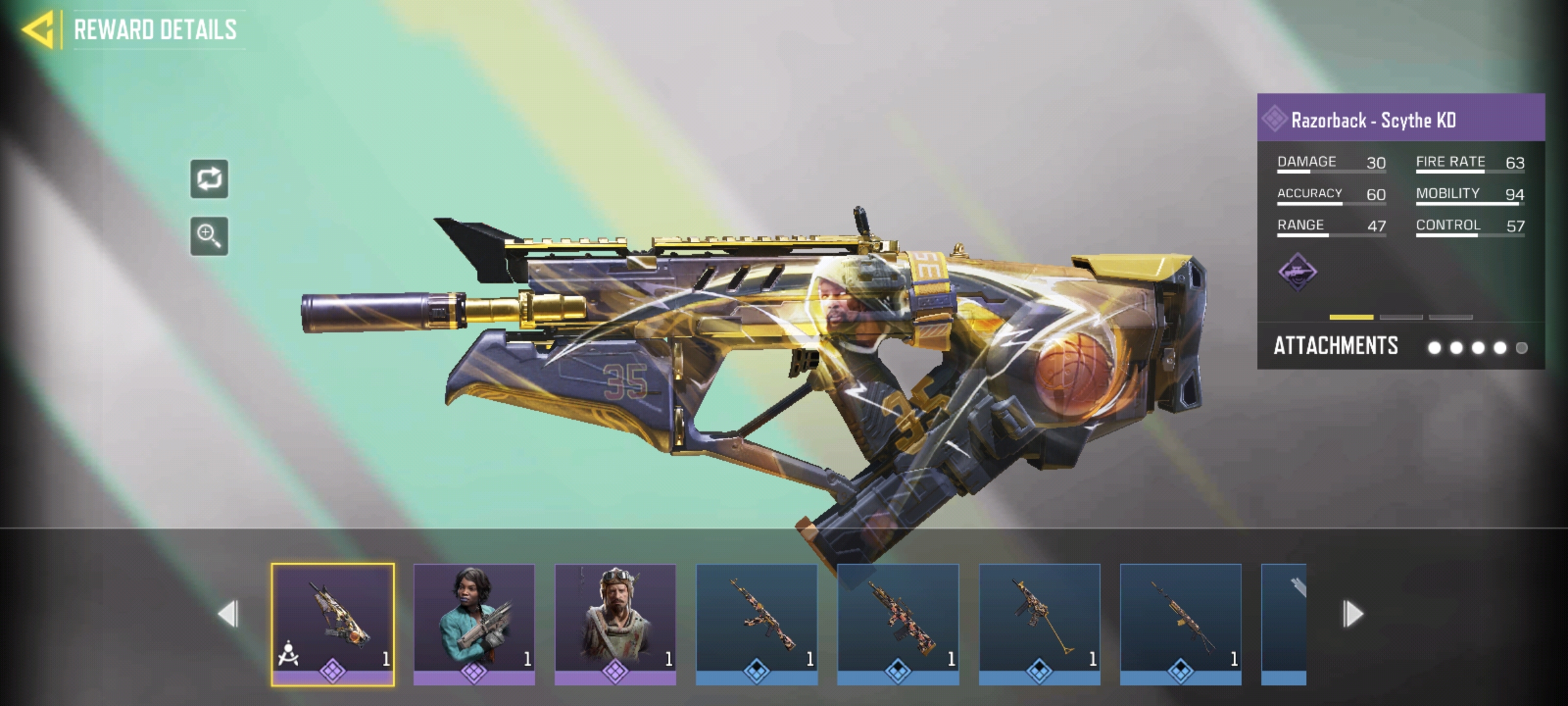 As for the Reaper Rumble Wish event, here's how to get the rewards:
Players have the option to pick seven rewards from three different Reaper Rumble Wish pools. Once you have made your selection, you can no longer modify it.
You must complete Daily Tasks to earn NO. 35 Tokens. These tasks refresh daily, so you need to finish them before the daily reset. No. 35 Tokens that were not claimed by the end of the day will not carry over, so don't forget to claim them in time.
Each time you spend NO.35 Tokens to wish in your Wish Pool, you will get a random reward. Rewards are duplicate protected.
Final Thoughts
The CODM x Kevin Durant collaboration is one of the most unexpected but exciting collaborations to date. The addition of KD Grim to the game is a great way to celebrate Kevin Durant's love for gaming and his passion for Call of Duty. It also shows how gaming and sports communities can come together to create something truly unique and exciting. Overall, this is a win-win situation for both CODM and Kevin Durant, as they both get to expand their reach to new audiences and create a memorable gaming experience.
Don't forget to top up your Call of Duty: Mobile account on Codashop. It's a fast and convenient way to top up your favourite games, including Call of Duty: Mobile.