In the last decade or so, streaming and gaming have seen a massive surge in popularity that's pretty much unprecedented. With multiple platforms offering their own unique streaming and gaming experiences, people can now broadcast their gaming sessions to a worldwide audience. From social media and online communities to dedicated streaming platforms, the opportunities for gamers to share their gaming experience with the world are now greater than ever.
With the arrival of the Codashop Global Series app (CGS), streamers and influencers have even more options when it comes to hosting their gaming sessions and connecting with their followers. Let's explore what the CGS app has in store for event organizers, influencers, and the rest of the gaming community.
What is the CGS External Host Program?
Codashop Global Series is a platform that allows streamers, influencers, and event organizers to host their own gaming events and tournaments. Through the CGS app, you can create, manage, and promote your own gaming events. In order to host events on the app, Codashop created the External Host Program for influencers, streamers, event organizers, and gaming community groups.
By signing up for the External Host Program, you can create tournaments, leagues, and other gaming events and invite your followers to join in the action. The best thing about this is both you, the host, and your community can benefit from the rewards and perks that come with hosting gaming events through the CGS app.
How It Works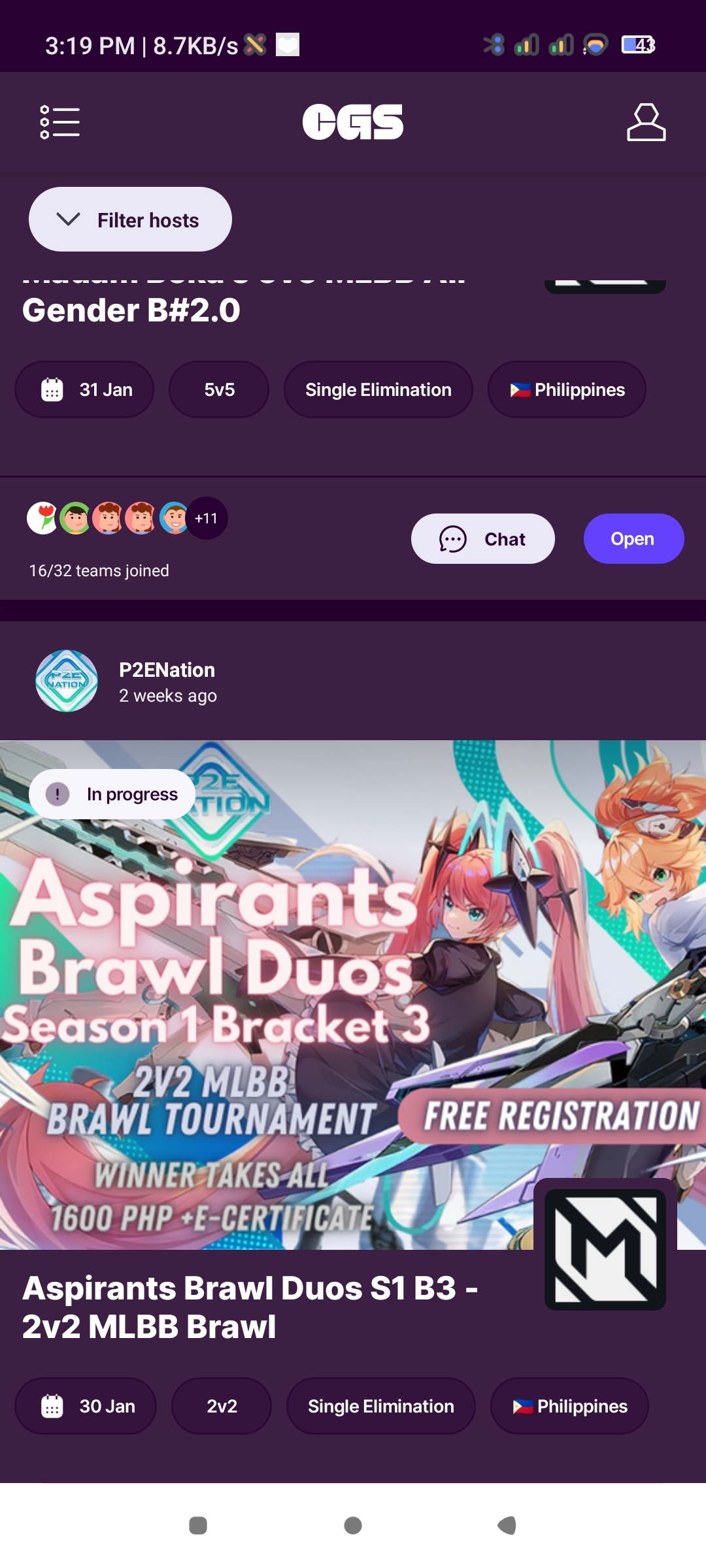 It all starts with signing up and creating an account for the Codashop Global Series app. If you're an influencer, a gaming event organizer, or the host of a gaming community group, you can sign up through the Codashop Global Series External Host Program. Once you've created your account, you can start setting up your gaming events. You can create tournaments, leagues, and other gaming activities and invite your followers to join in the fun.
How to Become a CGS Host Partner?
Becoming a Host Partner is easy! Here's what you need to do:
Sign up through the

CGS Host Partner Program

. Fill out the form to complete your application.

Wait for confirmation from the Codashop team. We'll reach out to you and help you get started with our system, so that you can organize and manage competitions.

Each week, you will receive an email summarizing the players who have registered for your tournaments and the revenue you have earned from those registrations. This information will help you keep track of how your tournaments are doing as well as keep track of your earnings. 
Once you're a part of the program, you can start creating your own gaming tournaments. You can choose from a variety of supported games that are in partnership with Codashop. Right now, the current roster of games supported includes:
Mobile Legends: Bang Bang

Arena of Valor

Free Fire (Battle Royale)

Clash Royale

Brawl Stars

Call of Duty: Mobile (FPS mode)
Android Device Requirements
To run the CGS app, all you need is a device that runs on Android 7.0 and up. As for the supported games, please refer to each game's individual system requirements. Click the CGS App Install link to get started.
Why Sign Up for the External Host Partner Program?
The External Host Partner Program allows you to expand your reach by connecting with gamers all over the world. You get to engage with a larger community and play with them the latest competitive games. You get to host tournaments, play with your fans and create unique experiences for them. You can also take advantage of the CGS Host Partner Program to gain exposure for your brand and grow your followers. As a bonus, you get rewards by participating in tournaments and hosting events.
Benefits of Being a CGS External Host Partner
As a CGS Host Partner, you can monetize your events just by hosting tournaments on the CGS App. The more people participate in your tournaments, the more rewards you get:
100 Players = $10

1,000 Players = $100

10,000 Players = $1,000
The players are calculated at the end of the month and reset to zero, giving you another opportunity to start fresh and earn new rewards the following month.
What's in It for the Participants?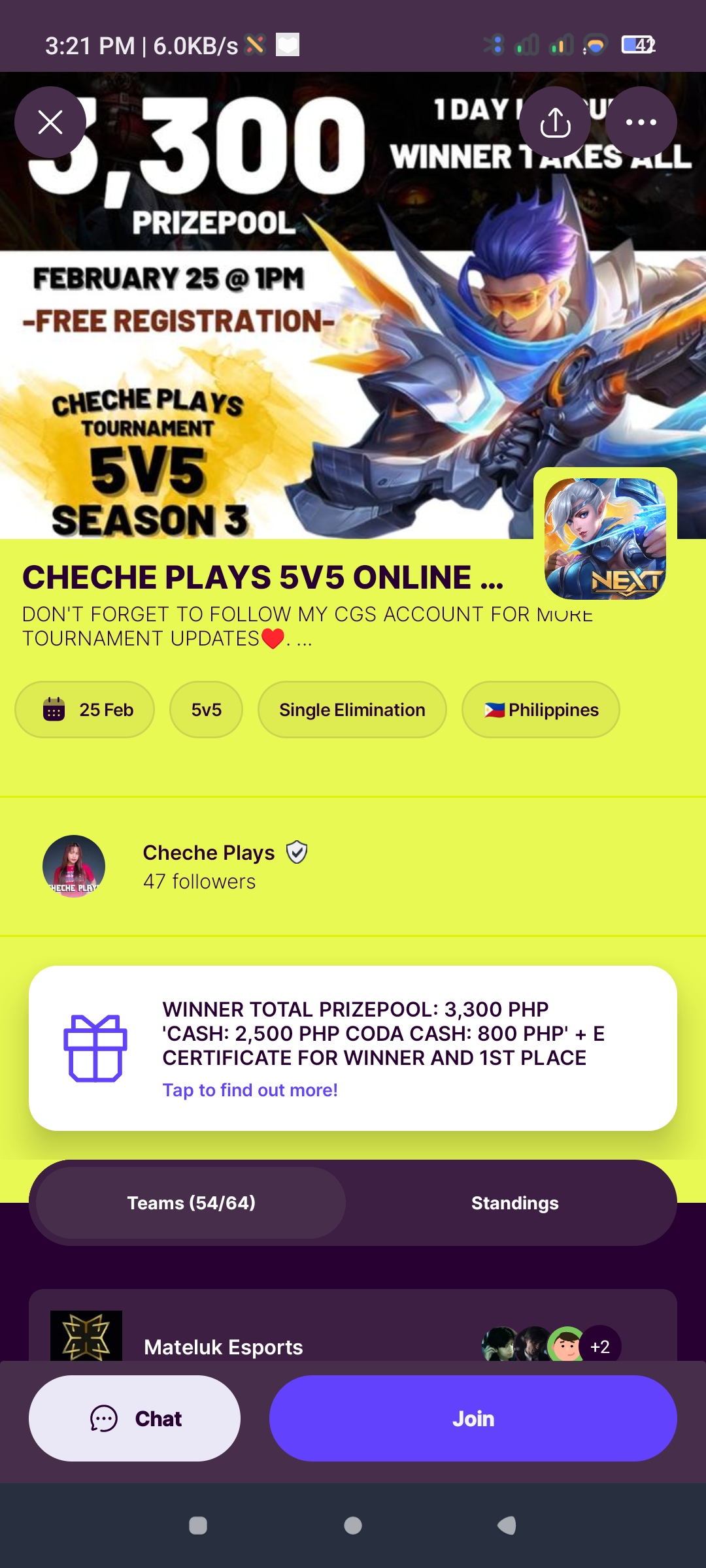 For those who just want to participate in the tournaments and play games, they will have the opportunity to compete and play with their favorite streamers and influencers through the CGS app! It's not every day that you get to play alongside some of the best players in the gaming industry, so it's a great way to get more involved in the gaming community.
The CGS app acts as your very own community platform designed for gamers, so you can follow and interact with your favorite players and teams, join in on the conversation, and even share your gaming experiences with others. You can also join channels and chat with other gamers, which is a great way to make new friends and learn from other players. Lastly, tournaments offer rewards to the winners, so you can earn prizes and bragging rights for your accomplishments.
Codashop is revolutionizing the gaming industry by providing gamers with the opportunity to compete and play with their favorite streamers and influencers through the CGS app. It's a great way to increase engagement and build relationships with the gaming community, while also giving Host Partners the chance to earn rewards each month. It's a win-win for everyone involved, and we can't wait to see what the future of CGS has in store!
Become a CGS External Host Partner today and start bringing the best gaming experiences to your community. You can also download the CGS app on the Google Play Store and get ready to compete, play, and have fun!