The Garena Qualifier champs were all game and showed their cheery side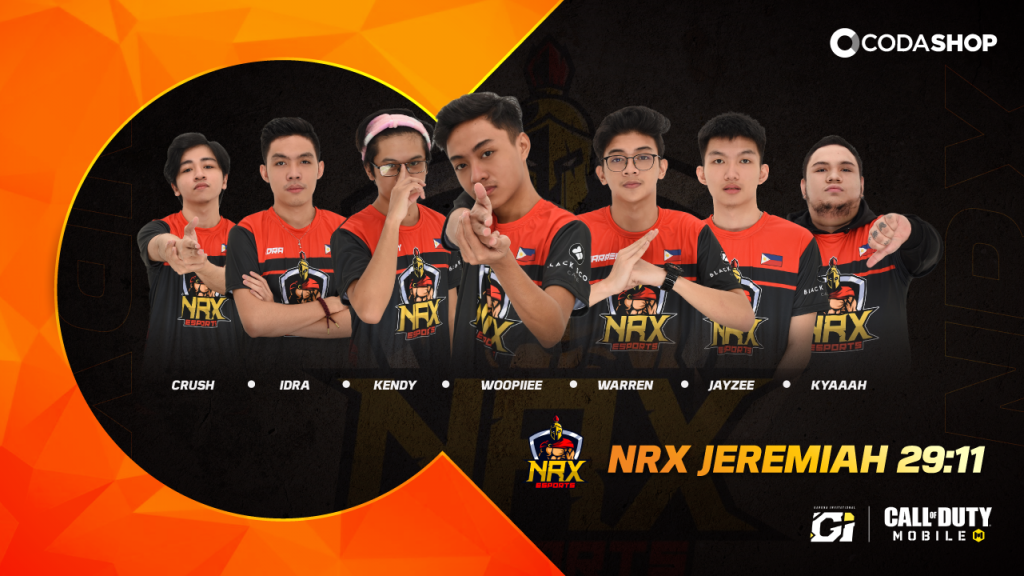 Huddled in one of their training boot camps, iDra, KenDy, Woopiiee, Jayzee, Kyaah, and CRUSH — collectively known as NRX Jeremiah 29:11, were in their element. But this time, they took a break from their serious Call of Duty: Mobile gun mode and talked to Coda about 'heartbreak', DG Esports, John Wick, and even Cardo Dalisay.
Coda: Please introduce yourselves guys.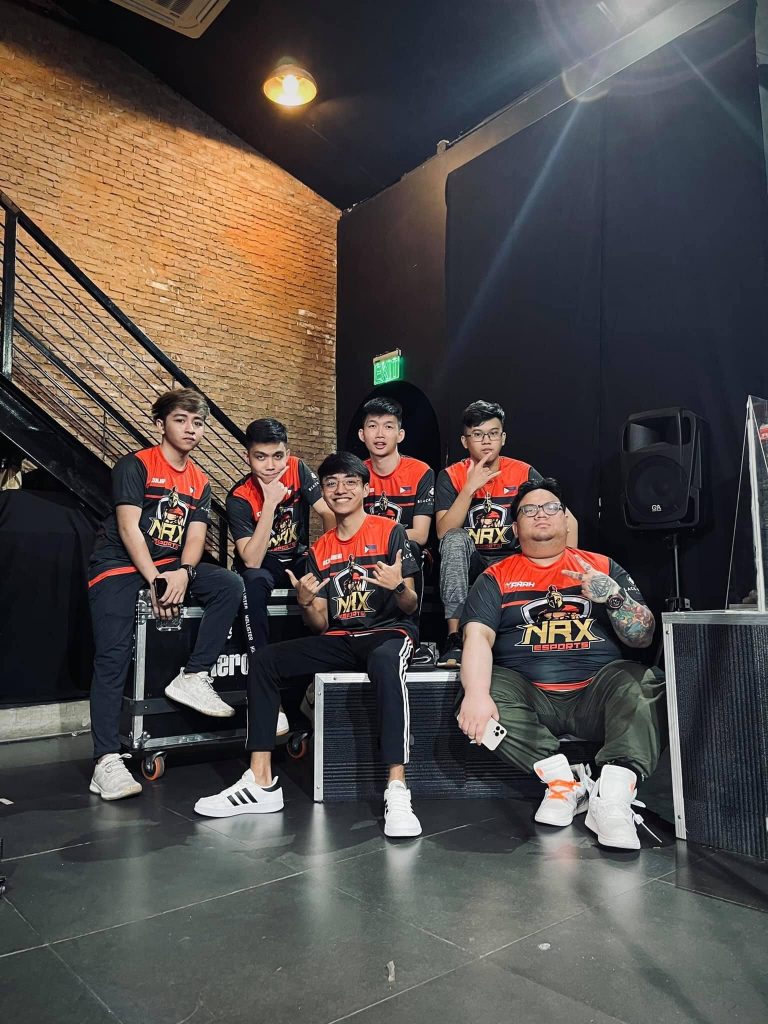 Image Credit: NRX Gaming/Facebook
| | | |
| --- | --- | --- |
| Real Name | Game Name | Role |
| Benj Trinidad | CRUSH | Attacker/Flanker |
| Kennedy Mondoy | iDra | Support/Anchor |
| John Kenneth Pimentel | KenDy | Support/Anchor |
| Jerrold Regay | Woopiiee | Sniper |
| JC Rivera | Jayzee | Objective |
| Michael Belaya | Kyaaah | Objective |
| Patrick Warren Jadear | Warren | Substitute |

Most of these young guns started their Esports journey way back. Like most Filipino teenagers who loved playing video games, the boys had their puppy love beginnings for online games by renting PC units at a local computer shop. Jayzee started playing mobile games in high school and it played a crucial role in where he is right now. "From Dota to Counter Strike, I eventually improved just by playing non-stop." 
KenDy and Woopiiee were both in elementary school when they began playing, CoC (Clash of Clans) for KenDy and League of Legends and Dota for our master sniper. iDra initially played Special Force in PC while Kyaaah had Audition to jumpstart his gaming career. Admittedly, RoS (Rules of Survival) was their common denominator while the emergence of Call of Duty: Mobile paid the way for these lads to become a team in 2020.
Holy mention! What's the story behind your team name, 'NRX Jeremiah 29:11'?
There are several groups under the NRX banner and Jeremiah is the 'main team'. They've been together for the longest time and have won championships, they have not made any significant roster changes. 
"In general, every team under the NRX umbrella is named after a Bible verse", Jayzee explains. 
CRUSH suggested the verse Jeremiah 29:11 which he knows by heart. It simply meant that the Lord has plans for us.
One of your most notable achievements is when you won the CODM World Championship: Garena Qualifier. What were your major challenges in this tournament?
"Our first main hurdle for that tournament is the age restriction". The team recalled that one of their players was not able to meet the age requirement (at least 18 years old). Fortunately, KenDy was available and successfully filled the spot.
Their final match against DAIVO.FREESLOT went toe-to-toe and needed a deciding Game 5 to settle the score. What was your strategy to get the win?
"In Game 5 (Search and Destroy), we just sticked to the plan and executed what we were doing in practice. We also had great faith in Woopiiee's snipers since an entry fragger is very pivotal in S&Ds as it dictates each round of the game. Woopiiee was tearing it up at the start of the game, racking up kills and that helped us to become more comfortable to carry out our game plan."
Woopiiee added that they prepared well for that map. "We just read their moves and had their cards. We adjusted our every smoke and frag and it became useful. Nakakapitas ako kada smoke namen. We were confident that we can capture the victory".
From Comeback Kings to Heartbreak Kids…
With the big win in the world qualifiers, the boys were given the 'Comeback Kings' tag by their viewers. They admitted that it was flattering but they don't think about it that much. Game focus remains the objective.  
"We never realized that we were making a comeback!"
However, the boys confessed to getting absolutely dejected and disappointed with the World Championships being cancelled due to the pandemic. "I lost interest in playing. It felt like we were back to zero. We didn't play for a week", Jayzee shared. 
iDra, Woopiiee, and Kyaaah were all stressed out since it's their dream to go overseas (Los Angeles, USA), to compete, and to represent the Philippines. CRUSH was obviously the one who was the most heartbroken. "We studied hard all the videos of our opponents and it felt like all our efforts went down the drain. I was crying and I can't even eat!"
KenDy shared the same sentiment but added that they just had to move on and focus on other opportunites. It took them a month to get back their bearings and return to practice. Fortunately, they were invited to the Garena Invitational 2021 this March and that served as a new leash on their (gaming) life.
From a phenomenal run last year, you guys were invited to the Garena Invitational 2021. What are your preparations for this?
NRX Jeremiah will be facing 7 teams from different countries including Indonesia, Thailand, Malaysia, Singapore, and Taiwan to determine the South East Asia champion of the Garena Invitational 2021. As the only team to be invited in this tournament based on their performance from last year, NRX had the chance to scout the teams, study the meta and use that to their advantage.
"We stick to our schedule and practice every day. We also grind it out in ranked games to retain our fluidity".
The boys pointed out that their biggest competition would have to be DG Esports from Indonesia, having played against them in several practice games. 
"We think they're the strongest in this tournament. So we need to make a lot of adjustments. 
CODA: Besides Indonesia, other teams should also watch out for you!
"Oh no! We're just cute! *HaHaHa!"
When you check out the team's official Facebook page, one of their most popular highlight videos had the song 'Hall of Fame'. If you were to choose, would you rather be a CODM Hall of Famer or World Champion?
Woopiiee and CRUSH: World Champion!
Jayzee: BOTH! (Everyone agrees)
What's the most challenging game type and map for you guys?
"Hardpoint is definitely the most challenging mode for us. As for the map, we'll keep that one a secret. HaHaHa!"
Woopiiee is well known as one of the most savage and efficient snipers in the game. What's your secret?
"You just have to be consistent and humble. Make every shot count (to down the enemy)".
For Jayzee being the team captain, how do you lead the team?
Jayzee believes that setting the right mood is pivotal in every game. "I've known these guys for quite a long time so I'm pretty confident with what they bring to the game. I just encourage them to be more focused and take on each match with more energy and to always communicate".
We're just curious, did you guys also play toy guns before, and did that influence your shooting game prowess?
Jayzee: "Not so much with the toy guns, because I get scolded when I get home from playing. HaHaHa! It was actually my friends who play the game that got me into playing."
Favorite shooter movie/s?
NRX: "John Wick! He takes out everyone on his own! And also Cardo (Dalisay)!" (From the long-running primetime series 'Ang Probinsyano')
So, John Wick or Cardo Dalisay?
NRX: "Cardo lang malakas!"
Any pre-game routines?
CRUSH turns to coffee and TikTok to calm the nerves.
Jayzee has his usual sound trip to relax.
KenDy prepares his gaming accessories.
Woopiiee finds himself in the comfort room before a tournament.
iDra turns to stretching.
Kyaaah eats before a match.
And most important of all, we pray before the game. 
CODA: We are holding our own local Esports tournament monthly called Codashop Global Series or CGS. What are your tips for CODM players who aspire to become pro players?
NRX: "Just practice and always believe in yourself because hard work pays off. Have a 'win or learn' mentality. Do not dwell on the defeat but look at it as a learning experience. When you reach god-level in your game, stay humble and help others. Keep that hunger to win and always eat before a game to keep you focused. Good luck!"
The NRX boys also did a quick round of "Who's Most Likely To". Watch the video to find out who's who!
Need Call of Duty: Mobile Garena Shells? Top up now on Codashop! Pay conveniently using Globe/TM, Smart/Sun/TNT, GCash, PayMaya, Coins.ph, GrabPay, Bank Transfers, OTC, and Card Payments. Absolutely no credit card, registration, or log-in required!