How to unlock + best weapons to use for this 5-star Cryo character
Eula Lawrence is the latest Cryo character brought to life in Genshin Impact. This 5-star DPS option is also the captain of the Reconnaissance Company with the Knights of Favonius. A rebellious descendant of the old aristocracy, Eula is always up for any battle and constantly hunts down the enemies of Mondstadt to exact her brand of vengeance. Despite the controversies that surround her family history, Eula is considered by many as a reliable ally and friend.
Eula is a tremendous burst damage dealer who uses her Elemental Burst – Glacial Illumination, to deal Cryo damage to nearby enemies and also summons a Lightfall Sword that follows her around. Among the other Claymore-wielding characters in the game, Eula is on top with her speed and hard-hitting single combination.   
How to Unlock Eula
You can get the chance to unlock a 5-star Eula by participating in the Born of Ocean Swell event wish. You can also get 4-star characters in  Beidou, Xinyan, and Xingqiu during the event. Hurry and get your Intertwined Fate ready to draw your chances as the wish event is only up until the 8th of June. And from the looks of it, Eula will not be available in the standard wish Wonderlust Invocation.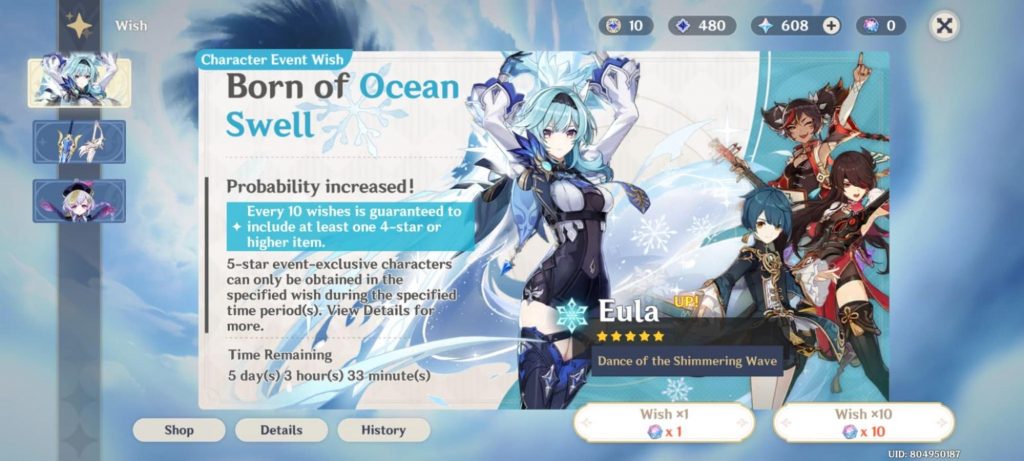 Get the chance to get a 5-star Eula
Combat Information
When using Eula in battle, you will use more of her normal attacks to fight your way through. Her elemental burst is a great way to take out several monsters nearby, so don't forget to hit that up once available.
Normal Attack: Favonius Bladework – Edel
Normal Attack:

Perform up to five consecutive strikes.

Charged Attack:

Drains Stamina over time to perform continuous slashes. At the end of the sequence, perform a more powerful slash.

Plunging Attack:

Plunges from mid-air to strike the ground, damaging opponents along the path and dealing AoE DMG upon impact.
Elemental Skill: Icetide Vortex
Press: Slashes swiftly, dealing Cryo DMG. When it hits an opponent, Eula gains a stack of Grimheart that stacks up to two times. These stats can only be gained once every 0.3s.
Grimheart: Increases Eula's resistance to interruption and DEF.
Hold: Wielding her sword, Eula consumes all the stacks of Grimheart and lashes forward, dealing AoE Cryo DMG to opponents in front of her.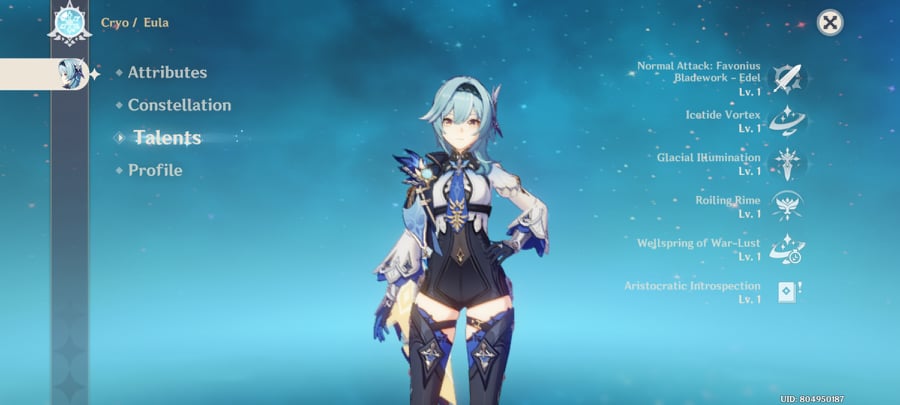 Eula can deal tremendous Cryo damage to nearby opponents.
Elemental Burst: Glacial Illumination
Eula brandishes her greatsword, dealing Cryo DMG to nearby opponents and creating a Lightfall Sword that follows her around for a duration of up to 7 seconds. While in use, Lightfall Sword raises Eula's resistance to interruption. The Lightfall Sword will charge once Eula's Normal Attack, Elemental Skill, and Elemental Burst deal DMG to opponents, which also gains an energy stack.
Passive
Roiling Rime:

If 2 stacks of Grimheart are consumed upon unleashing the Holding Mode of Icetide Vortex, a Shattered Lightfall Sword will be created that will explode immediately, dealing 50% of the basic Physical DMG dealt by a Lightfall Sword created by Glacial Illumination.

Wellspring of War-Lust:

When Eula casts Glacial Illumination, the CD of Icetide Vortex is reset and Eula gains 1 stack of Grimheart.

Aristocratic Introspection:

When Eula crafts Character Talent Materials, she has a 10% chance to receive double the product.
Weapon:
Claymore
Eula's role in the Party
As a Cryo character with physical and burst damage, Eula can easily take on the main DPS role of your party. Her attack combinations are furious and can easily decimate multiple enemies with her Glacial Illumination (elemental burst).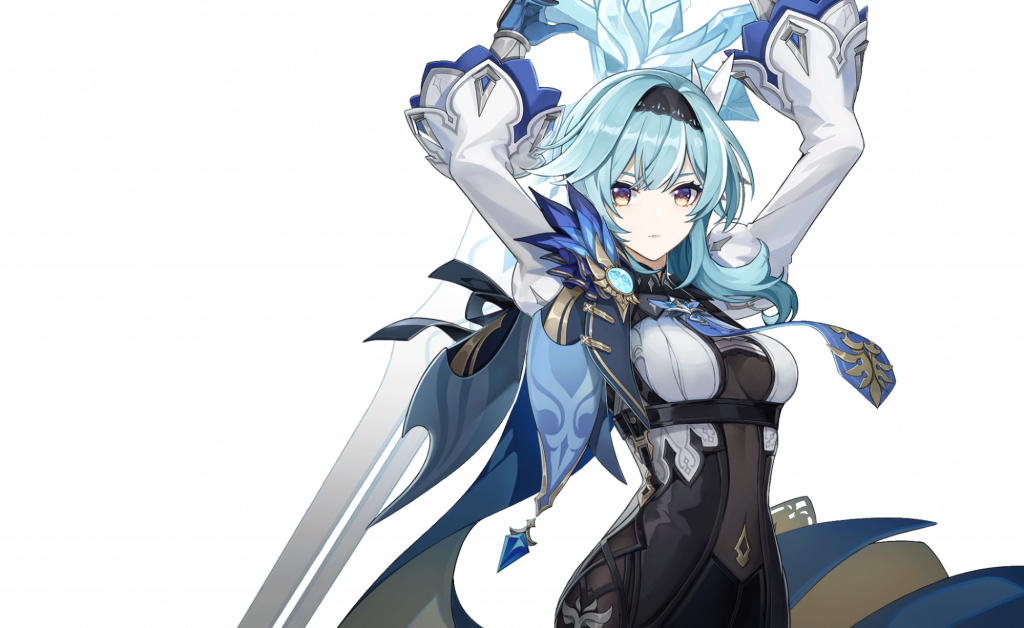 To better optimize her capabilities, you can pair Eula with an electro character to trigger Superconduct to disrupt the enemies' physical resistance and take them down completely.
Eula's Constellation
Eula's constellation help stack her physical damage, decreases CD of her elemental skill (Icetide Vortex), and raises the level of her elemental burst (Glacial Illumination) among others.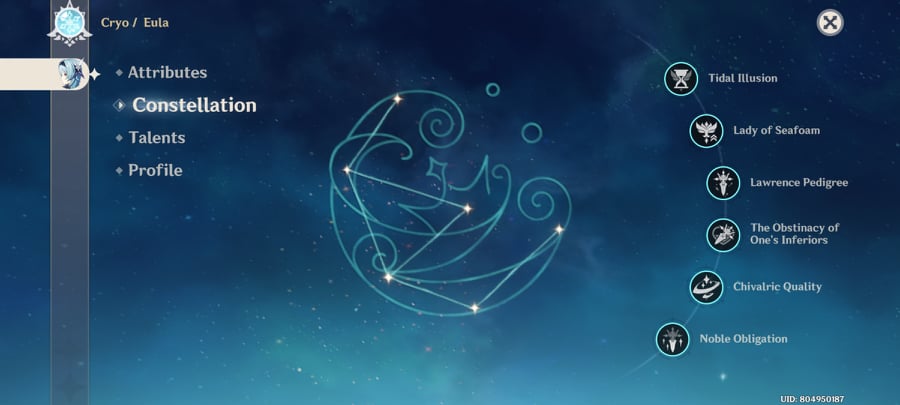 Eula Constellation setup
Tidal Illusion:

Every time Icetide Vortex's Grimheart stacks are consumed, Eula's Physical DMG is increased by 30% for 6s. Each stack consumed will increase the duration of this effect by 6s up to a maximum of 18s.

Lady of Seafoam:

Decreases the CD of Icetide Vortex's Holding Mode, rendering it identical to Tapping CD.

Lawrence Pedigree:

Increases the Level of Glacial Illumination by 3. The maximum upgrade level is 15.

The Obstinacy of One's Inferiors:

Lightfall Swords deal 25% increased DMG against opponents with less than 50% HP.

Chivalric Quality:

Increases the Level of Icetide Vortex by 3. The maximum upgrade level is 15.

Noble Obligation:

Lightfall Swords created by Glacial Illumination start with 5 stacks of energy. Normal Attacks, Elemental Skills, and Elemental Bursts have a 50% chance to grant the Lightning Sword an additional stack of energy.
Eula Best Build
Eula's stackable Elemental skills are undeniably her biggest threat in battle. Continuous summoning of her Lightfall Sword will spell the difference when going up against a horde of monsters.
Best Weapons to use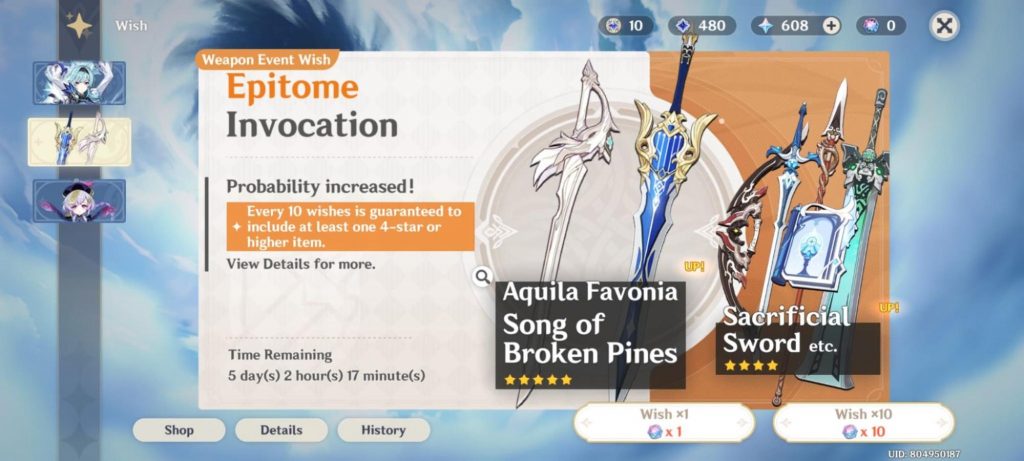 Sacrificial Greatsword:

If you picked up this 4-star claymore, you'll be able to create considerable energy recharge, plus the chance to cancel CD for her Icetide Vortex. All in all, this weapon is ideal to boost Eula's Cryo damage even further.

Song of Broken Pines:

Hoist this weapon and it'll give Eula an increase in physical damage by up to 20%. AS it lands normal and charged attacks, it also stacks up on Sigil of Whispers, which in turn buffs the attack and attack speed of party members.

Serpent Spine:

When Eula spends more time on the field, it increases her damage. With a main DPS role, players must take advantage of this incredible buff. Slay more!
Best Artifact
Make full advantage of Eula's immense DPS damage with the Pale Flame artifact set. A 2-piece gives up to 25% damage increase while the 4-piece set increases attack up to 9% for 7 seconds (when elemental skill hits an enemy). The effect can be buffed twice and used every 3 seconds.
Don't forget to top up Genesis Crystals for Genshin Impact on Codashop. It's faster and easier, with plenty of convenient payment methods to choose from.