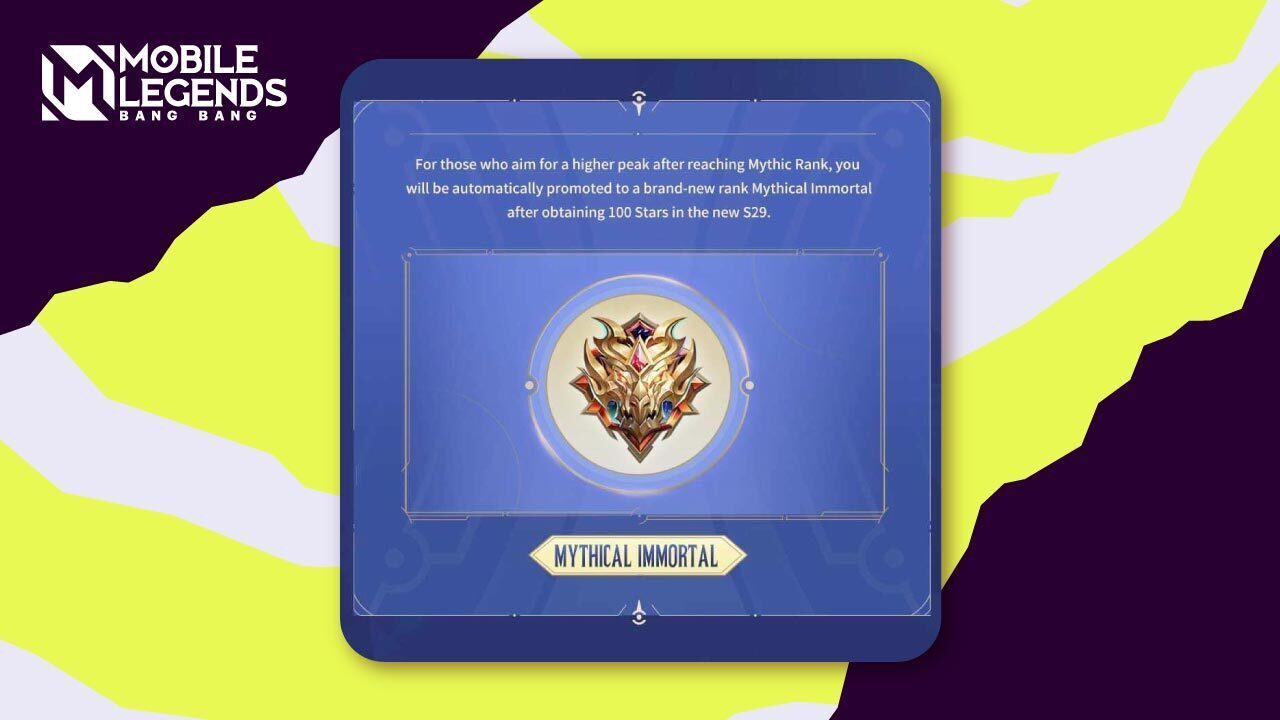 The new Mobile Legends Bang Bang (MLBB) season is here. This new season is  introducing a new rank called "Mythical Immortal." This rank will challenge existing Mythical players and will make the player base want to aim to be on top. This article will help you understand the new rank.
What Is the Mythical Immortal Rank?
The new Mythical Immortal Rank, introduced in MLBB Season 29, is the highest rank a player can achieve in MLBB. It is right after the former highest rank in the game, Mythical Glory. To reach this rank, players must reach 100+ Stars in Mythical Rank compared to the former Mythical Glory, which only needs 50 stars.
Mythical Immortal differs from Mythical Glory in that the Immortal rank is the "creme of the crop" of MLBB players. The competition will be fierce, and this rank will test players to know advanced match-ups and counter-strategies on-the-fly. While this is expected from players in the Mythical rank, introducing this new rank will provide a deeper challenge for those on top, while streamlining the lower ranks to have better matchmaking.
This new rank also has a different rank badge that separates the Mythical Immortals from the other Mythical ranks. Mythical Immortal players will get a cool badge that radiates competitive fierceness and symbolizes the overcoming of personal challenges by adding distinct red streaks to the default Mythical badge.
Strategies to Reach Mythical Immortal
Ranking up to Mythical is already among the toughest in MLBB. The mindset needed to condition oneself is of utmost importance. To reach this rank and, eventually, to Mythical Immortal, these tips will help you climb:
Know advanced strategies and counter-picks. Advanced strategies include improvised set plays and team coordination that maximizes available skills and ultimates. Counter-picks may be dealt before the match itself because, at higher ranks, there will be a draft system that lets players ban certain Heroes. This may require a feel of who will get banned by the players during the draft.

At least have 2 Heroes, per role, when your main gets picked. This will ensure that you can gain some advantage and will not hinder your playing style. At higher ranks, having another Hero is almost always a requirement.

Have a clear mindset. Winning and losing are opposing sides of the same coin. Learn your shortcomings and adapt accordingly. This is why there is a cooldown before returning to the match.

Rest and hydrate accordingly. A single MLBB match can reach from 30 minutes up to an hour, which takes its toll on the players once they want to maintain or climb the ranks. This is especially true in higher ranks where every game means topping their personal achievement. For those who want to grind or maintain their rank, taking some short breaks to nap or drink water will help in maintaining their health.

Watch how high-rank and pro players execute plays. By knowing how they move and use their skills, you can gain tactical advantages you can implement in your game.
The new Mythical Immortal rank is out now, and we are excited to grind to the top. By introducing this new rank, the player base may enjoy the streamlining of the ranked matchmaking by having more opportunities to climb the ranks and maintain the competitive edge that MLBB is known for. Are you going to take the challenge? Tell us what you think.
Don't forget to top up your MLBB Diamonds at Codashop. We have a fast and convenient way to purchase MLBB Diamonds. Just provide your Mobile Legends user ID, the amount of MLBB Diamonds you want to purchase, and the method of payment you prefer. It's simple, fast, and effortless.