Hi kawan Codashop!
Top Up UC Di BukaLapak dan Dapatkan Cashback Voucher!? Bisa banget!
Buat kamu para pemain PUBG Mobile, sekarang kamu bisa menggunakan BukaLapak untuk Top Up UC kamu menggunakan DANA dan kamu bisa dapetin Cashback Voucher 50% yang bisa kamu gunakan di aplikasi DANA nantinya!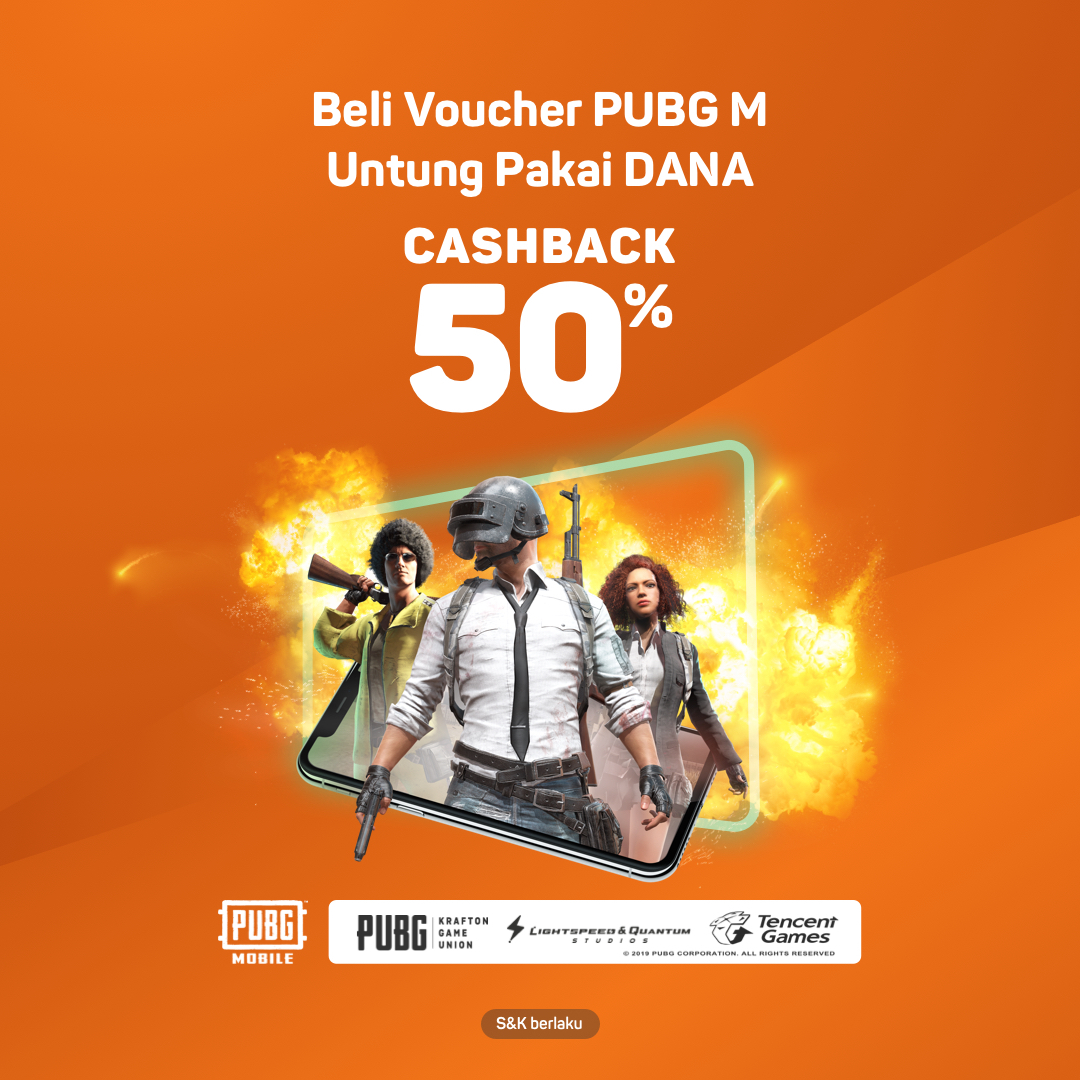 Syarat dan Ketentuan
Promo ini akan dimulai pada tanggal 26 september hingga 31 oktober 2019
Hanya berlaku untuk 30.000 user pertama
User akan mendapatkan cashback voucher sebesar 50% dengan maksimum diskon Rp.25.000,-
Cashback voucher bisa didapatkan setelah user melakukan pembelian Voucher Game di aplikasi BukaLapak dan hanya bisa digunakan apabila menggunakan DANA sebagai cara pembayaran.
Minimum transaksi untuk menggunakan voucher adalah Rp.20.000,-
Promo hanya berlaku untuk 1x Transaksi / periode promo.
Voucher hanya berlaku 14 hari setelah diterima.
Cashback Voucher akan otomatis masuk ke akun DANA dan hanya dapat digunakan di aplikasi DANA.
Cashback Voucher hanya bisa digunakan untuk melakukan pembelian produk Game di aplikasi DANA.
– The promo period starts from 26 September – 31 October 2019.
– This promo is only valid for the first 30,000 users
– Users will get a voucher cashback 50% with a maximum value of IDR 25,000
– The cashback voucher will be obtained after the user purchases a game voucher product in the Bukalapak application and can only be used by selecting DANA as a payment method.
– The minimum transaction for using a voucher is IDR 20,000.
– Promo only valid for 1 transaction/promo period
– 50% cashback voucher bonus only for game vouchers in the DANA application with max. amount of IDR 25,000
– Vouchers are valid 14 days after being issued
– Vouchers are automatically sent to the DANA pocket and can only be used in the DANA application
– Vouchers can only be used to purchase games products on the DANA Application
Pushed Channel :
Jangan lupa buat selalu cek news ter-update dari game lainnya hanya di Codashop News!
[box type="info" align="" class="" width=""] Top Up game kesayangan kamu? Lebih MUDAH, lebih MURAH, cuma ada di Codashop [/box]