Hi kawan Codashop!
Kalian main Rise Of Empires? Kalian bisa beli Battle Exchange Medalmu dan tukarkan hadiah yang menarik loh! Mulai dari Lucky Wheel, hingga paket Valentine berhadiah item permanen loh! Ga percaya? Langsung aja login sekarang juga, karena event ini akan dimulai sejak tanggal 14 – 16 Februari 2020. Cara ikutan event ini? Gampang!
Kalian tinggal Top up Rise Of Empires dan rayakan hari Valentine sekarang juga dan lakukan Pembelian Battle Exchange Medal kamu di Codashop. Dengan total pembelian minimum $20 ( berlaku akumulasi ), kalian bisa mendapatkan hadiah Name Tag ( 7 Days ), bahkan hadiah tertinggi yaitu Permanent Castle Skin. Ada juga Valentine Day Pack seharga $4.99, dan kamu bisa melakukan Wheel seharga $0.99 untuk berpartisipasi Limited Valentine's Day.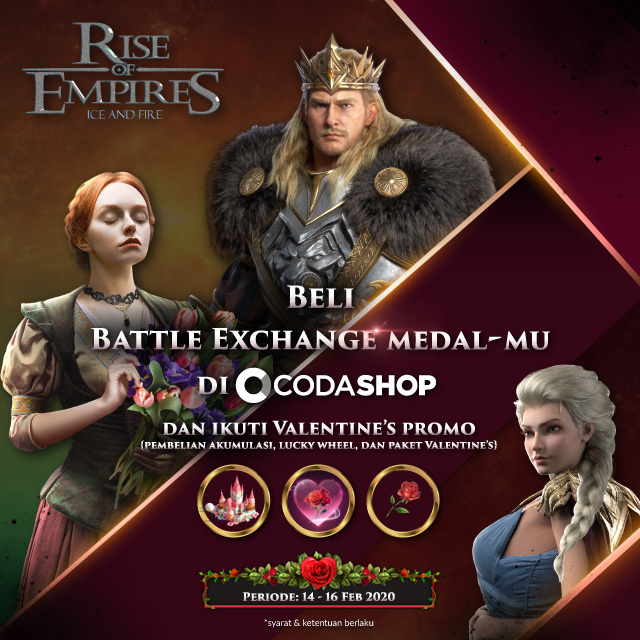 Langsung Top up sekarang juga di Codashop, dengan klik tombol di bawah ini!
Rise of Empires: Ice and Fire – Codashop
Jangan lupa buat selalu cek news ter-update dari game lainnya hanya di Codashop News!
[box type="info" align="" class="" width=""] Top Up game kesayangan kamu? Lebih MUDAH, lebih MURAH, cuma ada di Codashop [/box]