Hi kawan Codashop!
Azur Lane, Game milik Yo-Star yang baru saja dirilis ini kemungkinan besar akan menjadi salah satu judul game casual bergaya Anime yang populer di kalangan penikmat animasi asal negeri sakura tersebut. Dengan menghadirkan berbagai macam karakter unik dan gameplay yang sudah tidak asing bagi para pemain game sejenisnya, tentunya akan menjadi nilai tambah dari game ini sendiri.
Apalagi sekarang kamu sudah bisa melakukan Top up Sack of Gems kamu di Codashop! Dengan berbagai macam cara pembayaran dan nominal yang pastinya bisa kamu sesuaikan dengan kebutuhan kamu!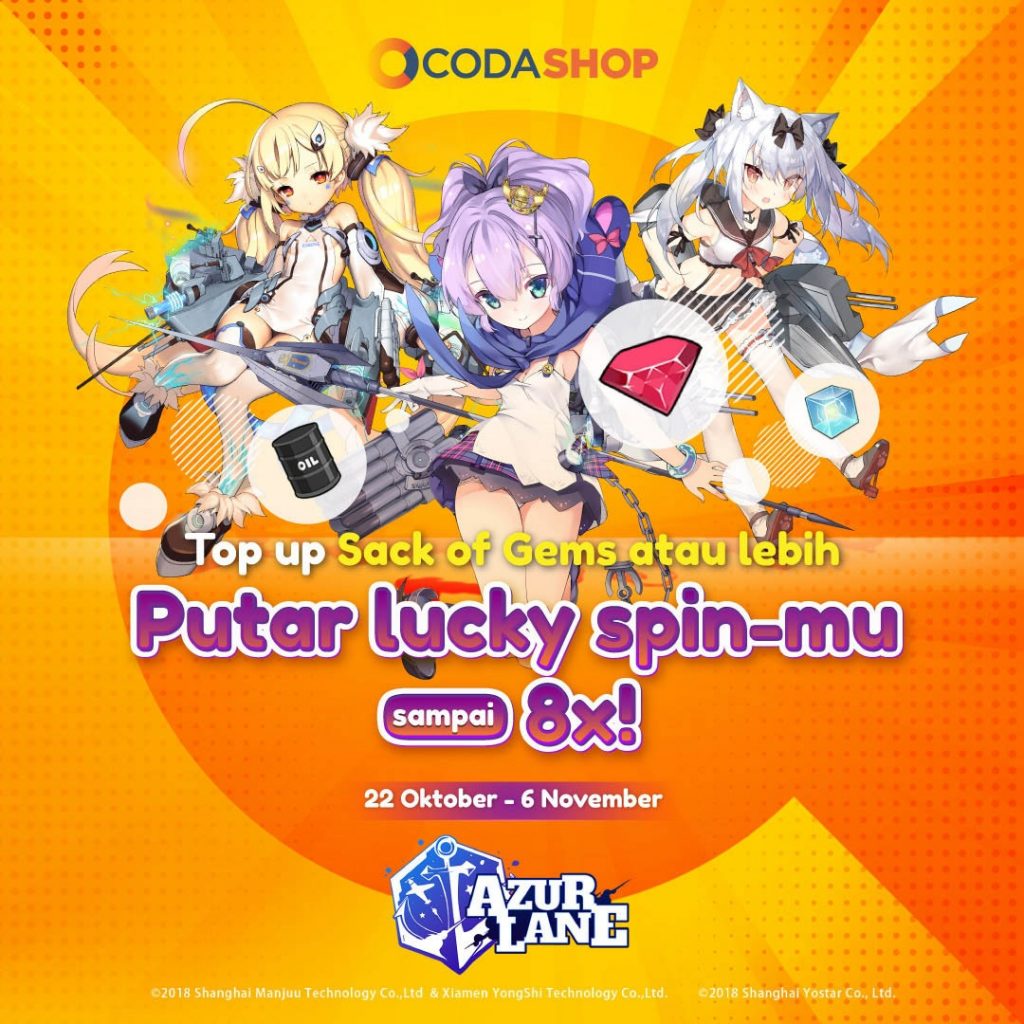 Ada event seru nih dari Codashop buat kamu para pemain Azur Lane, dimana kamu hanya perlu melakukan Top up mulai dari tanggal 22 oktober – 6 November 2020, maka kamu akan mendapatkan kesempatan lucky Spin hingga 8x loh! Tunggu apalagi?
---
SYARAT DAN KETENTUAN
---
Lakukan pembelian dengan pilihan denom berikut dan kamu akan mendapatkan email yang berisi, kesempatan spin Lucky Draw Codashop.

Sack of Gems – 1 spin,
Box of Gems – 2 spin
Chest of Gems – 4 spins
Ship of Gems – 8 spins

Tidak ada batasan Lucky Draw selama masa periode berlaku.
Periode promo: 22 Oktober 09.00 – 6 Nov 09.00
Promo ini berlaku untuk semua pilihan pembayaran di Codashop.
Semua transaksi harus dilakukan selama periode promo.
Jika kamu lupa hadiah yang telah kamu menangkan, klik kembali url yang dikirimkan via email untuk dapat melihat kode hadiah.
Codashop dan Yostar berhak untuk menarik atau mengubah syarat dan ketentuan setiap saat tanpa pemberitahuan terlebih dahulu.
---
Jangan lupa buat selalu cek news ter-update dari game lainnya hanya di Codashop News!