Hi kawan Codashop!
Baru aja Legends of Runeterra, game bergenre Card Game ini resmi dirilis oleh Riot Games sebagai salah satu game yang mampu bersaing dengan Game sejenis di genre yang sama.
Dengan berbagai macam fitur serta gameplay yang menarik, tentunya game ini pantes banget buat kamu coba!
Buat kamu yang mau Top up Coins Legends of Runeterra, tapi berasa mahal banget? Nah sekarang lah saatnya dimana kamu Top up Coins Legends of Runeterra Pakai GoPay di Codashop bisa dapet Cashback hingga 70%! Ga percaya? Langsung aja cek syarat dan ketentuannya di bawah ini ya!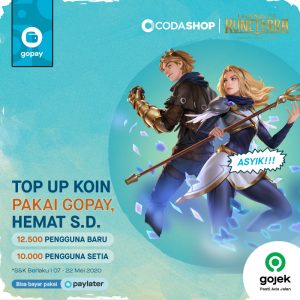 Top up? Langsung aja klik tombol di bawah ini!
Legends of Runeterra – Codashop
Syarat dan Ketentuan
---
Cashback 70% untuk seluruh user Legends of Runeterra (maks. Rp12.500).
Kuota transaksi terbatas setiap harinya.
Periode promo: 7 – 21 Mei 2020 (10.00-23.59 WIB).
Max. 1x transaksi cashback/akun GoPay/periode.
Minimum transaksi adalah Rp.15.000;
Berlaku untuk pengguna Gojek yang terdaftar sebelum 1 Desember 2019;
Promo hanya berlaku untuk pembelian Legends of Runeterra di Codashop;
Promo berlaku untuk pembelian menggunakan GoPay di Codashop;
Cashback akan diterima maksimal dalam 2×24 jam.
Promo cashback tidak dapat digabungkan dengan promo cashback lainnya.
GoPay berhak menghentikan promosi tanpa pemberitahuan sebelumnya.
GoPay berhak menahan dan/atau membatalkan promo dan/atau membatasi
layanan, baik untuk sementara maupun secara permanen, kepada pengguna
sewaktu-waktu termasuk jika ditemukan tindakan penyalahgunaan (abusive),
kecurangan (fraudulent) dan/atau aktivitas mencurigakan lainnya di akun
pengguna.
Pemberian cashback dalam promo ini dapat dibatalkan jika total nilai transaksi
yang masuk ke akun GoPay pengguna selama sebulan telah melebihi batas
yang ditentukan regulator (Rp20 juta/bulan dalam kalender).

---

Jangan lupa buat selalu cek news ter-update dari game lainnya hanya di Codashop News!