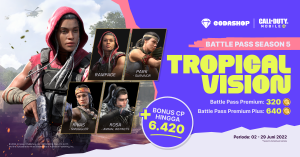 BONUS sd 6,420 CP untuk pembelian BATTLE PASS CALL OF DUTY : CODM dan CP!
Halo kawan Codashop!
Battle Pass udah rilis dengan Tema Tropical Vision nih guys, banyak bundle Skin keren yang bisa kamu dapetin cuma di Season ini aja loh, selain itu akan ada BONUS CP sd 6,420  untuk pembelian Battle Pass CALL OF DUTY MOBILE: CODM dan CP juga selama tanggal 2 – 12 Juni 2022.
Kuy! Top up sekarang dan dapetin keuntungannya cuma di Codashop
Cara mengikuti event ini: 1.Pengguna CODM harus melakukan pembelian CP di website Codashop untuk menangkan hadiahnya.
Prizes details: Coda:•#1st–20th Pemenang: 321CP setiap pemenang
Syarat dan ketentuan:
1. Pemenang berhak jika melakukan transaksi di Codashop untuk membeli CP CODMuntuk mendapatkan kesempatan memenangkan hadiah
2. Periode promo: 02 –12 Juni2022
3. Tidak akan ada biaya masuk atau biaya lain untuk mengikuti event ini
4. Hadiah akan dikirimkan setelah promo periode berakhir, 14 -30 hari kerja
5. Promo hanya dapat digunakan 1x transaksi/pengguna/periode.6. Semua keputusan yang dibuat oleh Codashop adalah sah.