Thanksgiving Mobile Legends akan segera tiba dan memberikan kamu hadiah yang luar biasa kerennn!! Anda bisa menikmati pesta perjamuan dengan cara bermain dalam sebuah match, saling bertukar hadiah dengan teman – teman anda atau login setiap hari selama periode event berlangsung di Land Of Dawn!!
Penasaran sama hadiahnyaaaa???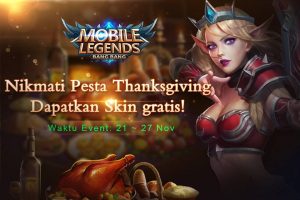 💎
Hadiah Utama
💎
Secara acak akan mendapatkan satu Skin permanen berikut ini – Wasteland Butcher, Queen of Banshees, Hip-hop Boy, Flower Season, Holy Priest
🎁
Hadiah Tambahan
🎁
Tiket + Paket Hadiah Kartu Trial Skin
🕣
Periode
🕑
21 – 27 November 2017! cuma 1 minggu lho guysss!!!
Jangan lupa buat selalu cek news ter-update dari game mobile lainnya hanya di Codashop News!
[box type="info" align="" class="" width=""]Temukan beragam cara pembelian Diamond ataupun Starlight Member untuk Mobile Legends di Codashop. Lebih MUDAH, Lebih MURAH, cuma di Codashop!