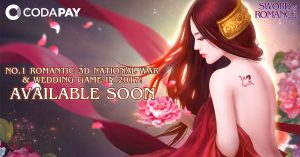 Sword of Romance, yang digadang-gadang sebagai 'the most romantic 3D National War and Wedding Game 2017′, sudah hadir di Android!
Game ini bercerita tentang Lu Dongxuan, master swordcraft No.1, yang bereinkarnasi dan jatuh cinta pada anak gadisnya tapi mereka terpisah. Ketika mereka bertemu lagi, gadis malang itu sudah sekarat karena penyakit. Akhirnya Lu mengetahui bahwa dia adalah kekasih yang ditakdirkan yang dia cari selama ribuan tahun.
Untuk menyelamatkan hidupnya, Lu mengambil pedangnya dan membunuh banyak immortal. Dia akhirnya bersumpah bahwa dia akan menyerahkan hidupnya, sebagai gantinya, gadis itu akan menjadi abadi.
— "Aku terus mencari cintaku, tapi akhirnya aku menemukanmu dan akan tetap memegang tanganmu …"
Awards:
Best Pictures of Jinling Awards
Best Story of Mobile Network Game Awards 2017
Nominated by 4 awards by the Asian Games Awards
Anticipated by Most National War fans, published by IGN
Fitur:
Sweet Wedding
The most romantic wedding in 2017, is only for you!
National War
First and No.1 riding National War game in the world!
Beautiful Anchors
Anchors from Mainland China, Taiwan, Singapore and Malaysia gather here!
Holographic 3D Pictures
You will be immersed in gorgeous scenes and sweet music!
Fashion Leader
Show us your free style!
Free Trading
You can trade with other players directly!
Penasaran dengan game yang satu ini? Untuk info lebih lanjut, follow Facebook Fanpage:
Facebook: https://www.facebook.com/SwordofRomance/
Official Website: https://hyjx.springgame.com/