Sudah tau tentang tournament Rules of Survival yang bernama "RoS World Championship"?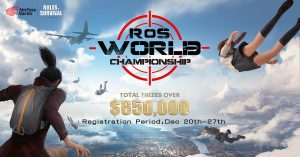 RoS World Championship akhirnya dimulai! Event ini akhirnya dimulai setelah membuka pendaftaran sejak 20 Desember 2017 lalu hingga akhirnya tak menyangka bahwa peserta yang mendaftar membludak untuk mengikuti Event skala internasional yang perdana ini!
Setelah melewati babak kualifikasi sejak RoS World Championship Dimulai yang begitu ketat, akhirnya 75 tim teratas dengan poin tertinggi setiap server ( Eropa, Asia, North America ) akan melalui group stage yang sudah diundi secara acak. Untuk melihat hasilnya dapat menuju ke sini: Group Stage of ROS World Championship
Tentunya setiap tim yang berpartisipasi harus mengikuti syarat berikut:
1. Semua Grup akan dimulai pada saat bersamaan (jam 20:00 tanggal 13/01/2018);
2. Total 3 pertandingan, poin akan dihitung seperti Round sebelumnya;
3. 2 Tim yang memiliki poin tertinggi akan masuk Final Round (10 tim setiap servernya);
4. Setelah memilih 2 tim dalam setiap Grup, akan dicari lagi 4 tim yang memiliki total poin paling tinggi dari semua Grup (kecuali 10 tim yg sudah dipilih);
5. Total akan ada 14 tim masuk Final Round yang akan diselenggarakan pada tanggal 20/01/2018.
Livestream tournament akan kamu lakukan di Fanpage dan Youtube official dari Rules of Survival.
Jangan lupa buat selalu cek news ter-update dari game mobile lainnya hanya di Codashop News!
[box type="info" align="" class="" width=""]Mau beli Kode Voucher Google Play untuk game favorit kamu? Lebih MUDAH, Lebih MURAH, cuma ada di Codashop![/box]