Halo kawan Codashop!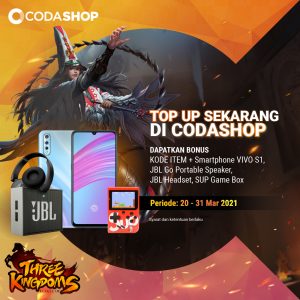 Mau Smartphone GRATIS? Top up League of Three Kingdoms di Codashop pakai pembayaran apapun yang kamu mau, selama periode 20 – 31 mar 2021 kamu langsung punya kesempatan dapetin SMARTPHONE, Headphone, hingga Sup Game Box!
Syarat dan ketentuan:
1.Pemain yang melakukan pembelian di Codashopdengan minimum 300 diamonds (IDR 79,000)selama promo periode.
2.Periode promo20 –31 Mar2021
3.Tidak akan ada pemungutan biaya atau biaya lainnya untuk mengikuti acara ini.
4.Bonuskode item akan di distribusikan secara otomatis dari Coda, dan untukhadiah fisik akan di distribusi kan setelah periode promo berakhir, 07 –14 hari kerja.
5.Semua keputusan yang dibuat oleh Codashop, danLeague of Three Kingdoms adalah sah.