Halo kawan Codashop!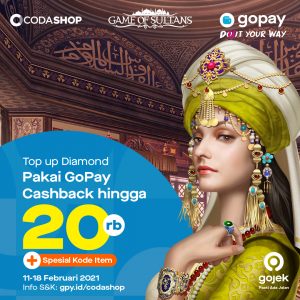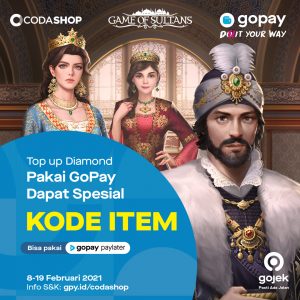 Combo Promo dari GoPay, untuk pembelian Game Of Sultans di Codashop! Dapatkan Cashback Sd Rp20,000 dan Kode Item yang bisa kamu tukarkan menjadi Item In-Game secara GRATIS!
Promo mulai 8 – 19 Februari 2021
TOP UP SEKARANG!
Syarat dan ketentuan:
Pemain yang sah jika mereka melakukan pembelian diamond Game of Sultan di Codashop menggunakan GoPay
Periode promo 08 – 19 Feb 2021
Masuk-an alamat email yang benar.
Tidak akan ada pemungutan biaya atau biaya lainnya untuk mengikuti acara ini.
In game items akan di kirim secara otomatis.
Cashback akan didapatkan oleh pengguna di akun Gojek mereka. Detailnya adalah sebagai berikut:
Cashback Rp20.000 (min. Transaksi Rp25.000) untuk pengguna baru GoPay di Codashop.com
Cashback Rp10.000 (min. Transaksi Rp20.000) untuk pengguna GoPay yang sudah ada di Codashop.com
Periode cashback: 11 – 18 Februari 2021 (10.00-23.59 WIB).
Kuota cashback harian terbatas.
Cashback hanya berlaku untuk pengguna Gojek yang sudah mendaftar sebelum 1 November 2020.
1 cashback / pengguna / periode.
Semua keputusan yang dibuat oleh Codashop, Game of Sultan dan GoPay adalah sah.