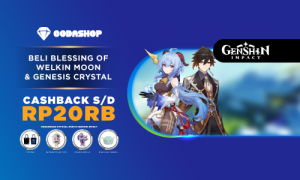 CASHBACK sd 20RB & BONUS MERCHANDISE RESMI GENSHIN IMPACT!
Halo kawan Codashop!
Top up Genshin Impact di Codashop lebih untung, karena kamu bisa dapetin CASHBACK sd 20Rb dan Merchandise resmi yang super lucu, mulai dari tote bag, boneka paimon, standee character arclyic, dan bantal slime!
Kesempatan ini cuma bisa kamu dapetin di Codashop pakai DANA.
Yuk Top up Genesis Crystal dan Welkin moon my sekarang, dan dapatkan semua keuntungannya!
Syarat dan ketentuan:
1.Periode promo berlangsung selama 28 Jan – 11 Feb 2022.
2. Promo berlaku untuk pengguna yang baru pertama kali melakukan pembelian Genesis Crystals atau Blessing of the Welkin Moon di codashop.com menggunakan DANA.
3. Pengguna akan mendapatkan Cashback 15% maks. Rp20.000.
4. Promo berlaku dengan minimum transaksi Rp75.000.
5. Promo hanya berlaku 1 kali/pengguna selama periode promo berlangsung.
6. Promo berlaku untuk 1 pengguna dengan 1 perangkat elektronik.
7. Promo hanya berlaku untuk pembayaran menggunakan Saldo DANA.
8. Cashback yang diperoleh pengguna secara otomatis akan masuk ke Saldo DANA paling lambat 1×24 jam setelah transaksi berhasil dilakukan.
9. Apabila tidak mendapatkan Cashback dari transaksi yang berhasil dilakukan, berarti kuota promo sudah habis atau periode promo telah selesai.
10. DANA berhak, tanpa pemberitahuan sebelumnya, melakukan tindakan-tindakan yang diperlukan apabila diduga adanya tindakan kecurangan atau penyalahgunaan dari pengguna.
11. DANA berhak meminta pengguna untuk melakukan peningkatan akun menjadi DANA Premium jika diperlukan untuk verifikasi data.
12. Syarat dan Ketentuan dapat berubah sewaktu-waktu dan perubahan akan diberitahukan dari waktu ke waktu melalui media yang ditunjuk DANA atau media milik partner.
Top Spender
1. Menangkan 10 Merchandise Genshin Impact dari Codashop untuk 10 orang top spender
2. Pemenang akan dipilih di akhir periode
3. 10 Pemenang akan dihubungi oleh pihak codashop untuk pengisian data pengiriman
4. Hadiah akan dikirim oleh Codashop dalam jangka 30 hari kerja setelah campaign berakhir
Official Merch from Coda for 10 top spenders:
2 Paimon plush toy
2 Tote bag
3 Standee Acrylic
3 Slime dolls