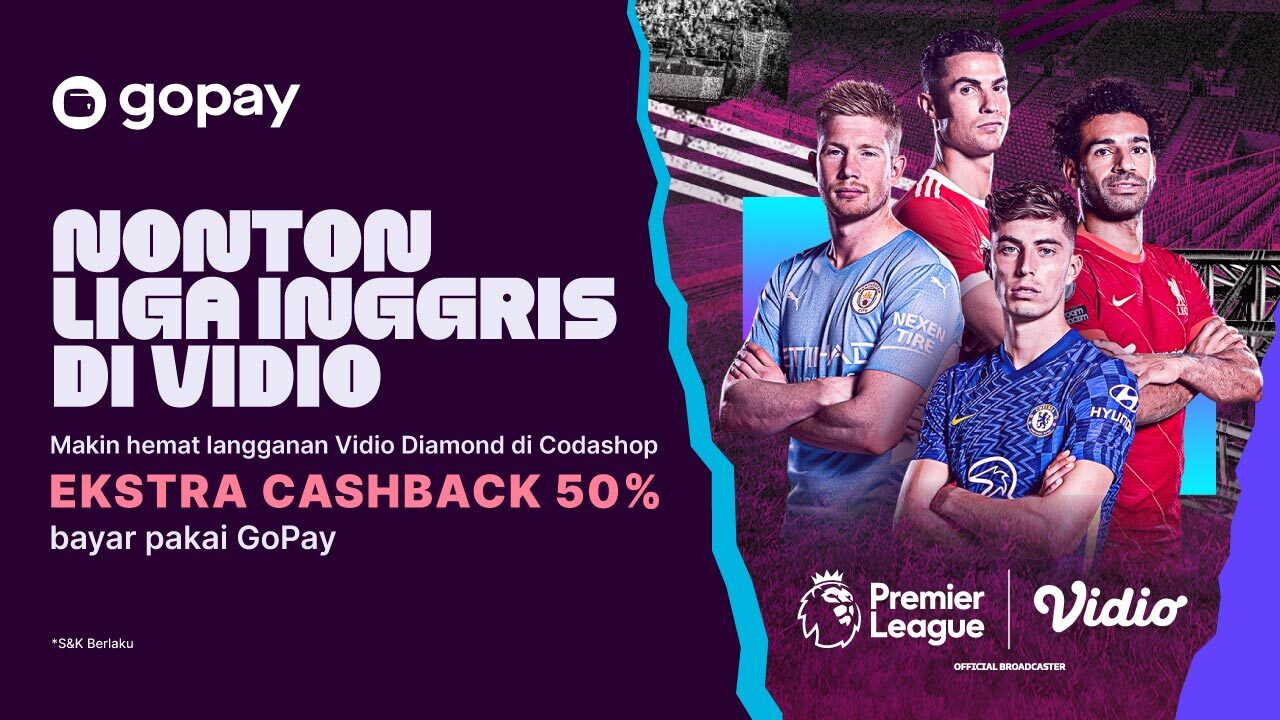 Langganan VIDIO buat nonton Liga Inggris Lebih murah pakai GOPAY: CASHBACK sd 50%
Halo kawan Codashop!
Bagi para pecinta sepak bola tentunya jangan sampai melewatkan keseruan pertandingan Liga Inggris. Nonton siaran langsung EPL dan highlight EPL eksklusif di Vidio yang tersedia di smartphone atau smart tv mu. Dapetin juga CASHBACK sd 50% untuk pembayaran menggunakan Gopay!
Selain itu, Vidio Original Series, seperti: Serigala Terakhir Season 2, Mercury dan The Sexy Doctor Is Mine Ada juga, serial Korea, seperti: Penthouse 1-3, Descendants Of The Sun, The World of The Married dan banyak lainnya. Sampai Film Hollywood dan lokal, seperti: Spider-Man, Twilight, Jumanji, The Raid, Yowis Ben, Gundala, Habibie Ainun & film menarik lainnya!
SYARAT DAN KETENTUAN:
Dapetin cashback 50%, maks. Rp6.000, dengan pembayaran minimum Rp10.000.
Berlaku untuk semua pengguna (pengguna baru GoPay dan pengguna setia GoPay).
Periode promo:
3 – 4 September 2022
10 – 11 September 2022
17 – 18 September 2022
24 – 25 September
Promo hanya berlaku pada pk. 10:00-23:59.
Kuota promo terbatas.
Promo dapat dipakai untuk 1x transaksi/pengguna/bulan.
Promo berlaku untuk transaksi di Codashop.com dengan metode pembayaran GoPay.
Promo berlaku untuk pengguna Gojek yang terdaftar sebelum 1 Agustus 2022.
Promo ini tidak dapat digabungkan dengan promo lainnya.
Cashback akan diterima pengguna maksimum dalam 2×24 jam setelah pembayaran
berhasil.
GoPay berhak mengubah syarat dan ketentuan dan/atau menghentikan promosi tanpa
pemberitahuan sebelumnya.
Berdasarkan regulasi Bank Indonesia, pemberian cashback dalam promo ini dapat
dibatalkan jika total nilai transaksi yang keluar masuk ke akun GoPay pengguna selama sebulan telah melebihi batas yang ditentukan regulator (Rp20juta/bulan untuk akun pengguna GoPay atau Rp40juta/bulan untuk akun pengguna yang sudah upgrade ke GoPay Plus).
GoPay berhak menahan dan/atau membatalkan promo dan/atau membatasi layanan, baik untuk sementara maupun secara permanen, kepada pengguna sewaktu-waktu termasuk jika ditemukan tindakan penyalahgunaan (abuse), kecurangan (fraud) dan/atau aktivitas mencurigakan lainnya pada akun pengguna.
Dengan menggunakan promo ini, pengguna dianggap telah mengerti dan menyetujui seluruh syarat dan ketentuan yang berlaku.
Promo hanya berlaku jika kamu melakukan top up game Moonton, Free Fire, Garena, Genshin Impact, RIOT dan Voucher Vidio min. Rp40.000.