Collector Skin Mobile Legends: Bang Bang terbaru sudah hadir bagi para penggemar Natan, sang Marksman penjelajah waktu, yang kini berenang dalam kolam air mata kebahagiaan.
Skin Tidal Lord Natan hadir dengan jubah putih biru nan panjang dilengkapi ornamen emas dan tampak gagah, bersama motif yang mengalir. Senjata miliknya juga mengikuti tema skin, memiliki bentuk yang gagah layaknya pegunungan dan ombak. Dan tentu saja, monocle khas dan rambut kece anti-gravitasinya menjadi ciri khas utama.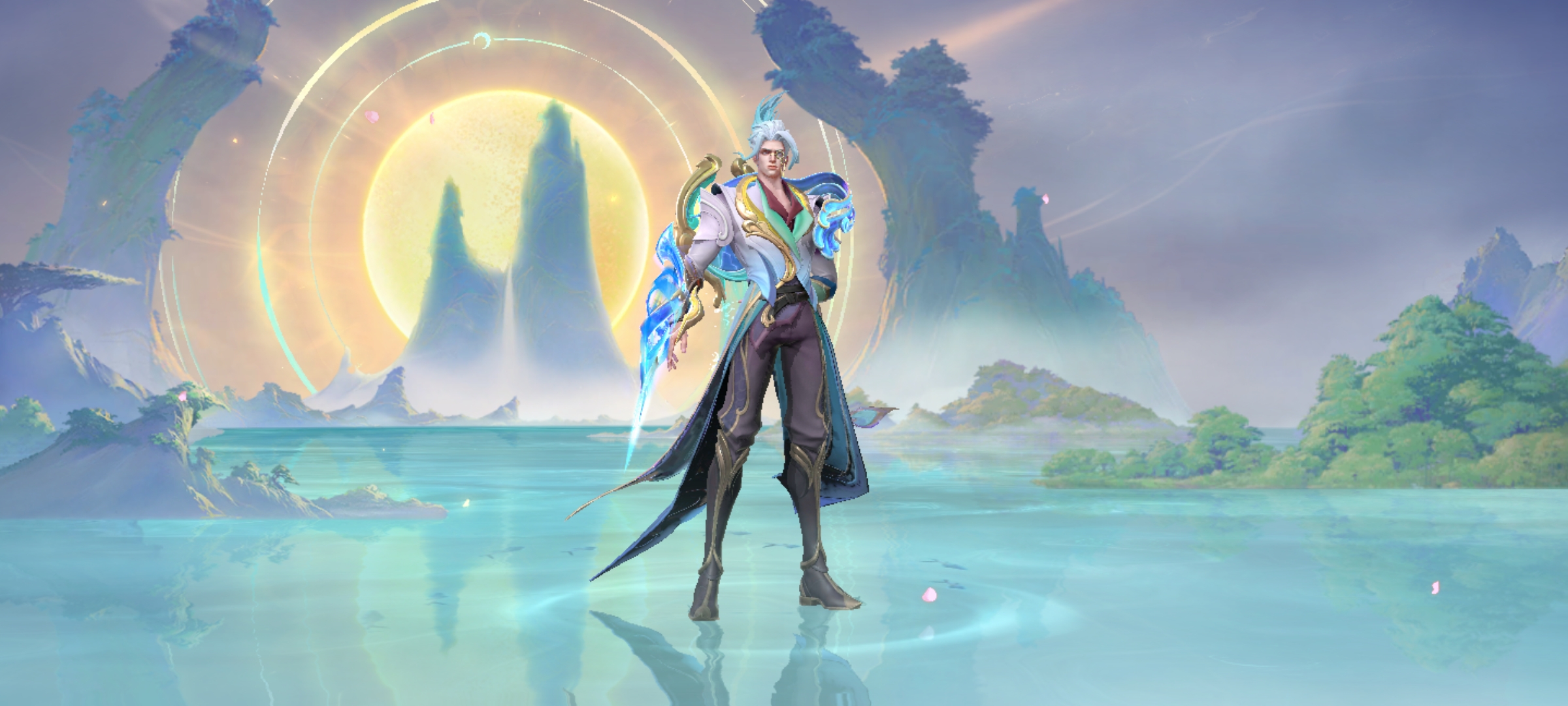 Skin ini juga memiliki animasi tersendiri untuk setiap skill, menggantikan tema cosmic dust dengan efek tembus pandang berkilau biru dan emas. Skill Ultimate miliknya, Entropy, semakin menakjubkan karena tampilannya memunculkan sosok berbentuk air untuk membantunya dalam pertempuran.
Cara mendapatkan Skin Tidal Lord Natan
Sama seperti Collector Skin lainnya, Skin Tidal Lord Natan bisa didapatkan dari fitur Grand Collection yang ada di dalam game. Event Grand Collection biasanya berjalan selama 21 hari, dan pada kali ini akan berakhir di tanggal 25 Maret 2023. Untuk ikut serta, para pemain harus melakukan gacha 1x atau 10x menggunakan Diamond Mobile Legends atau Free Token (yang terakhir, kamu bisa mendapatkannya dengan menyelesaikan berbagai macam tugas).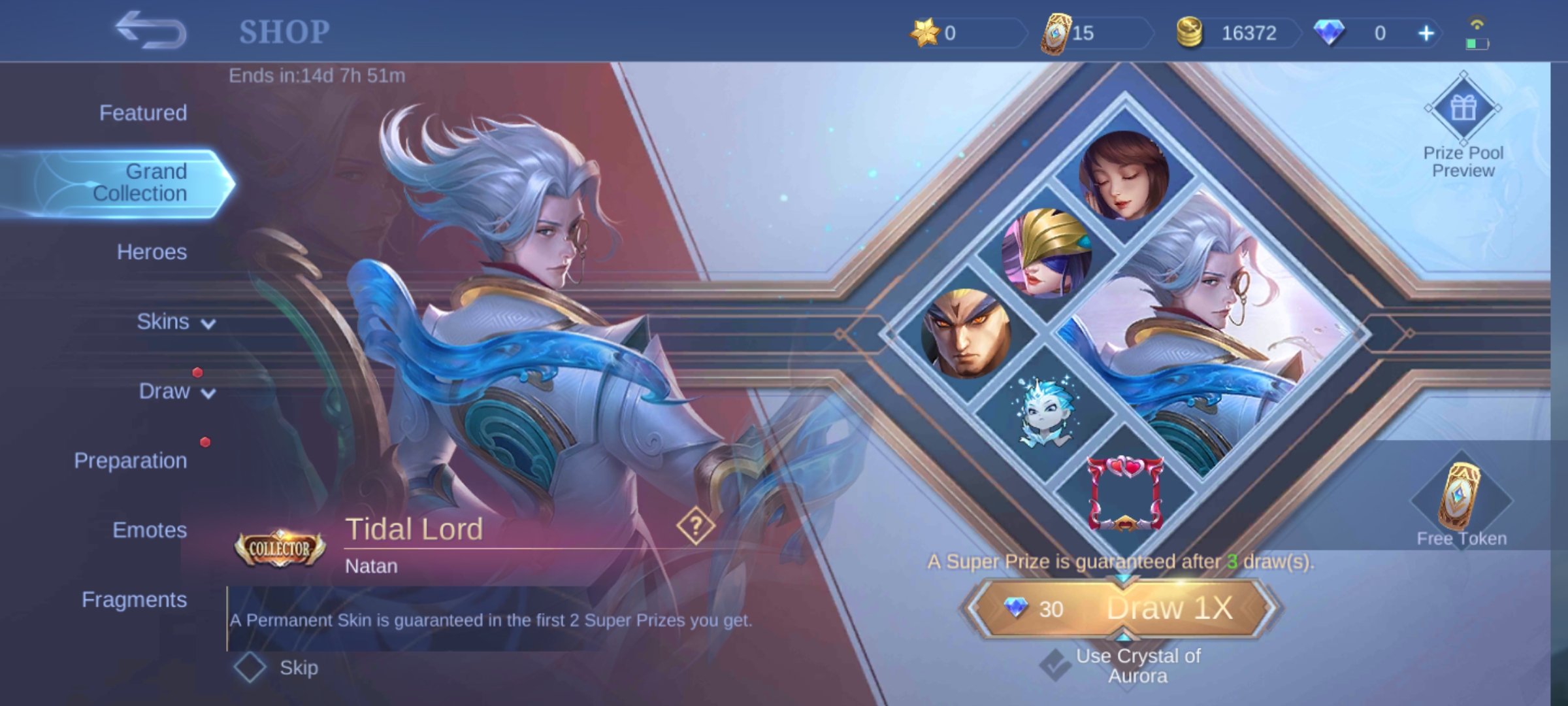 Skin Tidal Lord Natan adalah Collector Skin ke-31 sejak awal Moonton memperkenalkan fitur Grand Collection pada bulan Juli 2023. Jumlah Collector Skin semakin banyak dan membuat para pemain bersemangat mengumpulkannya dan menikmatinya:
Skin Badang "Fist of Zen"  – Juli 2020

Skin Pharsa "Empress Phoenix"  – Agustus 2020

Skin Khufra "Volcanic Overlord"  – September 2020

Skin Granger "Agent Z"  – Oktober 2020

Skin Yi Sun-Shin "Lone Destructor"  – November 2020

Skin Jawhead "Samurai Mech"  – Desember 2020

Skin Valir "Demon Lord"  – Januari 2021

Skin Wanwan "Pixel Blast"  – Februari 2021

Skin Gusion "Night Owl"  – Maret 2021

Skin Angela "Floral Elf"  – April 2021

Skin Yu Zhong "Blood Serpent"  – Mei 2021

Skin Ling "Serene Plume"  – Juni 2021

Skin Benedetta "Death Oath" – Juli 2021

Skin Balmond "God of Mountains" – Agustus 2021

Skin Aldous "Realm Watcher" – September 2021

Skin Harley "Dream Caster" – Oktober 2021

Skin Lesley "Falcon Mistress"  – November 2021

Skin Nana "Aqua Pura" – Desember 2021

Skin Hanabi "Riverland Phoenix" – Januari 2022

Skin Zilong "Empyrean Paladin" – Februari 2022

Skin Silvanna "Queen Frost" – Maret 2022

Skin Brody "Ore Alchemist" – April 2022

Skin Vale "Supernal Tempest"  – Mei 2022

Skin Esmeralda "Light Envoy" – Juni 2022

Skin Luo Yi "Elysium Guardian" – Juli 2022

Skin Sun "Wicked Flames" – Agustus 2022

Skin Miya "Doom Catalyst" – September 2022

Skin Cecilia "Crimson Wings"  – November 2022

Skin Masha "Rogue Talon" – Desember 2022

Skin Dyrroth "Naraka Flame" – Januari 2023
Skin Tidal Lord Natan itu layak dikoleksi gak sih?
Rata-rata, kamu harus menghabiskan setidaknya 3,500 Diamond buat ngedapetin Collector Skin baru. Itu berarti sekitar 850,000 Rupiah untuk skin jenis paling langka di MLBB. Kalo hero utama kamu adalah Natan, dan kamu punya cukup uang buat beli, ini adalah kosmetik wajib yang harus kamu punya, karena gak ada yang tau kapan skin ini bakal muncul lagi. Dan mantapnya lagi nih, animasi Ultimatenya bener-bener keren.
Kalo kamu udah siap, kunjungi Codashop untuk top up Diamond Mobile Legends kamu, prosesnya cepat dan aman. Semoga beruntung!