Sudah dilakukan soft launching di Filipina pada bulan Juli lalu, Middle-earth: Shadow of War akhirnya diluncurkan di seluruh dunia untuk iOS dan Android.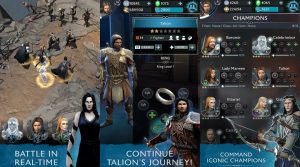 Middle-earth: Shadow of War adalah real-time strategic RPG, dimana kamu akan bertarung menggunakan hero-hero dari Lord of the Rings untuk bertarung melawan kekuatan dan pasukan Sauron.
Fitur yang menonjol adalah Nemesis System, dimana musuh tertentu akan ingat sukses atau kegagalan kamu saat bertarung melawan mereka. Ini juga akan berpengaruh pada kekuatan pasukan Sauron dan kompetisi diantara rival.
Download dan install sekarang Middle-earth: Shadow of War dari Google Play.